How To Wear A Pink Shirt With Style
While the idea that pink clothes are just for women has long been considered outdated. Many men still find it challenging to rock this color. But, that doesn't mean they shouldn't try….
While the idea that pink clothes are just for women has long been considered outdated. Many men still find it challenging to rock this color. But, that doesn't mean they shouldn't try. Pink can add a fantastic dash of diversity to your wardrobe, injecting color while maintaining sophistication. On top of that, it's also a seriously stylish hue that can flatter any skin tone with one of its many shades. So, don't let pink pass you by. Instead, embrace this fantastic color with an easy-to-wear shirt. Still not feeling confident? Never fear. Here is our guide on how to wear pink shirts for any occasion.
RELATED: How to Wear an Oxford Shirt
What Color Goes with Pink?
Pink is surprisingly versatile and can work well with many other colors. Of course, there are some that appear more complementary than others. In particular, subdued tones, such as navy, black, white, and grey, tend to pair best with this somewhat statement hue. However, don't be afraid to experiment with your color combinations. It can also work with a range of other colors, including cream and even dark green.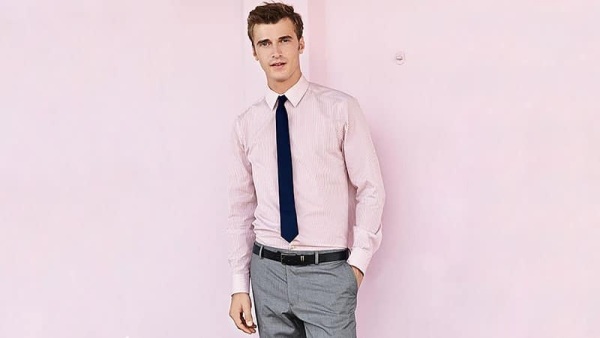 Pink Shirts for Men
Pink Long Sleeve Shirts
If you don't already own one, you should add a pink long-sleeve shirt to your wardrobe immediately. Not only is it a fantastic alternative to your usual white or blue button-up, but it can also be highly flattering and versatile. So, whether you're heading to a business function, cocktail event, semi-formal celebration, or casual catch-up with friends, a pink long-sleeve shirt can work for you.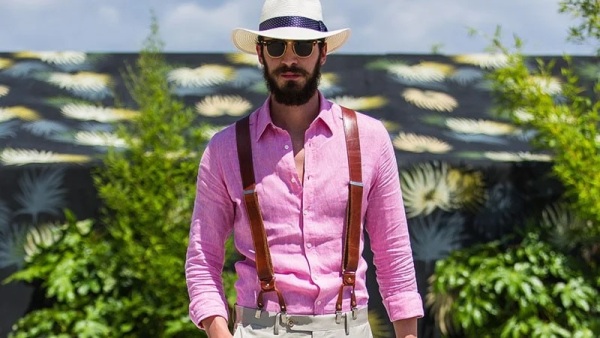 Pink Short Sleeve Shirts
If you're looking for a stylish shirt to wear in summer, consider a short sleeve design. Perfect when paired with chinos or shorts, a pink short sleeve shirt appears fashionably relaxed. Just opt for one in lightweight cotton fabric to keep you cool when temperatures soar. Also, feel free to play with shades, selecting pastel pinks for a subtle style or more vibrant salmon tones for a brighter appearance.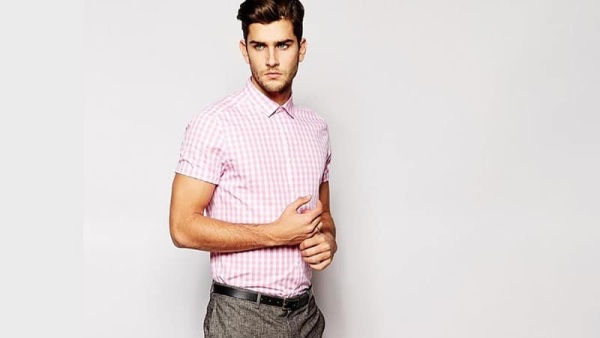 Pink T-Shirts
For those who prefer a casual look, a pink T-shirt can make an excellent choice. Easy to wear with either chinos or jeans, it a surprisingly versatile. All you need to do is pick the right shade for you. For an understated appearance, choose a washed-out or dusky pink. For a bolder look, select a sorbet shade or vibrant watermelon hue. But, be sure also to consider your complexion to find the most flattering option for you.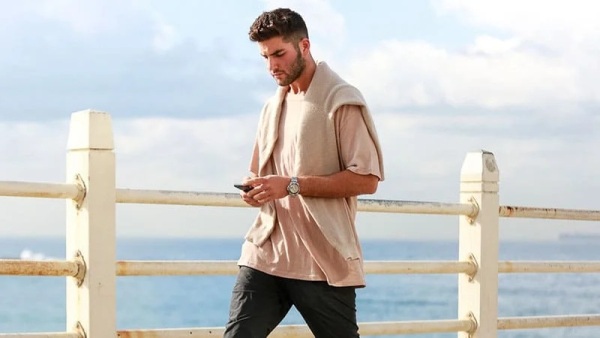 Pink Polo Shirts
Although it may not be as versatile as a standard pink button-up, a pink polo shirt still makes a thoroughly worthwhile addition to your wardrobe. Ideal for casual Fridays in the office as well as weekend outings and specific sports, a pink polo shirt is a simple yet timelessly stylish garment. Just pair it with dark jeans or chinos and white sneakers for a fashionable yet practical ensemble.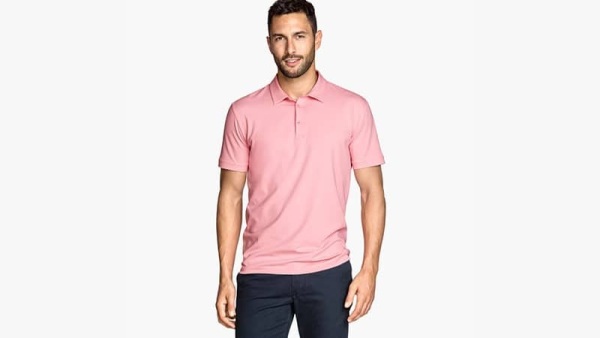 Pink Striped Shirt
If you're looking for a way to ease yourself into wearing pink, a striped shirt may be the way to go. Adding but a subtle splash of the hue, a pink striped shirt is easily wearable. Just pick the right style for your needs. For example, if you plan to wear your shirt to work, opt for a classic button-up. If you want to rock it on the weekend, however, choose a striped T-shirt instead.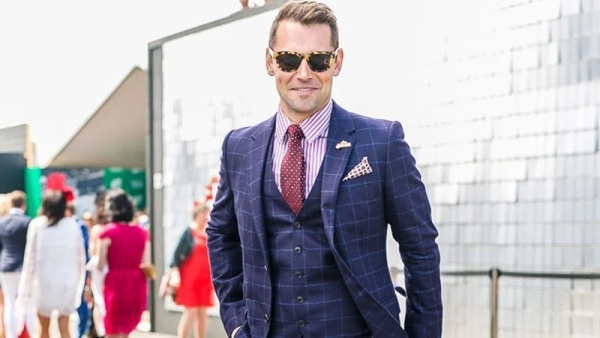 RELATED: How To Wear A Pinstripe Suit With Style
When to Wear
Casual
Pink shirts can be perfect for casual occasions, and we're not just talking about T-shirts. So, next time you're heading out for breakfast or to the bar to meet friends, consider rocking a pink shirt. In particular, linen and Oxford styles in washed-out shades of pink make casual and cool choices. Then, all you need to do is add dark-wash skinny jeans and desert boots or sneakers to complete your look.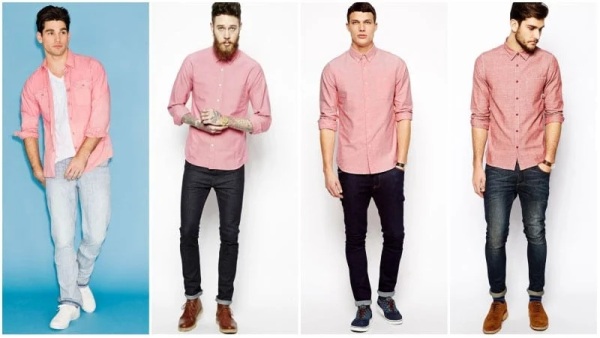 Business Casual
Whether you're heading to the office, a client meeting, or a business conference, a pink shirt can be a fantastic garment choice. To nail the look, select a slim-fitted cotton style in a pale pink hue. Then, pair it with slim trousers in a dark or neutral tone and classic shoes, such as black leather loafers or Oxford shoes. Also, don't forget to tuck your shirt in and add a belt to ensure your outfit is suitably polished.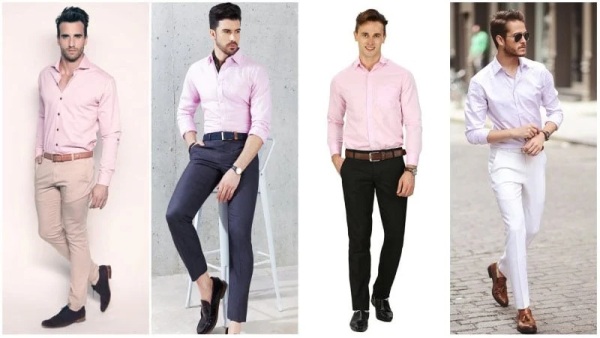 Semi-Formal
Semi-formal functions call for a specific standard of attire, meaning that a suit is usually a good idea. However, that doesn't mean your outfit can't be exciting. A pink shirt can instantly boost a semi-formal ensemble without leaving you looking underdressed. Just add a tie to keep things smart and sleek.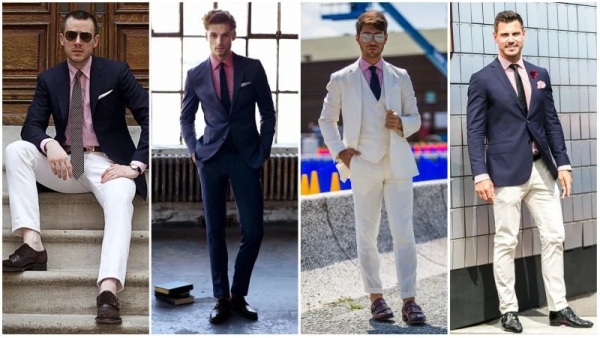 Pink Shirt Outfits
RELATED: Guide To Suit, Shirt, and Tie Combinations
With Grey Suit
A grey suit and pink shirt is a timeless combination that always appears stylish and sophisticated. More intriguing than your usual white shirt, a pink style will add interest to your outfit without overwhelming it. But, make sure you choose similar shades, such as a light pink shirt with a soft grey suit or a bright pink shirt with a dark grey suit, for a well-balanced appearance. Then, finish your look with classic black or brown dress shoes.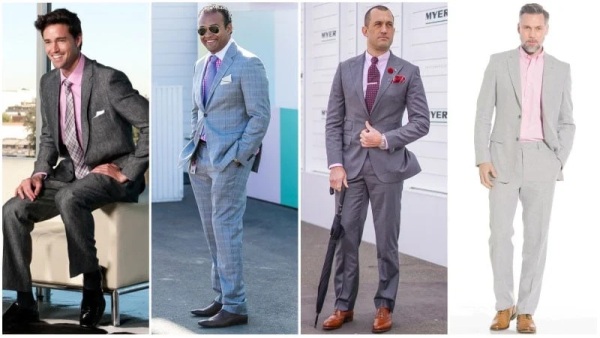 With Blue Suit
Whether you're off to a cocktail party or a summer wedding, a blue suit and pink shirt combination can make a brilliant option. Both stylish and statement-making, this look is ideal for gents who like to stand out. Additionally, the outfit can be worn with a variety of blue shades, including pale hues, midnight tones, and even cobalt, meaning there's an option for every skin tone.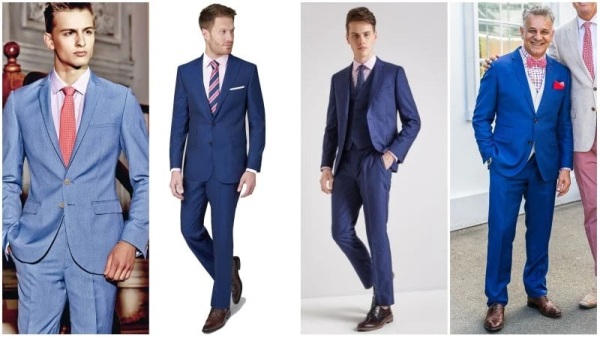 With Navy Suit
When it comes to rocking a pink shirt, you can't go wrong pairing it with a navy suit. The combination is a seriously stylish and flattering one. But, like your grey suit, be sure to match the intensity of your shirt color to that of your suit. To complete your ensemble, just add dark brown or black shoes and a navy tie. You can also consider wearing a pink pocket square to enhance the fashion-forward nature of this look further.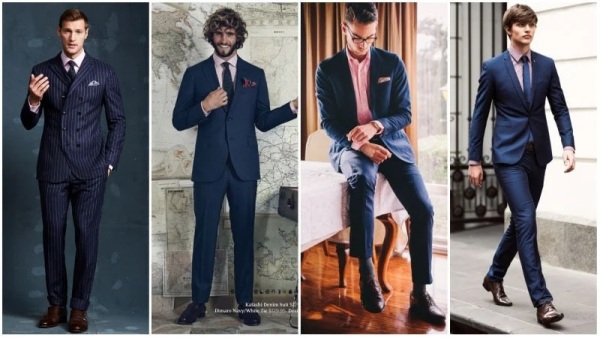 Black Suit with Pink Shirt
If you're off to a formal function, a black suit always makes an appropriate and stylish choice. However, the usual black suit and white shirt combination can often feel a little dull, especially if you like to stand out. As such, consider swapping that white shirt for a pink one instead. Doing so will add instant flair to your look while still maintaining its elegant appeal. Just remember to avoid overly shiny suits or patent leather accessories as they can appear overwhelming when paired with a pink shirt.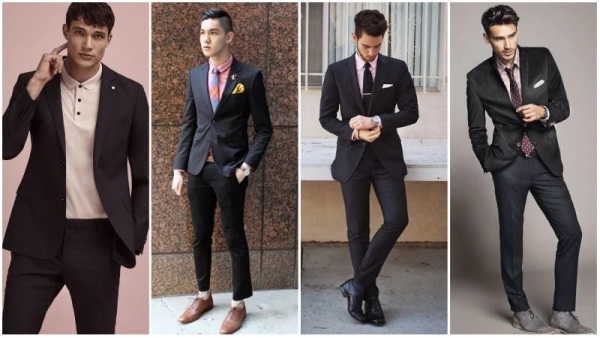 How to Wear a Pink Shirt Tips
Choose shades of pink that suit the rest of your outfit and complement your skin tone.
For a casual look, pair a relaxed pink shirt with dark jeans and desert boots or sneakers.
For a business event, wear a slim-fit one with dark or neutral trousers, dress shoes, and a belt.
Try for cocktail ensembles that call for a splash of color.
Consider it with a suit and tie for a fashionable semi-formal outfit.
Pair with suits in grey, blue, navy, and black for a sophisticated and stylish appearance.