Shirt and Tie Combinations with a Navy Suit
The navy suit is a classic piece that's stood the test of time. It's smart, it's suitable for both office and social events and it can be worn with a few different shirts and tie options. If you're unsure of how to dress your navy suit then you've come to the right place, here's a guide on what works well.
If you're looking for a lighter alternative to a black suit, or something that's more appropriate for the summer months, then a navy color suit is a perfect choice. However, simply picking out a suit is only half the battle as choosing the right shirt and tie combos to go with it can be a challenge in itself. Luckily we're here to help, helping you pick the best shirts and ties to go with your trusty navy suit. Whether you're dressing for the office, a wedding, or something more casual, there's a combination for you, and one that will help you achieve a stylish, sleek, and sophisticated look.
RELATED: Shirt and Tie Combinations with a Grey Suit
RELATED: Guide To Suit, Shirt, and Tie Combinations
What Color Shirt with a Navy Suit
Black is often seen as the color that can go with everything, so veering away from it when choosing a suit can be daunting. However, you'll be glad to hear that despite there being slightly more color in a navy suit than your classic black and grey, there are still many different colors you can match it with to create a clean, finished look.
Navy Suit And A White Shirt
If you're dressing up your first navy suit and are unsure of color combinations, it's best to keep things simple. This makes it easier to match your outfits, plus an understated look goes a long way. If you want something timeless and effortlessly stylish, don't mess around too much with patterns or grandiose colors. A simple, crisp white shirt will look perfect paired with a navy suit any day.
If you want to go for a modern take on a classic look, keep the shirt white, but choose an alternative collar like a granddad collar. This can work to add a subtle difference to your look without changing much around. This can work for any shirt, but as white is such as classic color for formal shirts; it's effective to occasionally change it up to keep things interesting.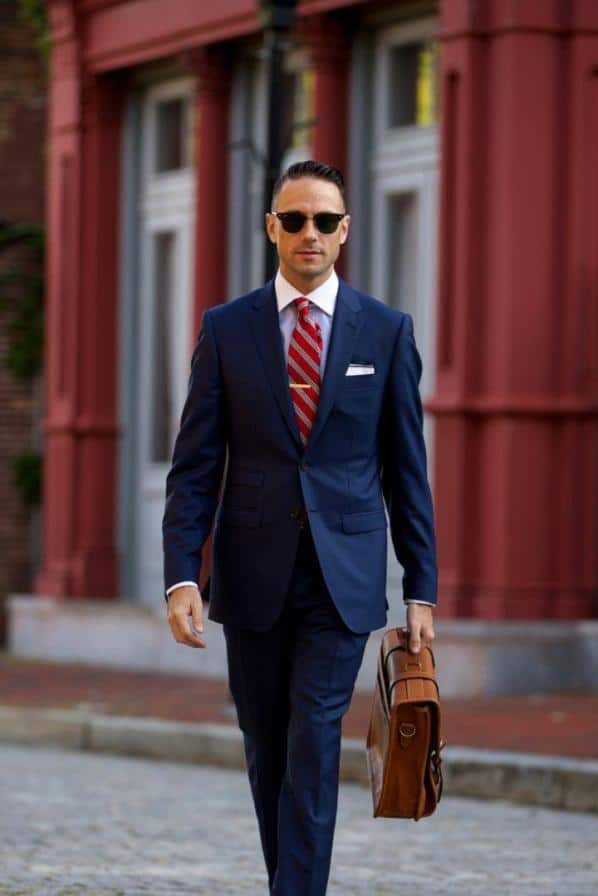 Blue Suit With A Blue Shirt
If you feel like switching up your white shirt but don't want to wander into other colored territories then a light blue shirt will save you. Picking a shirt in a lighter color than your suit (obviously, you don't want to be completely one color); can help brighten up a navy suit, and creates a color scheme that works well. The blue shirt should be fairly smart, so when picking the color, don't think denim blue, think pastel blue.
A dark blue suit and blue shirt combination work perfectly for any occasion; as the subtle difference keeps the outfit looking clean and polished, but with a relaxed finish.
Blue Suit With A Pink Shirt
For a color that's a little bolder but still maintains a cool, summery vibe, try out a light pink shirt. The light color still balances out the navy suit but has a warmer tone than blue; making it a great choice if you want to dress down your suit and create a more casual look. This is a good color for a wedding, as bringing some extra flare is always appreciated at weddings; just make sure you're not in the same colors as the groomsmen or groom for that matter!
If you want to go a bit bolder with the pink (because you know, 'real men wear pink) then a brighter, bolder color will also look good. Navy and pink for some reason go hand in hand, so whether it's a light pink or a bolder pink; the navy suit will compliment it nicely.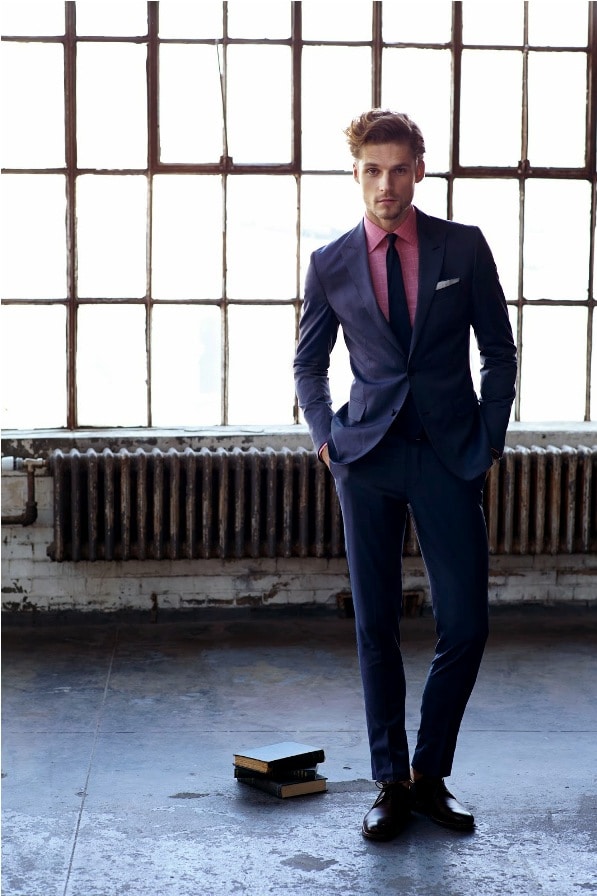 Tie Choices
"A well tied-tie is the first serious step in life". Oscar Wilde's accuracy on the subject of ties and their importance is more poignant now than ever. Ties say a lot about you as a person – more than you might think. A man who wears a tie properly is smart, educated, and knows the importance of dressing well. Styling a tie can be difficult, but fear knot (see what we did there?), we're here to help.
What Color Tie With a Navy Suit
"Navy suit, white shirt, what tie? The long and often unanswered question that has haunted us for eternity; Picking the right tie for a navy suit is quite the challenge, as you're pretty much open to the entire tie world. Your shirt and tie say a lot about you so take some time and think about what works for you. The classic red tie is a choice that has stood the test of time. If all else fails then go for the white shirt-red tie combo. If you're looking to spice up your life and stand out from the norm then go with bolder colors.
Although it may sound bizarre and frankly outright mad, orange, if worn properly, can be a fantastic color to go with your suit. It's summery, refreshing, and bold enough that people will admire your confidence without thinking you are a complete lunatic. It can be done as long as the tie complements the suit and doesn't make you look like an idiot. Ensure you suit the color (again, excuse the pun) before making a bold choice on your tie.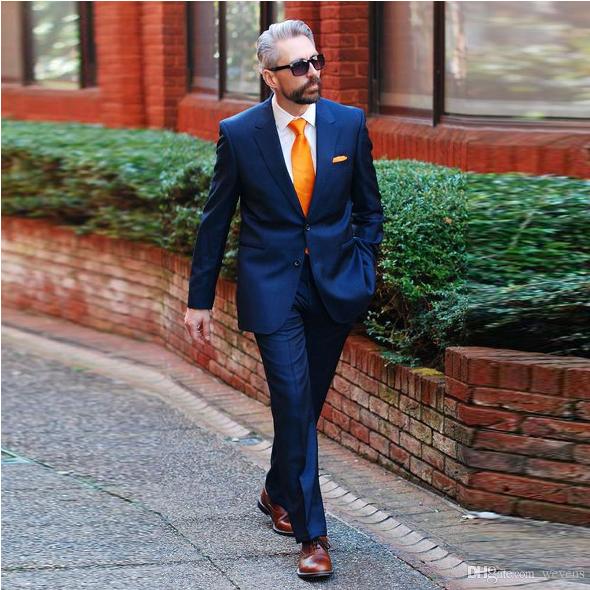 What Color Tie With a Blue Suit
Blue suits require a bit more delicacy when it comes to picking a tie. Now, this may seem a bit obvious and a bit stupid, but blue suits are lighter than navy suits. Yes, we know it's a stupid statement to make, but you have to remember that when picking your tie. Blue isn't as dark as navy, so they need different colors to go with them.
Light blue suits and navy ties are without a doubt one of the best combinations to go with. Blue and navy can be worn together, but the balance has to be just right. If the suit isn't light enough then wearing a navy tie with a navy suit just isn't going to look as chic as you might think. The lighter the suit, the darker blue you can go for. It's an unwritten rule but one that must be adhered to if you're looking to carry this look properly. If you're feeling really confident then wear a pink tie with your light blue suit. Remember, real men wear pink and it's not a 'girl' color anymore (it's the 21st Century, come on) so you shouldn't worry about wearing it.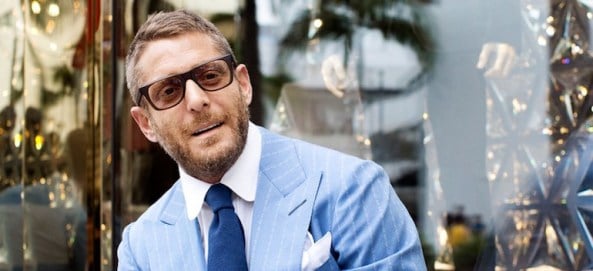 Picking the Suit
A navy suit is a great choice to wear around the office. It's less intense than a black suit but still has a formal edge that keeps you looking sharp. A well-fitted, sleek suit can help you out more than you'd think when you're in an office environment. Not only will you look more professional, but with the coloring of the suit, you won't look overly formal; creating a good balance between smart and relaxed.
If you're not an office goer then a navy blue suit is still a great staple to have in your wardrobe, and can easily be worn for numerous events; from weddings to a formal night out. Because there are endless blue suit combinations; there's going to be a look that works for everyone, regardless of their style.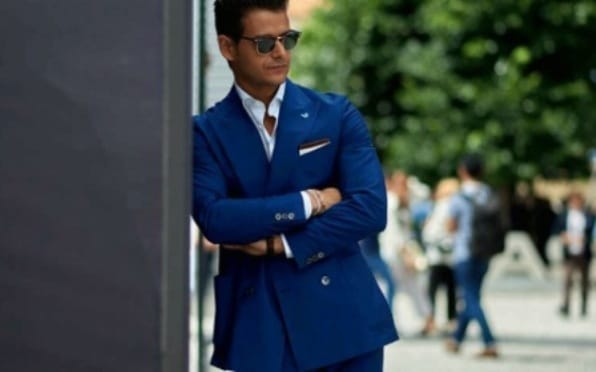 Read: Men's Dress Codes Guide For All Occasions
Fit
When you're picking a suit the most important thing to keep in mind is the fit. An ill-fitting suit will never look good, no matter how expensive or high quality it is. To ensure that your suit fits properly, just make sure you follow a few basic rules.
The seam connecting your suit torso to the sleeves should run across the edge of your shoulder.
Your sleeve should fall to your wrist when your arms are down by your side.
When you button up your jacket it should fit slimly against the body, but not create an X mark from the tightness.
Your suit trousers should fit at the waist, and stay up without the need for a belt.
The end of your trousers should brush against the top of your shoes.
Combinations with Navy Suit – Color
There isn't a huge range of navy alternatives, yet with the various textures and finishes on materials, certain suits can look different from others. If you prefer more stand-out colors, then you can always go for a brighter navy in a shiny finish. For a more neutral, subtle finish choose a fabric in a more muted matte finish.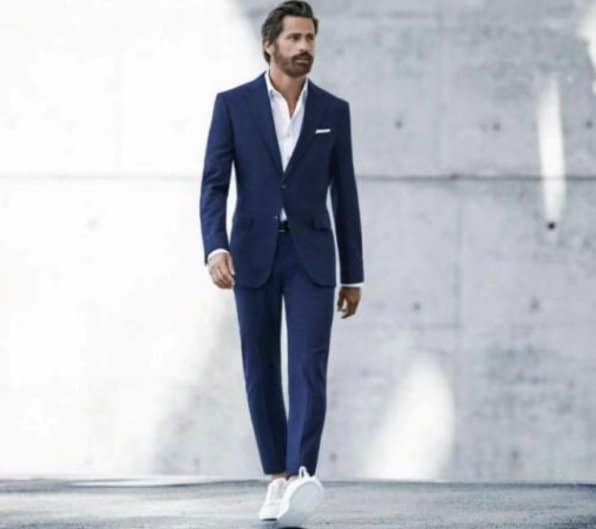 Suits and trainers can be worn together provided the event is not formal and the trainers are white.
READ: How To Wear White Trainers In Style
Combinations with Navy Suit-Pattern
If you're picking your first suit, the obvious choice is to go for a plain color so you can easily mix and match it with different shirt combinations. It can be hard to know what to wear with a navy suit so keeping it simple can be a good idea. However, sometimes a subtle pattern can help elevate your look while adding a touch of sophistication.
Getting a navy suit in a checked print is an easy way to add a touch of interest and dimension, and can help boost your look; even if you're pairing it with a simple white shirt. If you're planning on going for a checked suit, keep the rest of your outfit un-patterned, as you'll want the suit to be the main feature.
Another more traditional option is the pinstripe suit. A pinstripe navy blue suit goes with a surprisingly high amount of shirts, and the subtle, streamlined pattern helps elongate your body as well as add a touch of interest to your look. Like the checked suit, it's best to keep this the main pattern of your outfit, although you can easily add contrasting colors to add a unique finish.
How to Wear a Navy Suit
Shirt– pick something easy to pair a tie with, like the classic white shirt. It's versatile enough to go with blue and navy so perfect for every day or a formal event
Tie– don't go too far out of your style but be bold in your choice, and be brave but not stupid. Ties say a lot about you remember.
Patterns– make sure the suit pattern doesn't clash with the tie. For example, don't wear a striped shirt and a checked tie. You'll be an eyesore.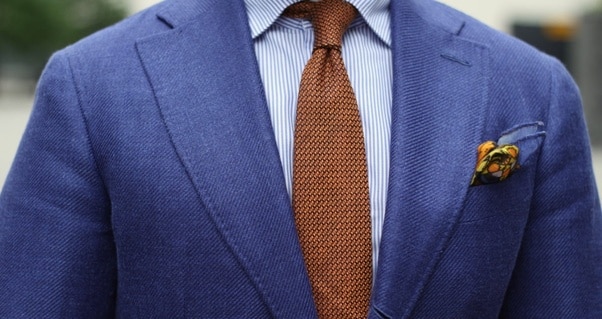 Shirt and Tie Combinations with a Navy Suit
So, now you've got the knowledge, thanks to this wonderful guide, you need to put it into use. The navy suit is the most adaptable suit you should have in your wardrobe as it had proven. The expert recommends going for a clean, tailored blue suit with a simple white shirt. It's a combination that has been around for decades and the simplicity of the combo means that you can make your tie the focal point of your outfit. If black suits are boring you and you want to change up your look without compromising on style, then try out the navy suit and see how it can work for you.