The Best Shirt and Tie Combinations with a Grey Suit
Shirt and Tie Combinations with a Grey Suit A grey suit is a wardrobe essential. It makes a great change to your typical black suit, which can feel monotonous if you wear…
Shirt and Tie Combinations with a Grey Suit
A grey suit is a wardrobe essential. It makes a great change to your typical black suit, which can feel monotonous if you wear it on a regular basis. Check out these suits and tie combinations so you're never lost in matching your suit, shirt, and tie.
A grey suit is a worthy addition to your wardrobe and certainly deserves a place hanging alongside your black and navy classics. The sharp and versatile color is adept at creating a clean and contemporary look that can be worn for countless occasions. The only question is: What shirt should you wear with it? When you consider just how many shades of grey there are it's only natural that you could use a little guidance in the area.
RELATED: The Best Blue Suits And Shirt Combination
RELATED: Guide To Suit, Shirt and Tie Combinations
Grey Suit and Shirt Combinations
Grey Suit / White Shirt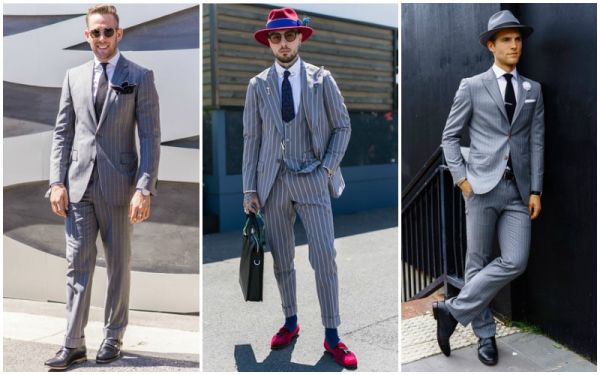 A grey suit paired with a white shirt is a timeless and classic choice. It's also one of the safest options for creating a cohesive look. When matched with a crisp, white shirt, a grey suit appears lighter, and the overall outfit registers as fresh and clean. Although the combination can work with any shade of grey, light, and mid-tones create a fantastic summer suiting option. The softer hues appear much more seasonally appropriate than dark tones and offer a great relaxed feel. To create a sharp and formal style, the look can also be paired with a black tie. The result will be a classic appearance with a subtle edge over the traditional black suit and tie with a white shirt.
You can't go wrong with a classic white shirt. White looks great with any shade of grey, especially light or mid. Finish off your outfit with a pair of tan shoes. This will make you look youthful. Let the accessories do the talking if you decide to team your white shirt with a light grey suit. We'd recommend pocket squares, cufflinks, tie pins, sunglasses, and hats. Opt for eye-catching colors such as turquoise and purple to liven up your suit. Silver also goes well with grey suits.
Grey Suit / Blue Shirt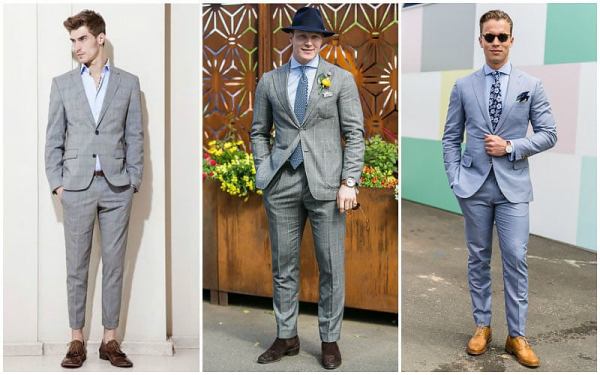 When looking for a shirt to pair with your grey suit, you can't go past the color blue. Blue is one of the best colors to match a grey suit and easily creates a stylish look. Like white shirts, blue shirts complement the tone of grey suits, creating a fresh and clean look. Unlike white, however, blue add more interest to the overall style and will bring out any blue tones in the suit, achieving a "cool" look. Choose between shades of muted powder and baby blues to successfully don this style. The light tones are perfect for daytime and can be paired with brown leather accessories for a stylish take on summer suiting.
A light blue shirt is perfect for summer. Picking a blue shirt will brighten up your look and contrast with your grey suit. Since grey has a hint of blue in it, these colors work well together. You can also wear a pale blue shirt with a charcoal grey suit.
However, it's best to avoid bright blue when wearing a grey suit – this can be a little overpowering. Despite this, a navy shirt can make you look sophisticated and intelligent. Try teaming a navy shirt with a dark grey suit.
RELATED: Shirt and Tie Combinations with a Navy Suit
Grey Suit / Navy Shirt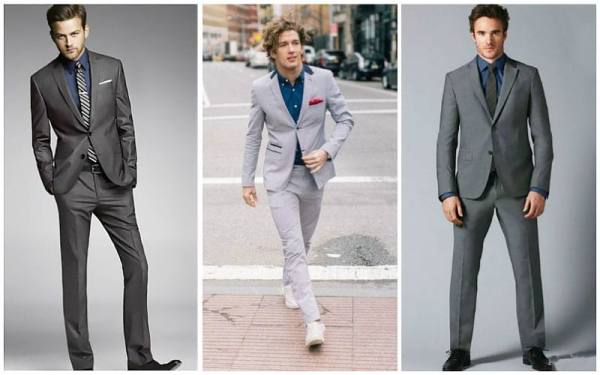 While light blue shirts pair well with light and mid-grey suits, navy shirts work well with mid-grey, charcoal, and darker hue suits. The deeper blue tone of the navy offers a more sophisticated take on the blue shirt and grey suit combination and is perfect for the cooler months. By also pairing it with a pair of black oxfords, this look becomes ideal for both office and formal occasions. Although the outfit won't appear as striking as a black shirt and grey suit, it will undoubtedly be suave and sharp with its moody hues. For a smart-casual look wear a navy shirt unbuttoned with a mid-grey suit and white trainers.
Grey Suit / Black Shirt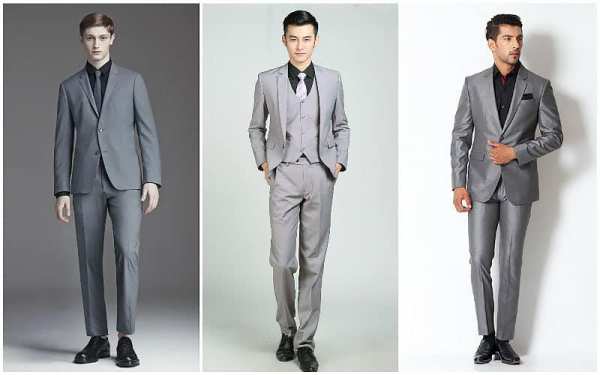 A grey suit paired with a black shirt is a stylish option for formal affairs. The combination creates a sleek look and striking contrast between lighter and darker hues. Perfect for nights when you want to stand out, this sharp outfit is an edgy alternative to a standard black suit. The dark shirt intensifies the grey tone to make it appear darker and richer for a strong look. Although the combination will make any grey suit look darker, it pairs best with moody tones and charcoal hues. Be aware, though, this outfit can appear heavy on lighter skin tones.
Grey Suit / Pink Shirt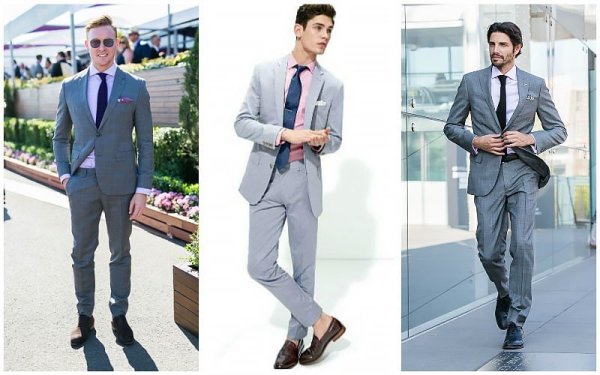 If a white shirt has you feeling a little bored, adding a subtle punch of color with a pink shirt makes an unbeatable alternative. The light hue will not only add dimension to your look but will also complement the cool grey tone of your suit. So, although it may not be your go-to option, the color pink is well worth the try. When paired together, the combination creates a modern and stylish appearance with a buoyant and summery feel. While the outfit looks best with a light grey suit and soft pink shirt, it can be tailored to suit your needs. For those looking washed out in this look, consider opting for a deeper shade of grey and a bolder tone of pink instead.
Related: Expert Tips for Pairing Shirts and Ties with a Light Grey Suit
Grey Suit / Red Shirt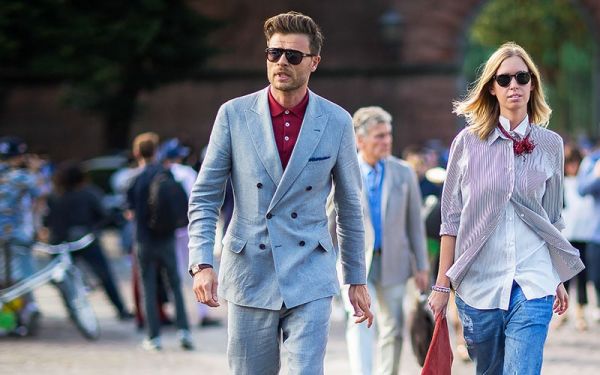 Red and grey create a powerful combination when worn together. The warm red tone plays off the cool grey hue, often appearing richer in color. The bold pairing creates an unexpectedly stylish outcome that's both contemporary and cool. From dusty, desert reds to rich oxblood hues, this outfit can be worn in numerous ways. Choose between muted tones and deep berry hues for a dapper take. If you want to wear a vibrant red, however, it's best to break it up with some pattern to ensure the look isn't too intense. Also, remember that deep reds and burgundies will pair best with mid to dark shades of grey, while washed-out reds suit light to mid-tones.
Grey Suit / Purple Shirt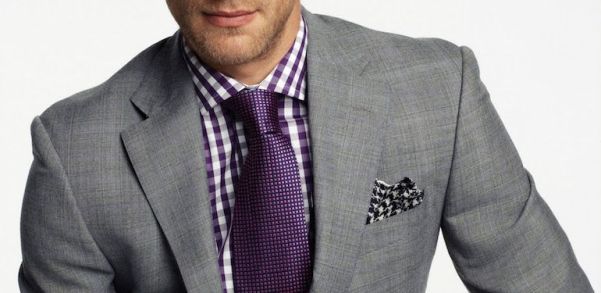 A modern twist on the grey suit is to pair it with a purple shirt. Purple shirts are slowly becoming a more popular choice with light grey suits and it is easy to see why. They make the suit itself seem brighter and add a splash of color to your formal attire. You are pretty limited on tie choices so either purple or black is the safest way to go. Purple adds to the colorful theme of your outfit and lifts the grey suit out of being 'boring'.
Grey Suit / Printed Shirt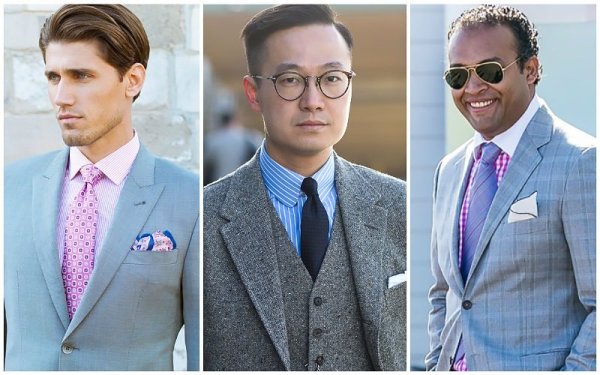 Although a classic grey suit always looks sharp, it can feel a little boring at times. When you want to make a statement with your suit, opt for a printed or patterned shirt instead of your regular solid color. Simple patterns like stripes and checks are easy to wear and will create subtle interest without ever appearing over the top. Bolder prints will create a louder statement and an unforgettable outfit. Remember the more complex a print, the more challenging it can be to wear.
What Color Tie With Grey Suit
With Purple Tie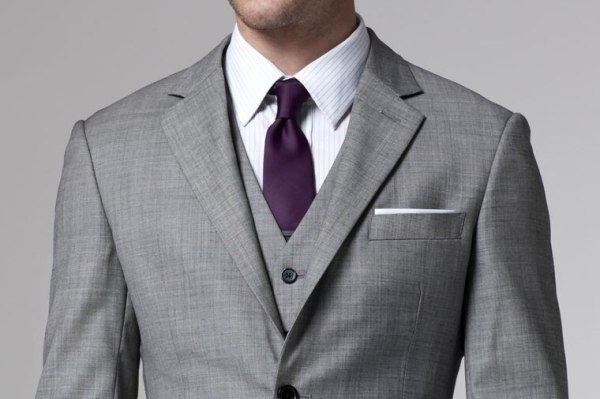 If you want to make a statement, opt for a purple tie. Purple symbolizes creativity and is seen as calming, as well as powerful. Purple is now becoming more accepted in the workplace and is a way of asserting self-confidence. Team your purple tie with a purple, blue, or white shirt. Remember to keep shades in the same family.
With Blue Tie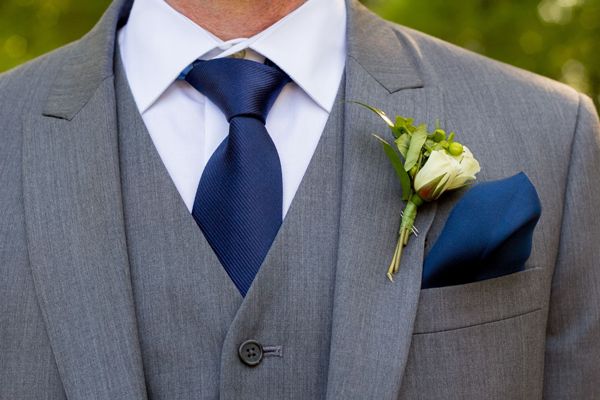 Match your blue shirt and grey suit combo with a tie of a darker shade of blue. A blue tie would also go well with a white shirt if you want to give off a summery vibe. As with purple, blue is calming and is associated with trust, intelligence, and confidence – just what you need if you're looking to make an impression.
With Red Tie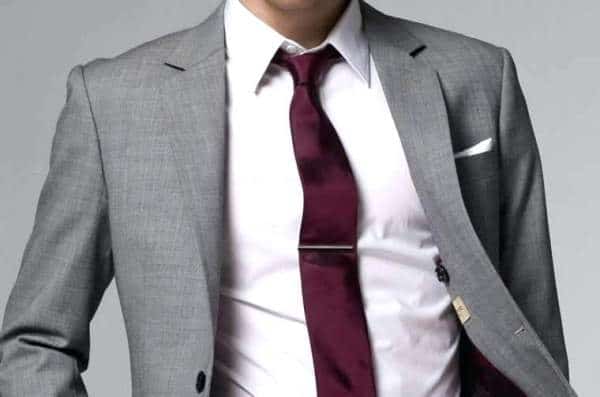 While red doesn't look great in blue or purple, it does go well with black and white. A red tie is suitable for a day at work or a party. It represents strength, joy, and leadership.
Red is the power tie. There's something about red that always comes back to strength and passion.
With Black Tie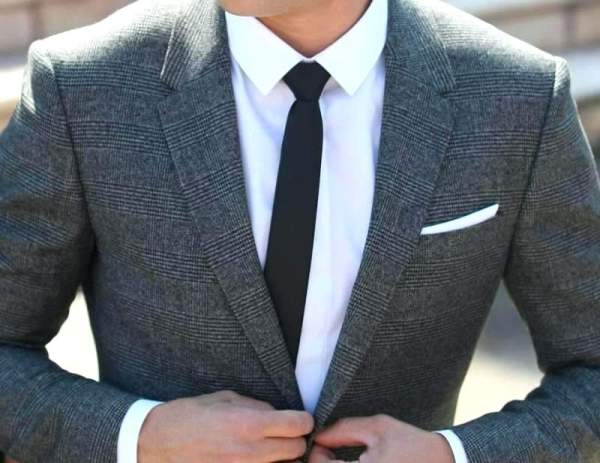 If you're heading to a meeting, why not team a grey suit and white shirt with a black tie? It's smart, elegant, and authoritative, and makes a change from your typical black suit. If you're feeling brave, try wearing a printed or patterned tie with your grey suit. These ties will make you stand out and add color and detail to your look.
RELATED: How To Wear A Gray Suit With Brown Shoes
How To Match Colors
To make your life a lot easier, we have included a color wheel below. The color wheel was invented by Sir Isaac Newton in 1666 and shows you which colors go together.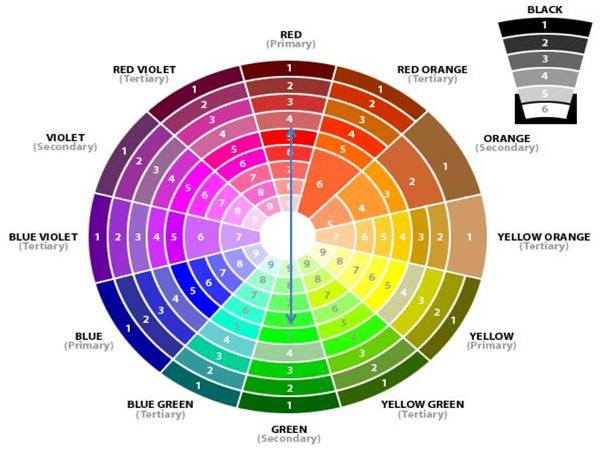 Although it may seem a little daunting, the main thing to remember is that the colors that are directly opposite each other work best. For example, you could pair a shirt with a tertiary color like purple with a primary-colored tie like yellow. Wearing complementary colors is a bit risky. The safest option is to pick a tie that's darker than your shirt.
Stylizing ties with shirts is all about creating a contrast that compliments both items; you don't want to use the same color as your shirt as it will simply disappear into the overall outfit. However, you don't want anything too garish as it will ruin your look.
How To Wear A Gray Suit – Guide For Stylish Men
With regards to suits, nothing beats the staples. Also, by staples, we mean black, navy, and gray. Navy and black have consistently had a general prevalence for their adaptability, however gray additionally rises as a worthy suit color choice. In fact, gray suits have become more prevalent in street style, their flexibility particularly speaking to the more youthful market. Clean, understated, and classic, a gray suit does the trick. However gray can also be tricky to perfect. Done right gray read youthful and modern; done wrong it will leave you looking outdated and frumpy.
RELATED: How To Wear A Grey Blazer Outfit Ideas
Light Gray Suit
The Light gray suits are an excellent choice for formal and smart-casual looks. They are youthful, modern, and sharp – but as with all suits, tailoring is essential. Ensure you're choosing gray suits that do not overwhelm your body and fit your shoulders appropriately. Lighter versions of gray are also an appealing option for the hotter months and provide a summary alternative to the monotony of black and navy. You are also going to want to make sure you keep an eye out for potential dirt marks as light gray can stain quite easily.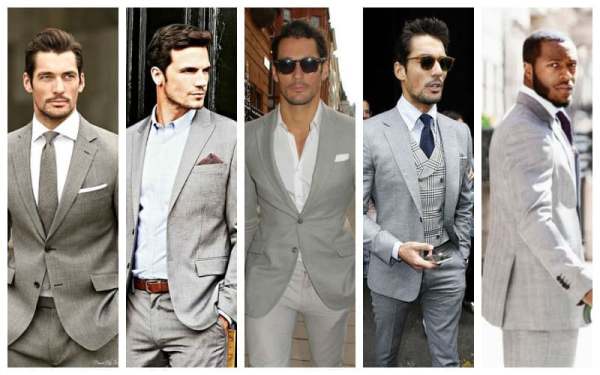 Casual Styling for Light Grey Suit
Wearing light gray suits can be a softer approach to gray tailoring, and they work phenomenally well for casual wear. The key to embracing light gray for casual looks is to go for suits that come in lightweight materials and fabrics such as cotton. Pair a light gray suit with white trainers for a relaxed look inspired by recent street style trends. Alternatively, a brighter trainer will draw emphasis to your outfit and inject a dash of color into your looks. White complements light gray well but do not be afraid to incorporate darker tones like burgundies and navies to ground your looks.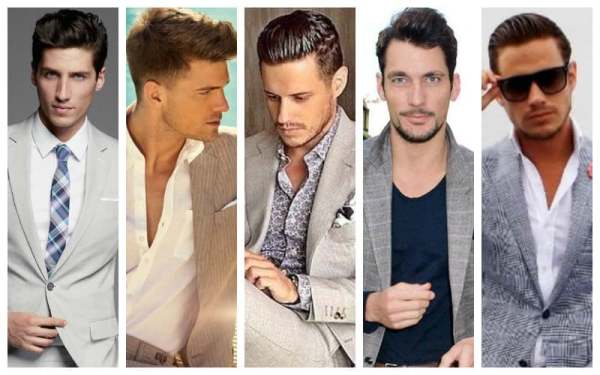 READ: How To Wear Khaki Suit Outfit Ideas
Formal Styling for a Light Grey Suit
To style formal light gray suits, keep in mind that it is all about contrast. With your formal shirts, a crisp white shirt is a failsafe paired with a black tie, but do not fear to experiment with other colors. A muted powder blue complements light gray and other pastel tones can work well also. Balance out your silhouette with a slimmer tie to modernize your look. Don't forget those accessories are crucial to pulling together an outfit. Find a unique patterned pocket square and fedora to make your suit pop and stick to silver watches, tie bars, and cuff links to align with the gray tones of your look.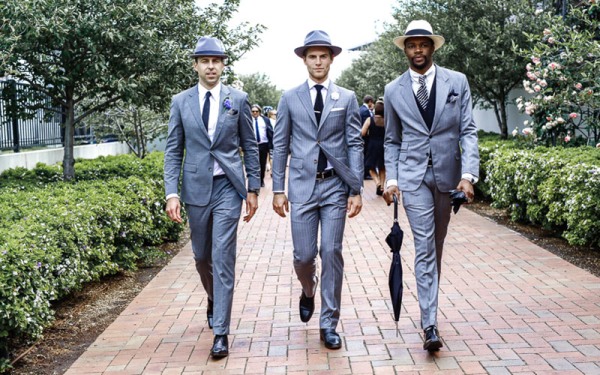 Charcoal Grey Suit
A charcoal gray suit is also another great option for versatility. Much like a light gray suit, a charcoal tone can be reworked in many ways. Keep an open mind to the different textures you can adapt to this tone of gray. A charcoal gray suit with a textured fabric will stand out and work effectively to change up your look and is flattering when tailored correctly. Ensure your textured gray suits are streamlined and aren't too big so you look more youthful as opposed to outdated. Consider charcoal grays as the most corporate-friendly gray suit option. It reads professional and is a refreshing change from the usual black and navy suits we typically reach for. Regarding shoes, mix things up with a burgundy Oxford to complement the dark tones of charcoal.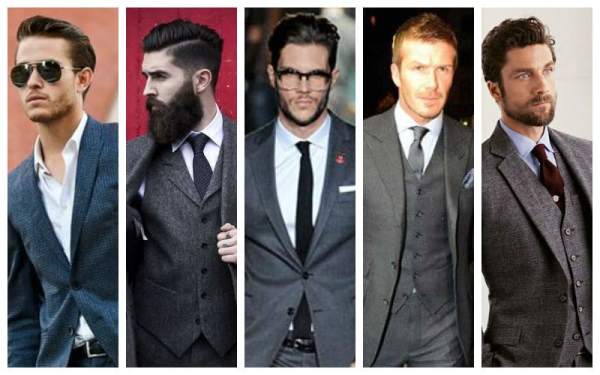 Casual Styling for Charcoal Grey Suit
Charcoal gray suits will dress up your casual attire, making it easy for your looks to go from day to night. To complement the darkness of deeper gray tones, try out accompanying pieces in other dark classic colors for a more refined approach to casual wear. Navies, burgundies, and emerald greens work nicely, particularly in lightweight sweaters that can be worn under charcoal gray suits. Pair with a rusty brown belt and matching loafers or Oxfords for a traditional approach to this tone. For more of a modern aesthetic, incorporate blacks and bright whites to keep your charcoal grays stark, and the focus of your looks simple but visually appealing.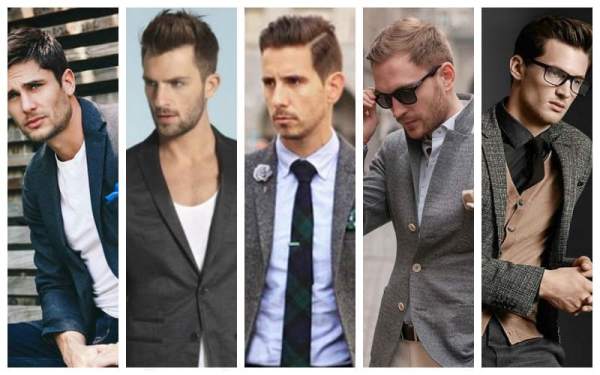 Formal Styling for Charcoal Grey Suit
Charcoal gray suits may have proved popular for the office, but these versions of the typical gray suit have also become a favorite option for weddings which can be a refreshing change from the classic black suit. Remember your fit needs to be perfect and your shoes pristine. Crisp white shirts are the usual favorite for charcoal gray suits, and navy silk or knitted ties are the perfect accompaniment. Also, do not fear ties in other brighter colors, as they can boost the appeal of an ordinary gray suit. Oxblood, browns, and navies are worthy options and will lend a classic vibe to your looks. Add a silver tie bar for an extra bit of polish.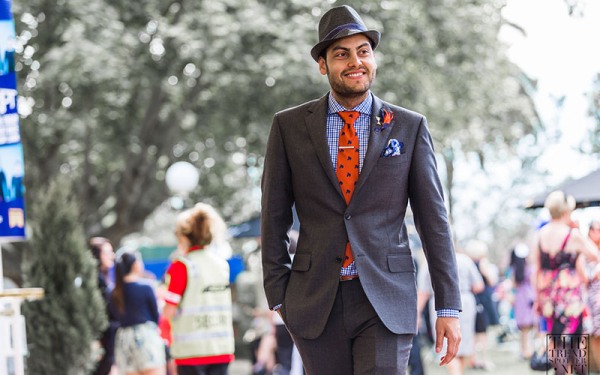 What Shoes to Wear with a Grey Suit
When it comes to shoes, it all depends on the tone of gray you are wearing, as well as the formality of the place you are going to visit. For smart-casual wear, you can be more flexible with white trainers or sneakers to pair with your gray suit. Feel comfortable making bold choices – gray is, after all, neutral color and can handle a lot of colors. For formal wear, keep things classic with Oxfords and simple lace-ups as well as loafers. Tan rusty browns, black, and burgundy all work for the different tones of gray. Burgundy is a nice alternative to the classic black and brown because it warms up gray tones, lending a bit more dimension to your looks.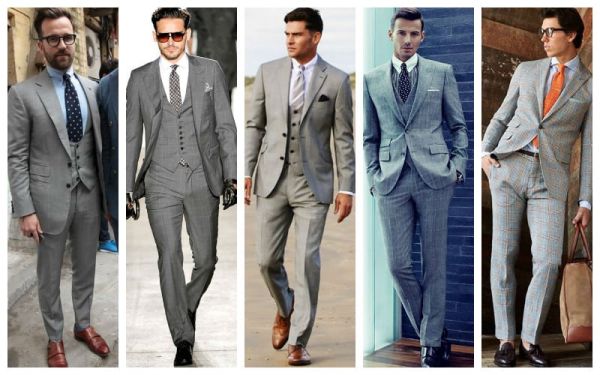 Related: How To Wear A Gray Suit With Brown Shoes
Tips For Wearing a Grey Suit In Style
The shades of a gray suit sit on a long sliding scale. From the casual lighter grays to the more serious charcoal; there are a time and a place for each different shade of gray. When picking out your suit, the color should be your first consideration. Think about when you will most likely be wearing your suit, will it be during the day or night? To what events will you wear it? Is it for the office or for a party on a yacht?
Your skin tone will also come into play in your decision on suit shade. Lighter gray tones work better for those with fairer skin. While those with darker skin and darker hair will look better in charcoal and darker grays.
For a versatile shade, you should opt for a gray that sits somewhere in the middle of the scale. Opt for a solid color, stripes, and checks are more likely to age faster. You'll get more use from a suit in a mid-gray tone both at the office and in more casual situations. Mid-gray is most complementary to other colors, meaning you won't need to update your whole wardrobe around the suit. To dress your gray suit down to a smart casual look, pair it with a solid color t-shirt and ditch the socks.
Wearing so much gray can threaten to send your look 'drab' You can avoid this with smart accessories. Add some color with a patterned tie and pocket square. Go with accessories that are the same color as your shirt, but in darker shades. Silver and white gold accessories work well to set off the metallic character of gray. You can incorporate silver tie clips, cuff links, and lapel pins for something eye-catching.
Given that your gray suit is so versatile, you have a few different options when it comes to shoes. The safest option is a pair of lace-up tan or burgundy shoes; the detail of a pair of brogues works particularly well with the gray. Black is a good option too, lending a more formal tone to the aesthetic. The beauty of gray is its neutral character, meaning that if you want to wear something a little louder you can. For a more casual look, you can match your suit with a pair of sneakers or trainers and no socks.
As is always the case when you buy a suit, the suit fit can be the difference between dazzling and disappointing. The suit's jacket will be the focal point of the whole operation, so any bunching or sagging will stand out. If you don't have the time or money to see a tailor there are a few considerations that you should take into account when buying a suit. When you try on your suit, it needs to look good in your natural stance.
Look at the shoulders, the seam connecting the sleeves to the jacket should meet where your arm meets your shoulder. The back of your jacket should fall over your behind, while your trousers should sit loosely on your seat without bunching or sagging. When standing, a closed jacket should not pull at the button; it's a bad look and can result in a strained button hilariously popping across the room after a hearty meal.
In terms of the suit's cut, it's best to opt for a classic style. That means two-button, notch lapel, and double-vented. A classic style is less likely to date, meaning you'll get more years out of your gray suit.
Shirts Combinations with a Grey Suit
When dressing for a formal occasion or evening event, a black shirt will create a sharp look.
For a clean and classic style, a white shirt is the best option.
A light blue shirt will create a light and preppy style that's perfect for daytime looks and summer styles.
Dark shirts are best for intensifying the tone of a grey suit while light shirts work to brighten it.
To add some subtle and stylish color to a grey suit, pair it with a salmon pink shirt.
A patterned shirt can turn a classic grey suit into a bold statement look.
The red shirts will create a striking contrast when paired with a grey suit.