Oxford Shoes The Smart Shoe Every Man Should Own
Most of us go for an Oxford shoe without even thinking about it. It's one of fashion's few no-brainers; they're the reliable leather lace-ups you turn to whenever you need to look smart. Nothing else comes close. The definition of a smart shoe, Oxford takes us from school to work; stopping off at every conceivable formal occasion along the way. It's a style we've long taken for granted and now is the time to rejoin the appreciation society.
Named after a shoe that became popular at the University of Oxford in the 1800s; the style was originally a more comfortable alternative to heeled boots; which were standard-issue for men of the time. There's also some Celtic blood in lineage; some Oxfords are still known as Balmorals because they can be traced back to footwear worn in Scotland and Ireland.
Today, Oxford shoes are available in a number of iterations, but each one is elegant, formal, and proper – the shoe of choice for everyone from suited young professionals to gentleman spies.
"Every welted shoemaker in the world has a version of this style; and although they all have the same features; they are all separated by how the shoemaker executes the making of the shoe;" explains Tony Gaziano, creative director of British shoemaker Gaziano & Girling. 
How To Identify An Oxford Shoe
Three things define an Oxford. They sit under your ankle, have a low heel, and; most importantly, the lacing system is stitched closed at the bottom (closest to your toes). That's the key difference between an Oxford and a Derby shoe; which is open both at the top and the bottom of the lacing section. This construction technique makes an Oxford snugger on foot and more streamlined; giving it a more formal appearance.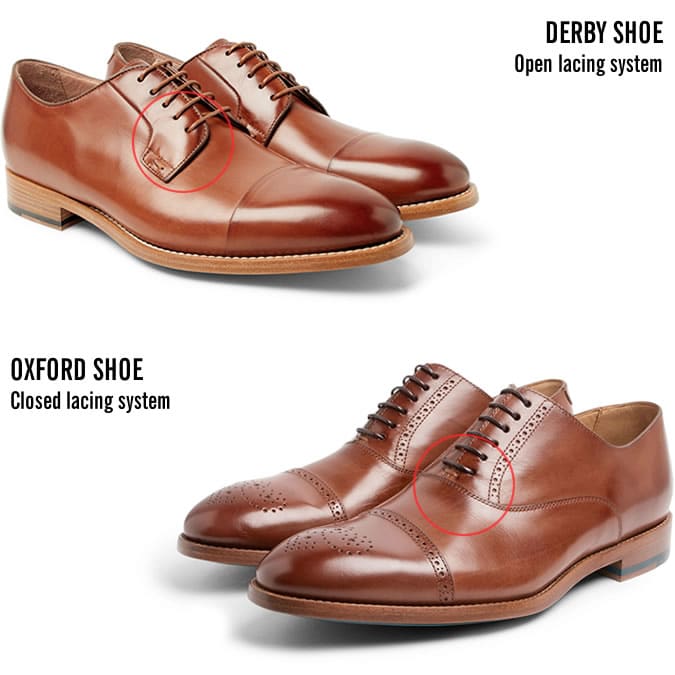 Types Of Oxford Shoes
Knowing the difference between an Oxford and a brogue is another thing that separates the menswear newbs from the menswear nerds. Many people assume the two are completely different shoes, but that's not the case.
Brogues (or rather, broguing) refer to perforations on a shoe that were originally invented to allow water to drain from them. That means you can have Oxfords that are brogues (less formal) and Oxfords that aren't. The same is true of Derby shoes – it's the lacing that defines them.
Whether you opt for brogues or not, there are plenty of other variations you can choose from.
Plain-Toe Oxford Shoes
Undoubtedly the cleanest and most elegant version of the Oxford shoe, the plain-toe is therefore also the most formal. The go-to choice for black tie events when rendered in patent leather, it's characterized by a lack of detail; giving it a sleek profile that extends the appearance of trousers.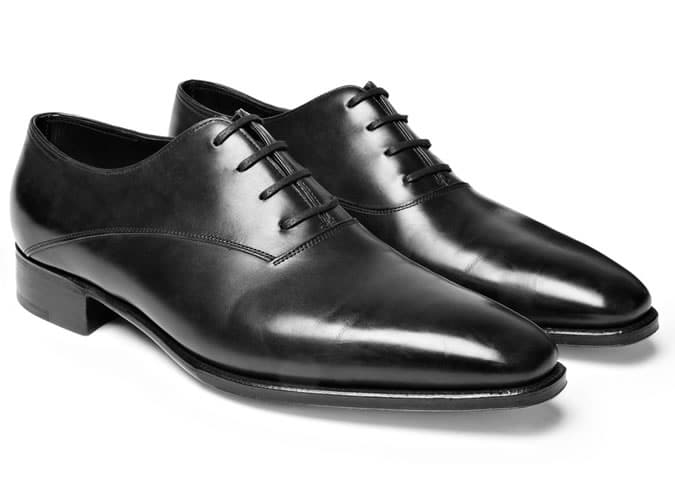 Cap-Toe Oxford Shoes
The most widespread incarnation of the Oxford shoe, the cap-toe is to business attire what the plain-toe is to eveningwear. The style, unsurprisingly, gets its name from the production technique, which sees an additional piece of leather stitched over the toe.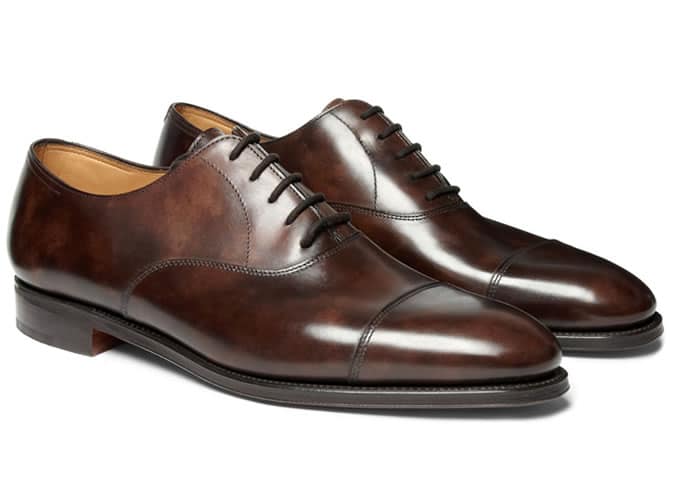 Wingtip Oxford Shoes
Featuring a decorative M-shaped toe cap with edges that extend along the sides of the shoe; the wingtip Oxford is a much less formal option. As well as being suitable for weddings and office wear, styles in nubuck suede can also work well as part of a smart-casual dressing outfit.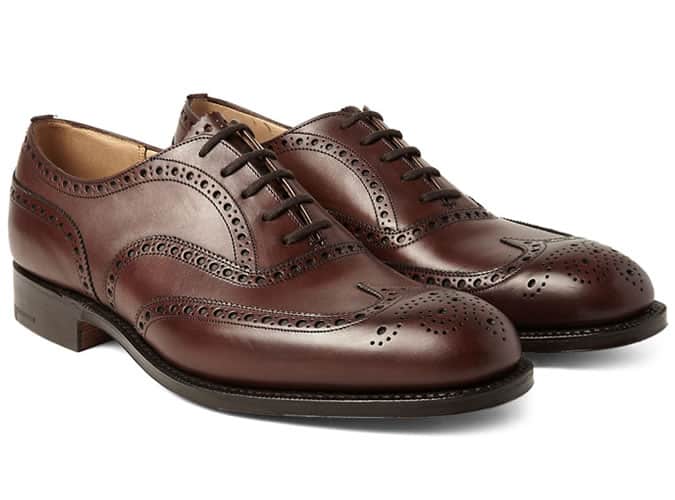 Balmoral Oxford Shoes
Much like the wingtip, the Balmoral design features an extended, M-shaped toe cap. However, it lacks broguing; making it better suited to a range of smart situations including job interviews and dressy evening meals.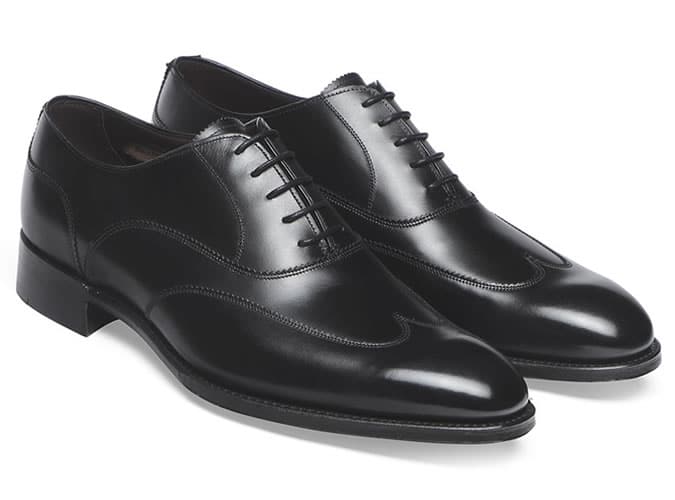 Whole-Cut Oxford Shoes
As the name would suggest, whole-cut Oxfords are cut from a single piece of leather; resulting in a sleek appearance. As a general rule, the less detail a shoe has, the more formal it is; but a whole-cut is the exception, serving as a great all-rounder for those who don't want to fork out for several pairs of dress shoes.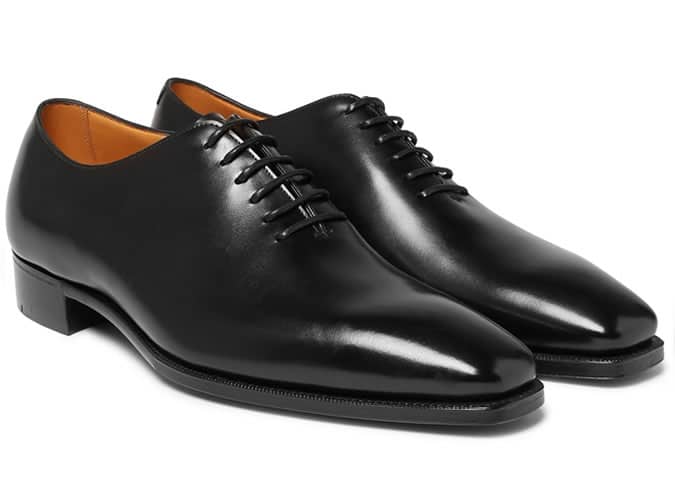 Saddle Oxford Shoes
A historically American style, though rare in almost every corner of the world today; saddle Oxfords features an additional strip of leather in a contrasting or complementary color; which runs around the middle and down the side to the sole of the shoe.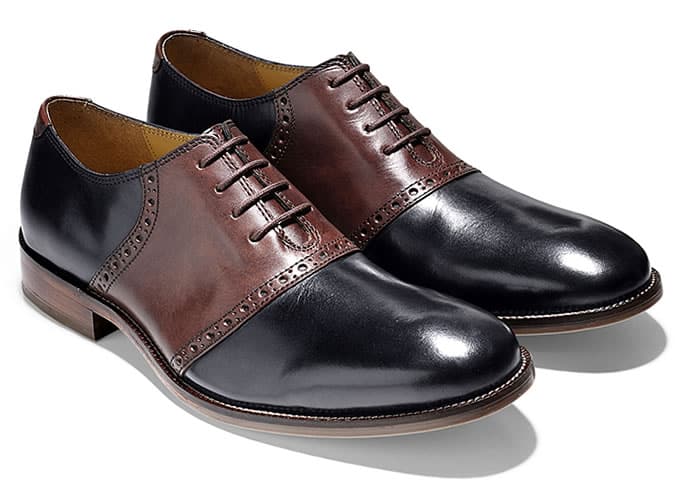 How To Lace Oxford Shoes
Classic Oxford shoes typically have five eyelets, but they can come with more or fewer. That matters less than how you lace them up.
This being the most formal style of footwear you can step into; let's be fastidious about it; the laces should be horizontal, parallel, and the same color as the shoe, or at least tonal. Though color pop laces are perfectly acceptable on Derbies, the same on Oxfords is enough to make Sir Hardy Amies turn in his grave.
How To Lace Oxford Shoes
To lace a pair of Oxfords correctly, feed both ends of the lace through the bottom eyelets from above and pull them so that the lace is horizontal.
If your shoe has five eyelets, pull the lace so that the end on the outside of the shoe is a couple of centimeters longer than the inside. If you have four or six eyelets, keep both ends an even length.
Take the lace on the outside of the shoe, and feed it through the second eyelet on the same side (from the bottom), then loop it over the top to the second eyelet on the other side (through the top).
Now, take the lace on the inside of the shoe and feed it through the third eyelet (from the bottom) on the same side, and loop it to the third eyelet on the opposite side (again, through the top).
Continue in the same way until you get to the top. On any shoe with an uneven number of eyelets, you'll need to cross one side of the lace over, which is why it should be longer on the outside of the shoe. If you have an even number of eyelets, each side should be even.
Pull-on both ends to tighten the laces and close your shoes. You can expect a slight V-shape when you first buy them, but as you break your shoes in, the laces should pull tight, bringing each side of the shoe's upper (these are called the quarters) together.
How To Buy Oxford Shoes 
When buying Oxfords, you have to get the sizing right because of [high-quality] shoes last.. Oxfords have a close fit with the quarters [the strip of leather that comes round from the heel up to the laces]; sitting underneath the vamp [the 'front' of the shoe].
This means that although you have a margin of adjustment; they can be uncomfortable if too tight, but equally can slip if not tight enough. When fitting in store, you should have about 1/8th of an inch between the two facing tabs at the top eyelet.
It's important to try the shoes on before deciding which style is for you. The proportions of the lines will differ according to the size of your feet. Gaziano also recommends looking at the shape of the last, or profile; as well as the tidiness of the sole and heel.
Oxford Shoe Colors
Brown Oxfords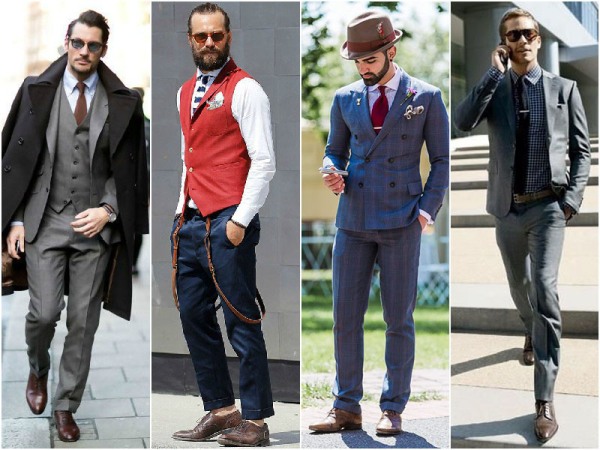 Brown leather Oxford shoes are the perfect option when paired with a grey, dark brown, or navy suit. Rather than wearing black, a brown Oxford is far more striking when paired with these colors and you will visually stand out.
RELATED: What Color Shoes To Wear With Your Suit
Tan Oxfords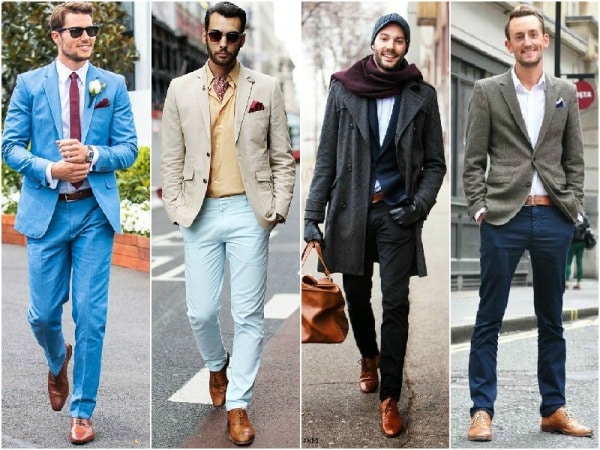 Tan has become a prominent shade in men's footwear, and because of its dark and light tones; it is one of the simplest colors to style as it goes with almost everything. The Tan Oxfords are an excellent option for a less formal look and can be worn with denim trousers, bright-colored chinos, and tailored navy pants.
Black Oxfords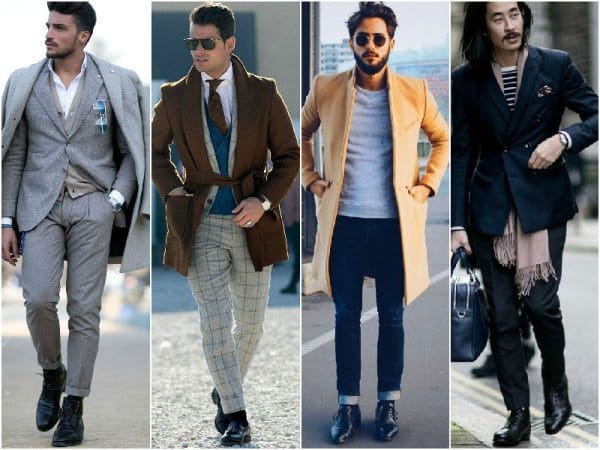 No man should be without a pair of black Oxfords in his wardrobe, and it's the number one color to wear for business. Black Oxfords are quite possibly the most versatile shoes that a man can own, and can be styled with almost every color for a polished yet conservative look.
How and When To Wear Oxford Shoes
These are smart shoes – proper shoes – particularly in polished leather; so tailoring and formal trousers are a natural pairing. The Oxford is without a doubt a suit shoe, perfect for all formal occasions; black suits, navy suits, grey suits, always with a tie and white shirt. [The Oxford is] never a shoe to wear casually or with jeans.
RELATED: How To Wear A Gray Suit With Brown Shoes
Which style of Oxford you go for will depend on what you wear them for. For black-tie events (or court appearances); stick with plain or whole cut designs – the lack of ornamentation keeps things elegant.
There's greater flexibility when it comes to your work wardrobe. You won't put a foot wrong in cap-toe Oxfords; but wingtips and styles with brogue detailing make them a degree less formal; without falling foul of the strictest staff handbooks.
The default shades of black, brown, and tan are classic go-to colors; but there are many more colored Oxfords to choose from today. For example, navy and dark green can add a fashionable point of difference to a dressed-up look. But draw the line at anything flashier than that.
Formal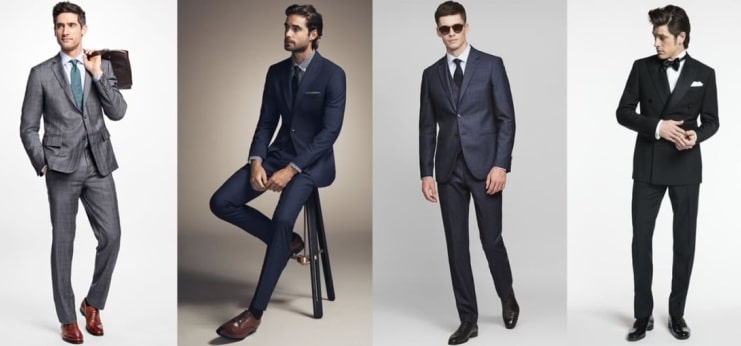 Thanks to their polished appearance, Oxford shoes are perfect for formal occasions and functions. They complement suits perfectly and provide outfits with a dapper touch. To achieve a seriously sophisticated look with Oxfords, be sure to select a black patent leather pair. Also, keep in mind the width of the shoe. As a general rule, slimmer Oxfords appear dressier than those that are wide.
Smart Casual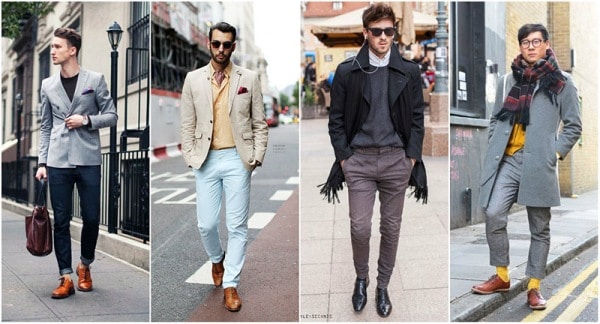 Oxfords can also work for a variety of smart casual events, such as lunches, parties, and more. To pull off such a look with Oxfords, start by finding the perfect pair of pants. As Oxfords are quite formal, they require a somewhat casual pair of pants to balance their style. In particular, chinos or dressy jeans will work well to achieve the desired aesthetic. Then, complete your look with something that is comfortable yet chic on top.
Oxford Shoe Outfits
Oxford Shoes with Pants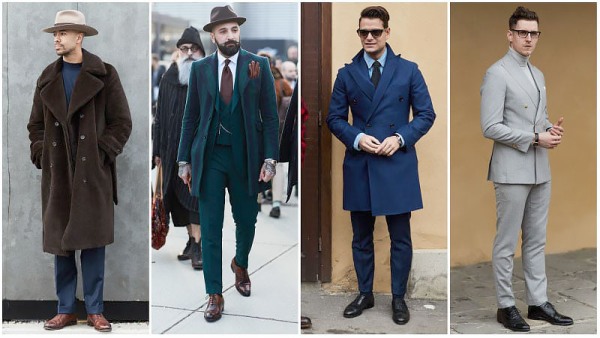 If you're wearing suit pants or trousers, Oxfords can make an excellent footwear choice. Due to their sleek and sophisticated aesthetic, these shoes are the perfect partner to formal outfits. So, whether you're off to a wedding, cocktail event, dinner, or even work, this footwear style is an ideal choice. To nail the look, just make sure you select the right style and color Oxfords to suit the pants you're wearing.
Oxford Shoes with Chinos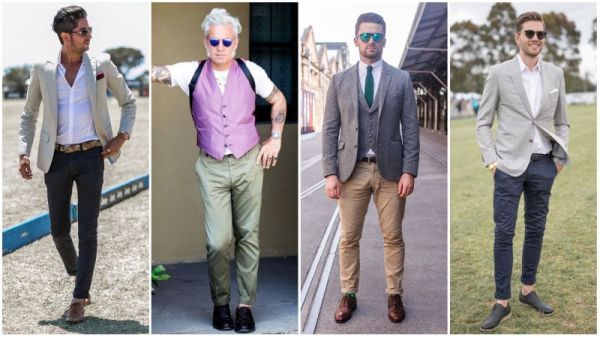 For a stylish, smart casual look, Oxford shoes and chinos make a fantastic choice. To keep the outfit coordinated, just choose basic colors for each piece. For instance, chinos in navy, brown, sand, or black can easily suit brown or black Oxfords. On top, you have a choice of what you want to wear. For a dressy look, try a long-sleeve button-up. For a relaxed appearance, consider a short-sleeved shirt or T-shirt.
Oxford Shoes with Jeans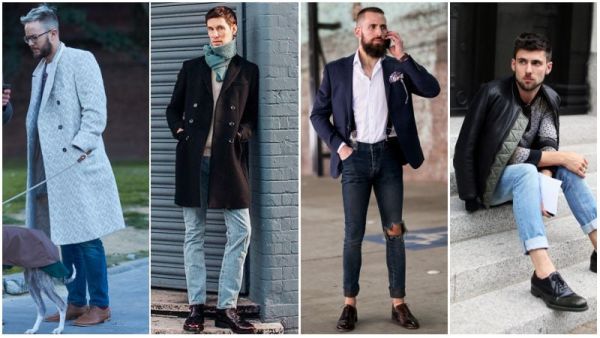 Although Oxfords are dress shoes, that doesn't mean you can't wear them with jeans. In fact, Oxford shoes can look seriously stylish with a jeans outfit so long as you wear them right. To nail the look, pay close attention to the color of your shoes and jeans. While tan Oxfords can appear seriously smart shoes with blue jeans, brown or black designs can pair better with a darker denim, such as indigo or black. Also, to ensure your overall look is appropriate, be sure to balance your shoes with a button-up shirt or blazer on top.
The Best Brands For Oxford Shoes 
Crockett & Jones
Founded in 1879 and awarded a Royal Warrant in 2017, this is a well-heeled footwear brand in every sense. It makes shoes slowly and properly, with each pair taking around eight weeks using the finest materials. Crockett & Jones may be a traditional British shoemaker but that's not to say it doesn't evolve with customer demand. As an example, you can pick up a pair of its classic Oxfords with a commuter-friendly rubber sole.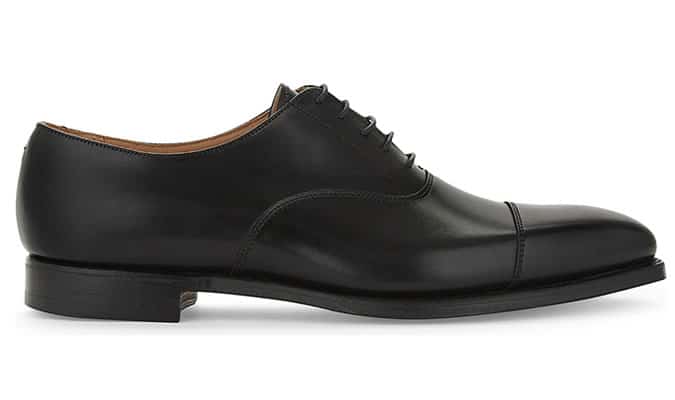 Marks & Spencer
Ever reliable M&S offer classic brogued leather Oxfords; in a variety of colors; with the additional option of half-sizes and extra-wide fits for comfort at a value price. It also has a couple of casual options in colored suede with cup soles for those non-work days. Choice and robustness are what keep the brand a high-street mainstay; and classic styles like the Oxford are what it does best.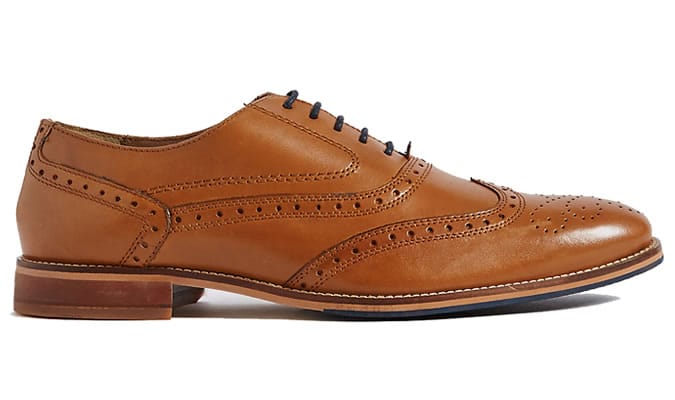 Church's
If they're good enough for 007, they're good enough for us. James Bond's shoemaker of choice can trace its heritage all the way back to the 1600s. Nobody was wearing Oxfords back then, of course; but they have since the 1800s; when this firm came up with the bright idea of wearing different shaped shoes on our left and right feet.
Today, a pair from the firm's Northamptonshire factory will last you decades if you look after them properly and the brand does traditional styles as well as anyone in the world.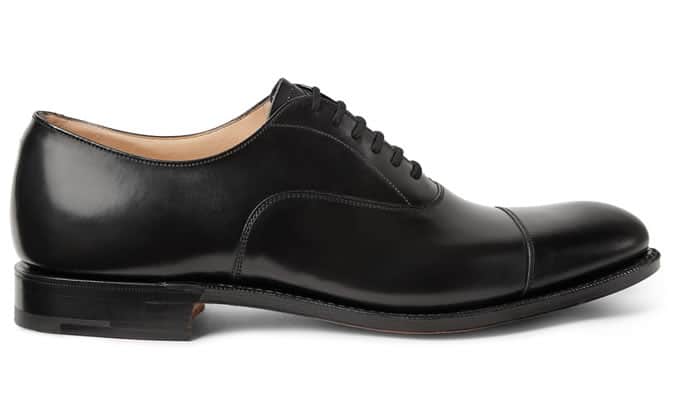 Dr. Martens
For something with more attitudes, you can always rely on the stomping rebel spirit of Dr. Martens. The punk favorite may not be the first brand that comes to mind for such a formal shoe, but it does them well.
The Fawkes Oxford brings the signature Dr. Marten's aesthetic to the style. Part of the refined Henley collection; these are built on the brand's slimmest last to date, making them perfect for work and play. Although the sole is thinner, it's still air cushioned and comes in lots of different finishes.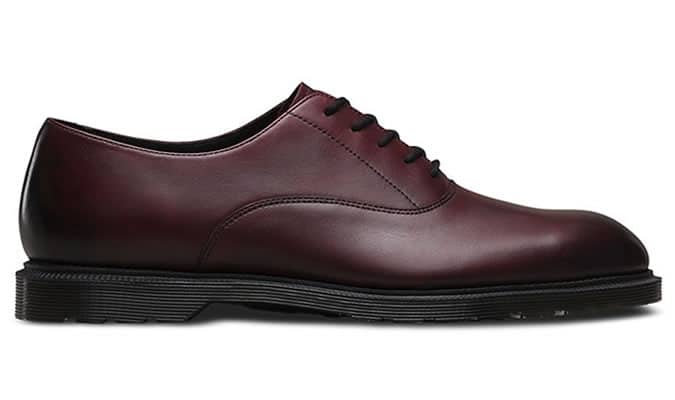 Undandy
How do you stand out in a shoe that's designed to be sober and traditional? You design them yourself. Undandy is an online brand that lets you take timeless silhouettes like the Oxford (but also Derbies, loafers, boots, and sneakers) and customize them. You can choose the color of the leather, the laces, opt for a brogue or cap toe, and decide on finishing touches like a personalized engraving.
Once you're happy with your design, it will be made by third-generation Portuguese craftsmen and shipped directly to your door.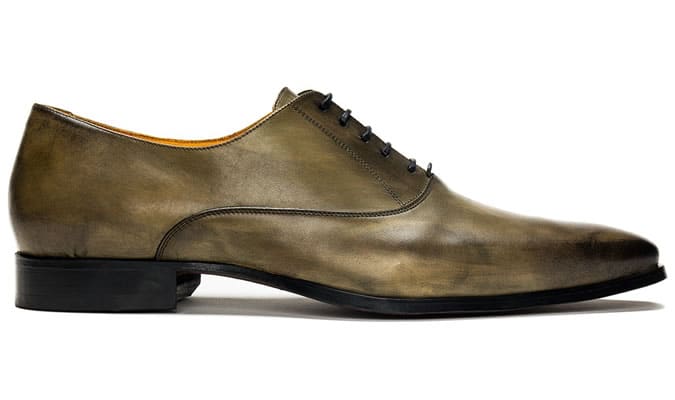 John Lobb
An undisputed giant of British shoemaking, John Lobb is a traditional family firm with a truly global reach. It's owned by Hermès these days, but five generations of the Lobb family have been crafting high-quality footwear since it first set up shop in London in 1863. Expect nothing but the hardiest leathers that nevertheless feel slipper-soft on your feet. In-house repair service also means these shoes could conceivably last you a lifetime.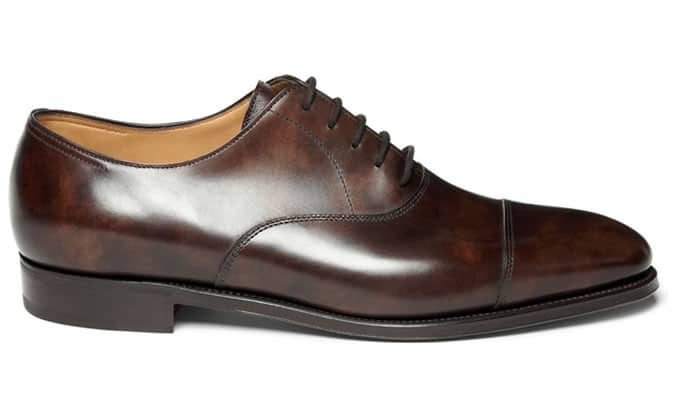 Kingsman x George Cleverly
"Oxfords, not brogues," says Colin Firth's character in the first Kingsman movie. He's making a common mistake (see above) but it's still a roundabout rule to live by if you need to look formal and tailored. So it's no wonder that smart Oxford shoes have turned up in the innovative Kingsman clothing collection, stocked at Mr. Porter.
Much more than a cheap movie tie-in, these were made in collaboration with George Cleverly, one of London's finest shoemakers and cobbler-in-chief to none other than Winston Churchill.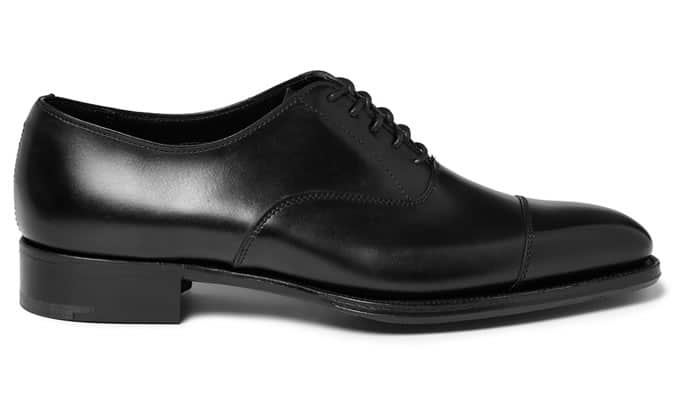 Base London
Always affordable and offering plenty of options; Base London is the brand to prioritize if budget and choice are your main criteria. Its Raeburn Oxford shoe has a sleek grain finish on the uppers while a reinforced heel adds longevity at an unbeatable price. Brogue details along the tip and heel rim of the shoe add individuality to a sea of standard work uniforms, too.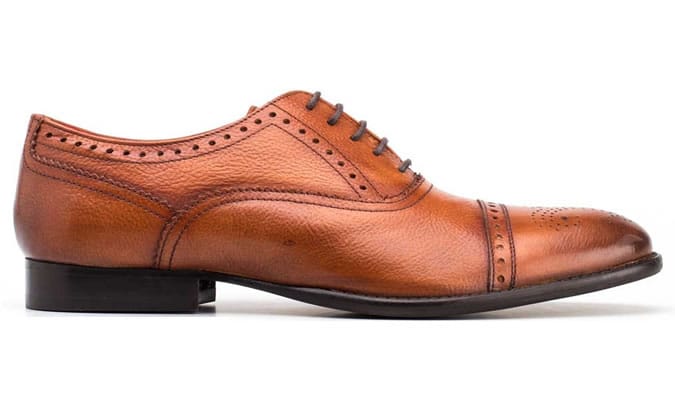 Gaziano & Girling
A relative newcomer to the British shoe industry; Gaziano & Girling was founded in 2006 by Tony Gaziano & Dean Girling; who cut their teeth at the likes of Edward Green and George Cleverley. Based in Kettering, just outside Northampton, they have easy access to the heartlands and expertise of traditional British shoemaking.
The company's Oxford shoes are handcrafted from burnished leather featuring elegant stitching on the uppers and smart squared-off toes. They're set on oak bark-tanned soles cut from leather that has been through a gentle 14-month process, ensuring the natural fibers of the hide are fully protected.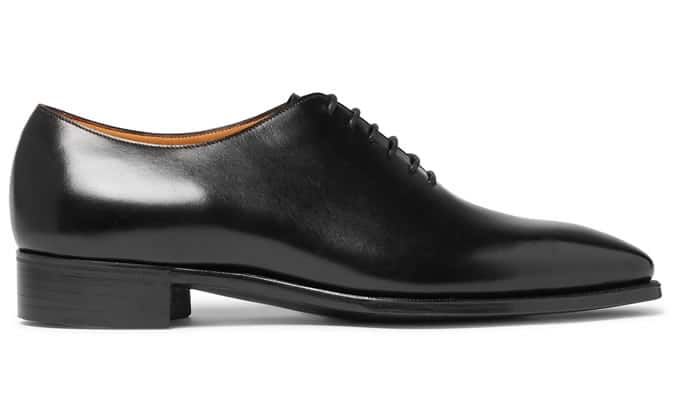 Dune London
Dune London's men's collection of shoes first appeared in 1999. At the high street end of the spectrum, the brand has a knack of doing trend-led interpretations tastefully. Case in point: this season's Paulie Oxford shoe. The classic silhouette gets a modern update with two-tone lacing and an upper detailed with a toe-cap design and punched holes.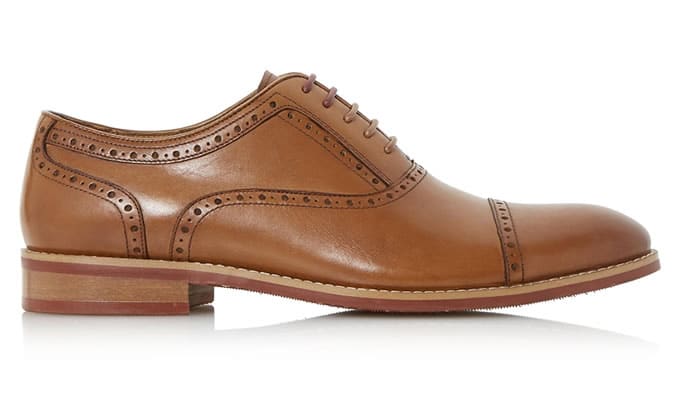 Kenneth Cole
Founding his eponymous label in 1982, American designer Kenneth Cole is known for his clean and dark minimalism. His leather punched toe-cap Oxford shoes, in tan and grey, feature rubber soles and are ideal work shoes at a reasonable price.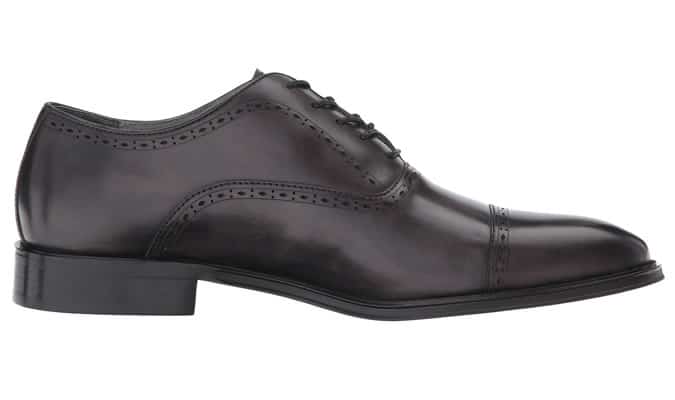 Aldo
Canadian footwear expert Aldo offers an elegant collection of Oxfords in a variety of leathers and colors. High-street prices mean more options, so it's a good brand if you have work suits in a number of different hues.
Its clean take on the Oxford style is a perfect choice for the man about town, particularly one who likes to experiment with color and texture. The range comes in a wide palette that includes Bordeaux and navy suedes.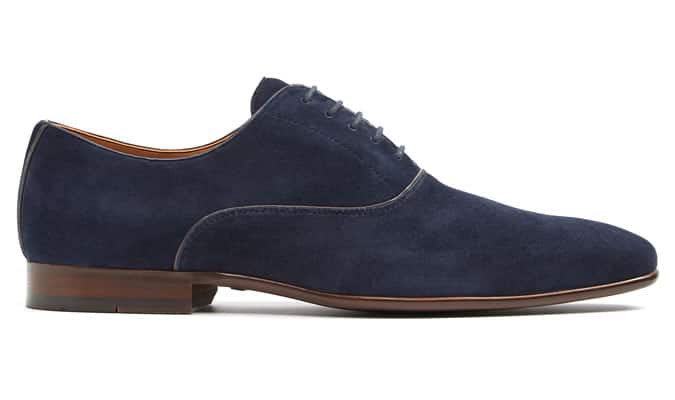 Manolo Blahnik
A man with exquisite taste, and world-renowned expertise at shoemaking; these are the shoes Blahnik wears himself. Italian made, with the very finest leathers; the rainbow of colors and perfectly matched laces make this something you'll want in every shade. You'll stand out, and that's the intention: "[The] Oxford comes from my desire for a clever weekend shoe for the discerning gentleman," says the man himself.