Having the capacity to display a polished appearance is a significant fundamental ability that each gent ought to have in his stockpile. Regardless of whether you're dressing for a prospective employee meeting, a formal capacity, or even a date, having the capacity to look like it is fundamental for success. While your garments are normally a noteworthy piece of how you present yourself, your shoes are similarly as imperative. A man's shoes say a lot about him whether he wants them to or not, so nailing your footwear choice is crucial for projecting the right image. We have assembled the best men's dress shoes that each man should possess. You can also check the best picks of the most comfortable men's dress shoes to buy.
RELATED: The Most Comfortable Dress Shoes For Women
RELATED: Your Guide To Wear Dress Boots
Best Men's Dress Shoes You Need To Own
Before we get down to nuances in style, you should first understand the components that make up a dress shoe.
From front to back, a dress shoe consists of four parts: toe, vamp, facing, and quarter. It's the placement and construction of these four pieces that determine the individuality of a dress shoe.
Men's Dress Shoes Types
1. The Oxford
Excellent starting points are Oxfords, the most basic and timeless of dress shoes. The versatile Oxford shoes can be dressed up or down for formal and daily wear.
These shoes gained popularity in 1800 among college students, particularly at Oxford University. At the century's turn, students wanted a modern low-top version of the shoe, as they deemed the half-boot style of traditional Oxonian shoes outdated.
The Oxford is a classic men's dress shoe that belongs in every gent's closet. It can be identified by its closed lacing system, which features stitching across the bottom. This means that the shoe's facing is attached beneath its vamp. This arrangement provides a slim silhouette that hugs the foot's contour. Oxfords also tend to feature a low heel and short back, creating a neat and polished appearance.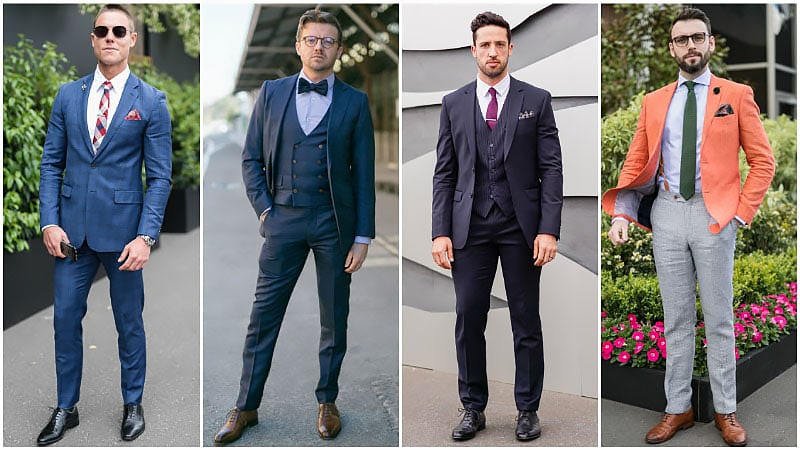 How to Wear
Oxfords are chiefly popular because of their minimalism and their ability to pair with any outfit. Perfect for pairing with a suit, Oxfords are a reliable choice for every formal occasion. While black, polished styles easily work for the highest of dress codes, other varieties of Oxfords can suit any number of events.
For everyday wear, there's a wide range of colors from brown to blue to dark red to green, in both leather and suede.
For business attire, dark brown, cordovan, English tan, and black leather are your safest choices.
If you'll be pairing Oxfords with a tuxedo or other formal wear, black patent leather is your best bet.
RELATED: What Color Shoes To Wear With Your Suit
The One Piece Oxford
The one-piece Oxford is a variation on the classic Oxford. It's constructed of a single leather piece rather than various pieces sewn together, and it has a single seam. This limited stitching provides a sleek and sophisticated look that adds to the shoe's simple, no-nonsense style.
2. The Derby
This is similar to Oxford, but it's a more casual dress show.
The Derby shoe, also known as the Gibson or the blucher, was a sporting and hunting boot circa the 1850s. At the turn of the 20th century, they became appropriate for going out into town.
Derbies are often miscategorized as Oxfords since their shapes are very similar and their differences are very subtle. The key difference between Derbys and Oxford is that the Derby shoe has its facing attached to the top of the vamp. This is called "open lacing" and allows for a wider fit.
This wider, comfortable fit winks at Derby's sporting roots; and solidifies the Derby shoe's positioning as more casual than the Oxford.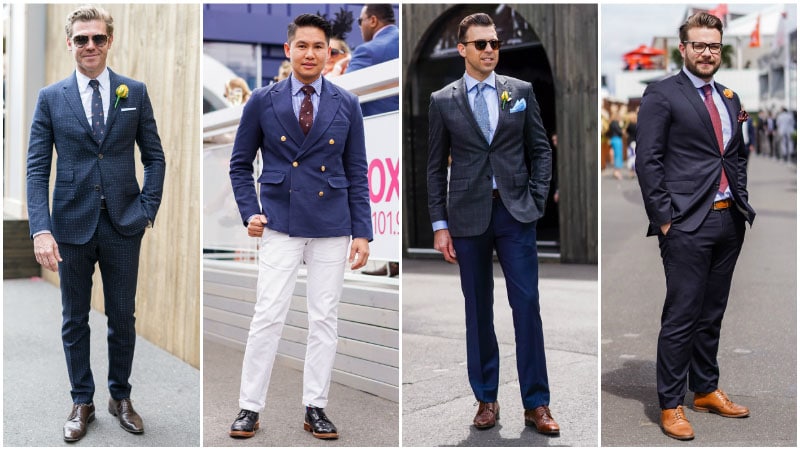 How to Wear
You can wear and style Derby shoes the way you would Oxfords. The comfortable style is suitable for most formal occasions and can easily be paired with a suit. Traditional leather varieties of Derby shoes are perfect for a classic, polished look; other types, in materials such as suede, are ideal for a slightly more casual look. Chinos and rolled jeans, however, would go paired with these shoes.
4. The Monk-Strap
A laceless shoe that is more formal than the Derby but less formal than an Oxford.
This shoe takes its name from the monks who originally donned them; as this simple closed-toe design provided greater protection than their traditional sandals.
A Monk Strap is similar in shape and construction to an Oxford; but instead of an eyelet closure, it has a wide swath of leather fastened across the front of the shoe. This wide strap is fastened with either a single or double-buckle closure.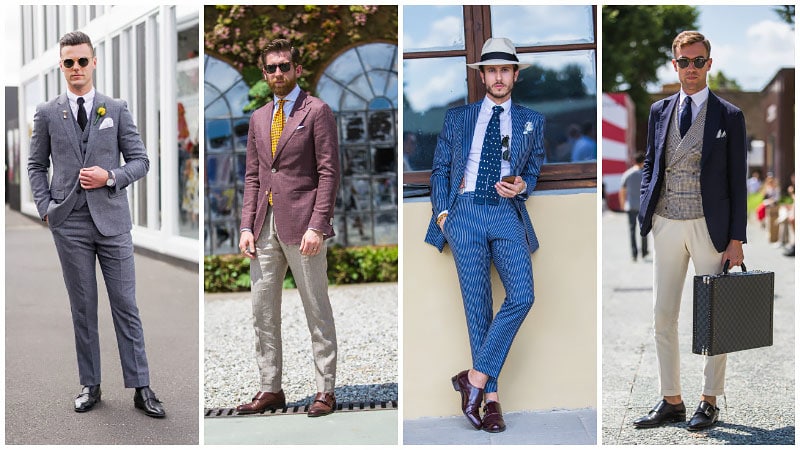 How to Wear
Monk-Strap shoe is a stylish and unique dress shoe. This classic alternative to laced dress shoes adds a certain panache to any outfit. The monk strap is now regarded as a very versatile shoe that can be worn with cuffed jeans or the most dapper of suits.
Featuring a strap across the top and a buckle (or two); the sleek design can be worn with a number of formal looks for everything; from a business meeting to a night out. The popular and fashionable shoe is also a great choice for gents seeking a polished style; with more interest than the standard Oxford or Derby. Just be sure to choose a leather style with a bit of shine to keep the look refined and suitably sharp.
5. The Loafer
Loafers are laceless shoes often featuring a Moccasin-style construction.
The original loafer was a casual house slipper made for King George VI of England. It was neither acknowledged nor popular as a casual shoe until it came to the U.S. in the 1930s. It wasn't until the 1960s that American businessmen and lawyers began wearing loafers with suits.
In 1966, Gucci introduced the bit loafer, which features a metal strap (in the shape of a horse's bit) across the instep. Gucci's innovation further elevated the loafer's status as formal footwear — or at least confirmed that this was not strictly casual.
Loafers often have a saddle — a decoration that might be a plain strap, a strap with a slit (as with penny loafers), or a metal ornament. Tassels or a kiltie might hang from a saddle, while the minimalist loafer (the Venetian) has an exposed vamp without embellishment or ornamentation.
A signature characteristic of loafers (especially those more akin to a moccasin than a regal slipper) is an elevated seam that runs along the toe.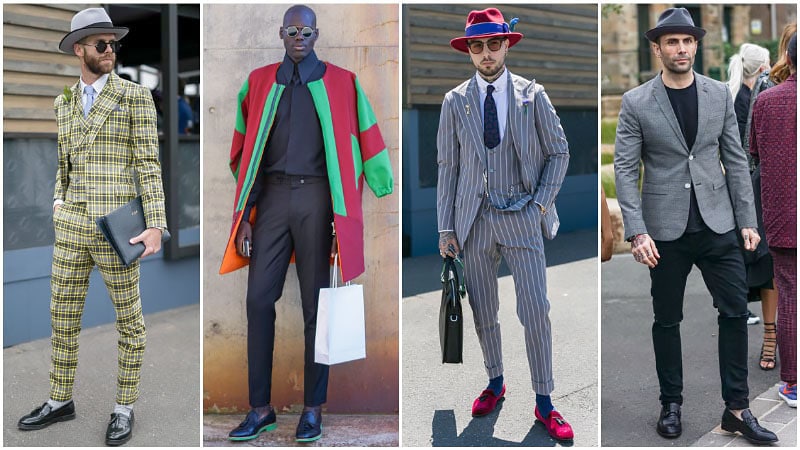 How To Wear
The comfortable slip-on shoe is perfect for adding a stylishly relaxed touch to formal outfits. Although loafers can work with a number of looks, they pair great with suits, especially those worn with flare. Choose between varieties such as classic Penny loafers and tassel loafers in leather for a unique and dapper look. If you really want to impress, however, a decadent pair of velvet loafers will undoubtedly do the trick. You can also opt for casual styles with rolled jeans.
A casual variant of the loafer is the driving moccasin or driving shoe.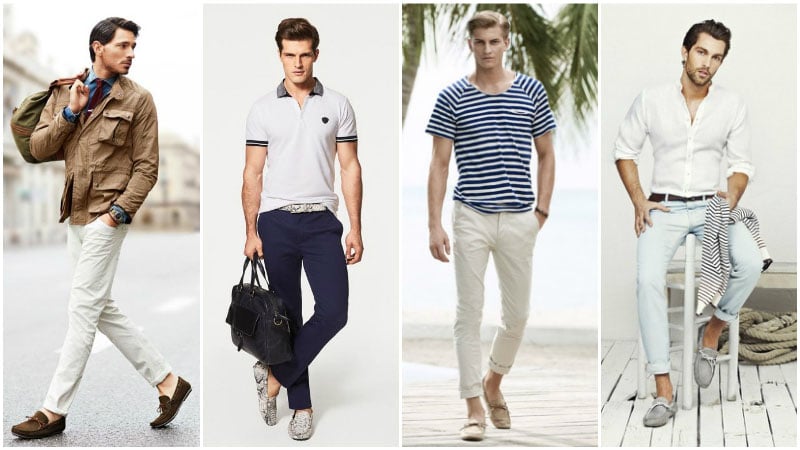 These are often made of softer materials, are less structured; and have soles and heels made for wearer comfort while driving. Driving shoes may favor comfort over traditional style. But they're still a great dress shoe to have on hand when the occasion calls for it. The loafer-style shoe features a gripped sole that extends up the back of the heel. Designed to assist gents with driving, the practical piece of fashion is breathable and light; making it the ideal dress shoe for summer. Perfect for outdoor events, this simple yet stylish shoe pairs best with chinos and a light shirt.
6. The Chelsea Boot
The Chelsea boot is a versatile laceless ankle boot. This boot originates from Victorian England, reputedly created by the Queen's bootmaker, J. Sparkes-Hall. These boots became the practical alternative to rigid Victorian boots of the age and were quickly adopted by equestrians.
Chelsea boots experienced a strong, permanent revival in the 1960s when The Beatles wore them as part of the British Mod look.
These ankle-length boots have rounded toes, low heels, and elastic gussets on the sides. Because of these elastic gussets, one can pull on and slip off the shoes with ease; without compromising the refined silhouette of a laced boot. In fact, the absence of laces contributed to Chelsea's slim, clean shape.
In dressier versions, the vamp and quarters are made from a single piece of leather, which keeps stitching to a minimum for a tidy look.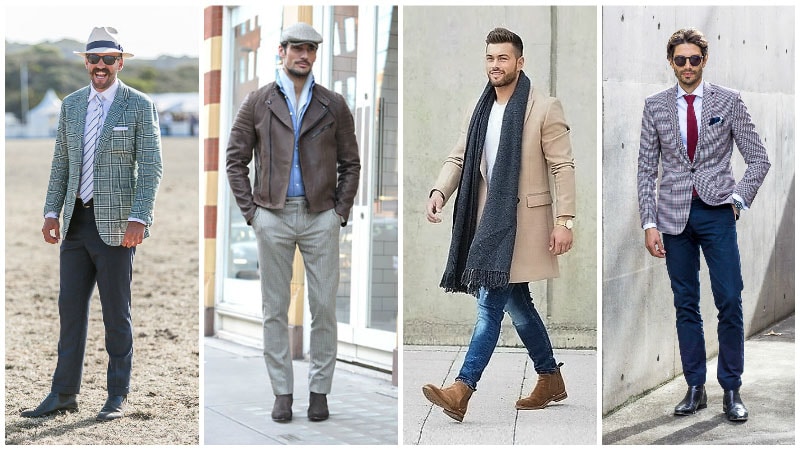 How to Wear
When you think of dress shoes, you may not immediately think of boots, but maybe you should. After all, the right style of boot can provide gents with a great finishing touch to formal looks. Chelsea boots are one such style and can be paired with anything from a casual look to cocktail attire. Classic Chelsea boots don't have decorative flourishes or embellishments. Their simplicity puts them in a class all their own; jeans get an upward lift, and traditional suits gain an edge.  If you purchase suede Chelsea boots, wear them only as part of a casual or smart-casual ensemble.
7. The Lace-Up Boot
The dress boot is a short lace-up boot. It is constructed like an Oxford, but with a longer shaft. This short, lace-up boot may feature wingtip brogueing on the toe and along its seams.
This shoe style's roots in the Victorian era, when men had limited footwear options; the dress boot quickly became an acceptable choice for formal daywear; it still remains an attractive alternative to standard dress shoes today.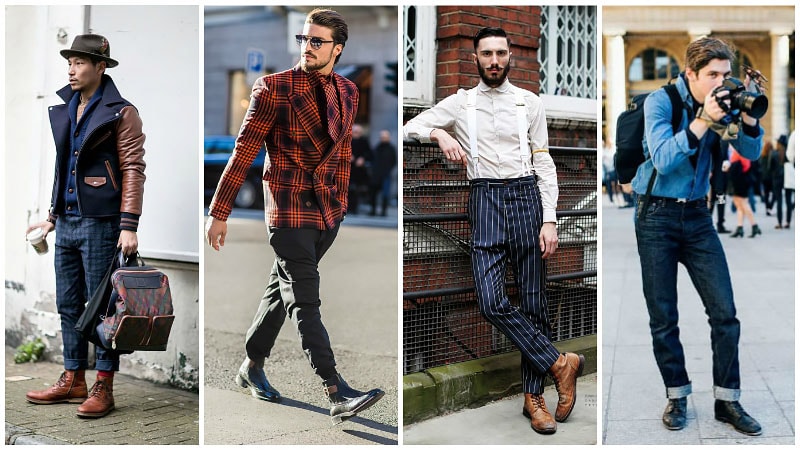 How to Wear
To wear a boot with a suit, the boot should be sleek, not too chunky, and have thinner laces; its soles should immediately distinguish the boot as a high-top dress shoe. Lug soles and commando soles will rarely be appropriate (though there are exceptions.)
If the boots are made of fine leather, they can be brown or black or almost any other; so long as they complement the suit.
Unless you are a styling expert, assume that a suede dress boot is a contradiction (though it need not be).
8. The Chukka
A lace-up boot with only two to three eyelets on each side; Chukka boots originate from the polo sport; a "chukka," a segment of seven minutes, is the unit of time by which polo matches are measured; a match will consist of four, six, or eight chukkas.
Some say chukkas resemble shorter versions of the boots worn by polo players. People also say that Chukkas are intended to be comfortable after-game footwear for polo players–like the original Uggs were for surfers.
Chukkas are ankle-length boots with few eyelets. The absence of many eyelets and the short shaft allow for a snug fit that won't disrupt the shape of one's trouser legs. Also, Chukkas have a rounded toe, minimal stitching, and open lacing (similar to the derby). They are traditionally made of soft suede, but there are now many versions from which to choose.
Desert boots are a much more casual, rubber-soled version of the Chukka boot.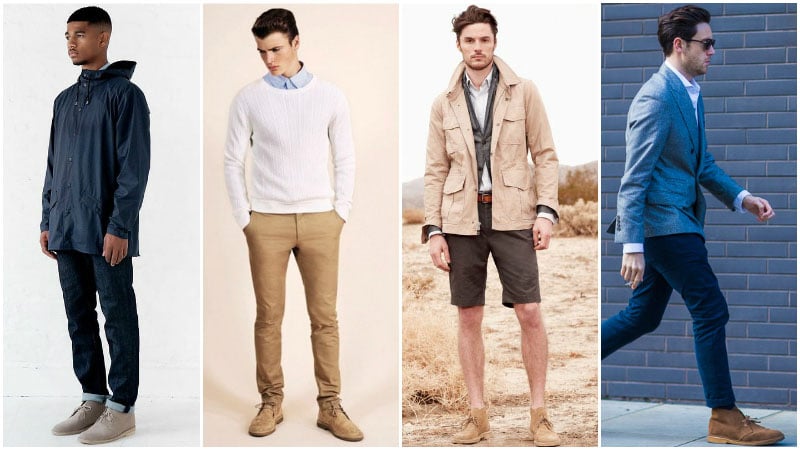 How to Wear
These are the most casual shoes. Chukkas are not appropriate for formal attire, though pairs made of high-quality leather can complement a smart-casual ensemble. Both chukkas and desert boots are exceptional for smart casual.
Chukka boots are a comfortable style of dress boot that finish at the ankle. Their shorter height means that they feature minimal lacing, creating an uncomplicated appearance. It's this simple yet sharp style that also makes Chukka boots ideal for both smart casual and semi-formal dress codes. Although the style does sometimes appear in traditional leather, it is most commonly featured in suede, which also adds to the shoe's relaxed image.
9. The Opera Pump
The most formal of dress shoes! Popular during the Victorian era, opera pumps were essential to formal evening wear. Men would wear these pumps with knee-high stockings and breeches to operas, dances, and other formal events.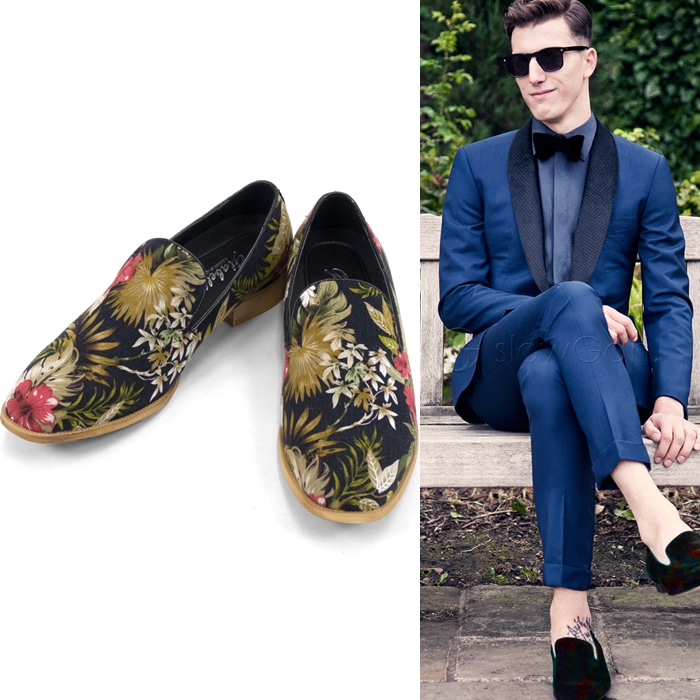 Opera pumps are slip-on dress shoes. They are traditionally made of patent leather and are adorned with a grosgrain bow.
Though not as popular today, opera shoes occasionally make an appearance at full-dress events. If you're a fashion-conscious individual, you can wear opera pumps with a tuxedo or suit at a ritzy soiree.
10. The Sneaker
These days, sneakers aren't just restricted to casual wear. The right pair can easily make a modern dress shoe and be worn for numerous occasions. Whether you're headed to the office, out for a drink, or simply wandering around on the weekend; sneakers are a comfortable and cool choice. To ensure your sneakers won't look out of place next to sharp, tailored clothes, choose clean and minimal white trainers.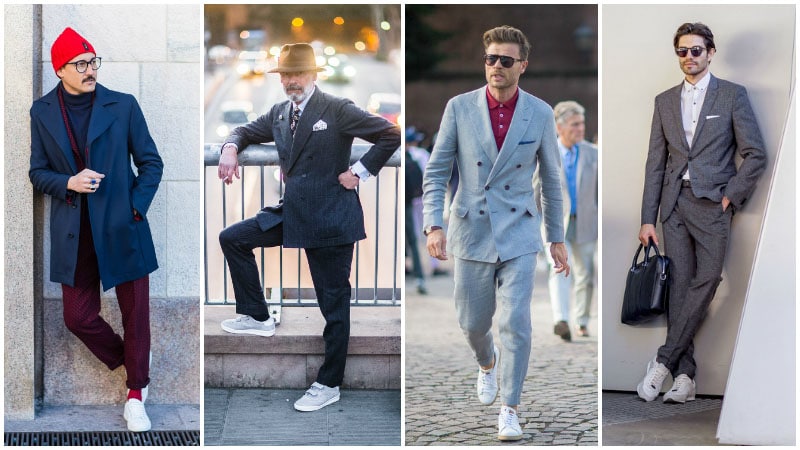 Best Men's Dress Dress Shoe Toe Styles
When making an investment in quality footwear, take note of the details; and abide by the one golden rule; the toes of your dress shoes should be rounded, and never squared or pointy.
There are a time and places for pointy and squared toes, but not on dress shoes.
Plain Toe
Plain-toe shoes are as simple as it gets. The vamp is unadorned, and the resulting look is clean and unassuming.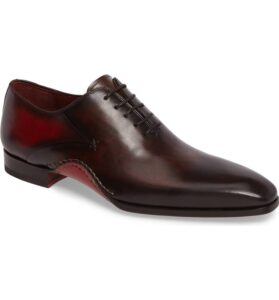 Cap Toe
The Cap's toes feature a horizontally stitched line across the vamp that "caps" the toe. In most cases, a separate piece stitched over the vamp. But sometimes, the cap accomplished by a decorative stitch across a single piece.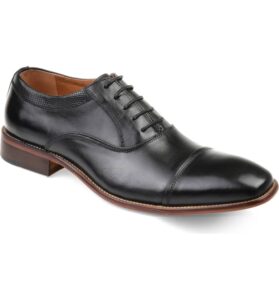 Split/Apron Toe
The split toe, otherwise known as the apron toe; features a seam that starts in the middle of the toe, runs around the shoe, and ends in the middle of the heel. This toe style is more common in casual shoes.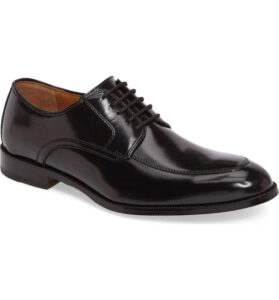 Medallion
The medallion style has a plain toe, with hints of brogueing on top of the toe.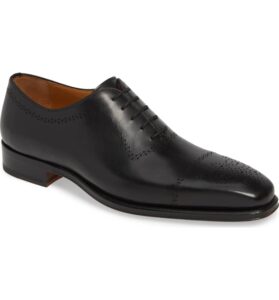 Wingtip
This toe style has a winged cap that peaks in the middle of the toe. Wingtips often feature brogueing in the center of the toe and along the seam of the cap.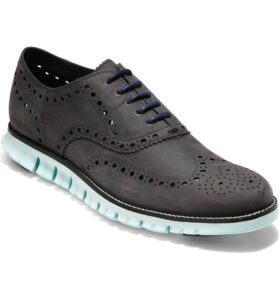 Dress Shoe Brogueing
Any dress shoe style can have brogueing. Brogue simply refers to decorative perforations in various patterns.
Originally, the tiny holes intended to allow water out of shoes when crossing the wet terrain. Brogueing most often seen on Oxford, Derby, and Monk Strap shoes in four-toe cap styles: full brogue, longwing brogue, semi-brogue, and quarter brogue.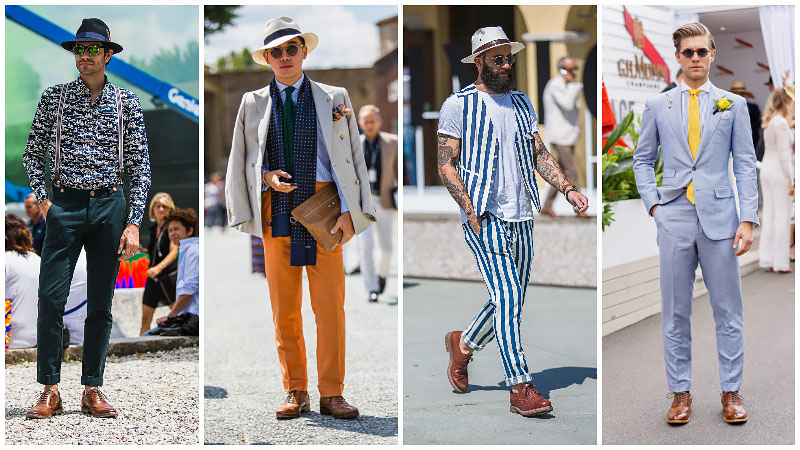 Full Brogues / Wingtips
Also known as wingtips, the wing-shaped cap extends around to the outside of the toes.
Semi-Brogues
Semi-brogues, also known as half brogues; feature broguing along the seam of the cap toe as well as some decorative broguing on the center of the cap toe. This is more subtle than a full brogue.
Quarter Brogues
The most reserved of the lot; the quarter brogue simply features decorative broguing along the seam of the cap toe; with no decoration on the center of the cap toe.
Longwing Brogues
These are most common on the derby shoe. The shoe's brogued wingtip cap continues along the side of the shoe all the way to its center seam in the back.
Best Men's Dress Shoes Top Picks
If you wear dress shoes all day, it may be worth spending a few dollars more for maximum comfort. Even if your day involves a lot of sitting, uncomfortable feet can ruin your mood and your productivity at the same time. Whether you're looking for shoes for the office or for a social event, these Most Comfort Men's Dress Shoes should treat your feet right.
Before you make your selection; it's best to take a few minutes to consider what is important in a dress shoe.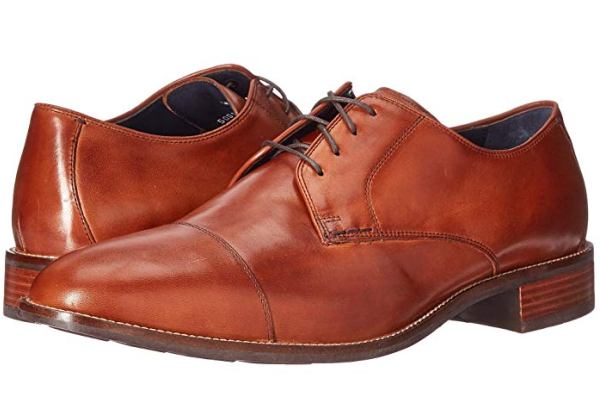 What To Look For In Best Men's Dress Shoes
Here are a few criteria to keep in mind when shopping For the Most Comfort Men's Dress Shoes.
Comfort: 
This should always be priority number one. Consider the sole, cushion, and other comfort factors.
Style: 
Some men prefer penny loafers; others prefer a classic wingtip or oxford. There is no right or wrong, this is just your personal preference. Any classic men's dress shoe style will do.
Material: 
Leather shoes are the standard for men's dress shoes, though you can find some styles in other materials, like suede shoes.
Quality: 
Some cheaply-made shoes fall apart quickly while high-quality shoes can last for years or even decades when re-soled. Consider that before springing for the most inexpensive option.
Price: 
When it comes to price, you have some flexibility. Browsing online shoe listings yields pairs below $20 and over $1,000. But you probably won't find anything very good for less than $30. In the $40-$60 range, you will find some shoes that are wearable, comfortable, and stylish. But they likely won't hold up for the long term. The $60-$80 price range yields higher-quality shoes that should withstand regular wear and offer a balance between good value and high quality. And from $80-$120, you are getting into the lower tier of premium shoes. Here you should be able to find great shoes that last a long time; fit comfortably, and look good with classic styles.
While you can easily spend more than $120 on dress shoes, don't feel like you have to. But if you are willing to stretch the budget; premium brands like Allen Edmonds bring the most comfort and quality you can get in a shoe. Depending on your needs and budget; you should be able to find a good shoe that fits your needs without overspending.
Brand name matters some of the time, but not always. Sure, you can spend a lot more on designer shoes, but in most cases, people won't notice the label. Focus on the core qualities above and you should get the best results.
Most Comfortable Men's Dress Shoes
Read on for our selections of the Most Comfort Men's Dress Shoes available online.
Best Overall: Allen Edmonds Men's Carlyle Oxford

The Allen Edmonds Carlyle Oxford is the best overall dress shoe for men. Allen Edmonds is a company with roots going back to 1922 and offers some of the finest dress shoes in the world. The Men's Carlyle Oxford is a class style with a plain, attractive finish.
The leather dress shoes set a high bar for comfort. High-quality shoes should last for years even with daily wear. But they are pricey, so it is good to take good care of them to make them last.
With some things, you get what you pay for. That is the case with these ultra-high-quality dress shoes. These shoes generally run in the $300+ price range, so prepare for a little sticker shock if you've never looked at high-end dress shoes before. But if you try them on, you won't ever want to go back.
Best Budget: Florsheim Men's Montinaro Wingtip Dress Shoe Lace-up Oxford

Florsheim is a great choice for budget dress shoes as they're typically below $100. The Montinaro Wingtips come in black, tan, chocolate, and brown and feature a leather upper, synthetic sole, and hand-antiqued style details that show off the traditional wingtip features like the medallion toe.
The memory foam insole won't hold up as well as traditional leather soles, so they are better for occasional use for dressy functions rather than daily wear.
Best Comfort Value: Cole Haan Men's Lenox Hill Cap Oxford

If you want a classic, well-made shoe without the high price tag of some luxury brands, Cole Haan Oxford is the way to go. In the $100 price range, these shoes bring both high quality and great value. Cole Haan shoes also have a great reputation for long-lasting durability.
This lace-up leather shoe comes in tan, black, and brown color options. The soles are rubber with 1.25-inch heels. With these, you will look great, your feet will feel great, and you won't break the bank.
Best for Comfort: Cole Haan Men's Pinch Tassel Loafer

Cole Haan's slip-on loafers set a high standard for comfort and quality. If you want a slip-on dress shoe, you can't go wrong with Cole Haan. The Men's Pinch Tassel Loafer is one of the most popular tasseled dress shoes available today.
This reasonably priced shoe offers great value. It is made of leather with a combination of leather and rubber sole. It has a one-inch heel and moccasin-style toes that offer maximum comfort for long days on your feet or at your desk.
Best Comfort for Casual Events: Sperry Top-Sider Original Boat Shoes

These Sperrys set the standard for boat shoes, and are a trendy choice for brunch, afternoon drinks, or any casual gathering. They come with a competitive price tag and high-quality build. The shoes are all leather with a non-marking rubber outsole. Those are useful features for boating, but you can enjoy these shoes just as well on land.
The shoes feature a beveled heel, rawhide laces with rustproof eyelets, and slip-resistant soles. They are hand-sewn for the best quality finish. However, beware that some recent reviews indicate quality is not what it once was.
Best Comfort for Formal Events: Stacy Adams Gala Lace-up Oxford

You probably don't wear your most formal shoes all that often, so it's okay to save a few dollars here. The Stacy Adams tuxedo shoe looks great and is still affordable. It comes in black, white, red, navy, and gray. The patent finish will shine just like a shoe that costs 10x as much.
These handmade shoes have a synthetic sole and lace up the front. They use a lightweight construction that won't weigh you down after a long wedding or business function. They combine a classic look with a bargain price but don't be surprised if they don't hold up as well as a more expensive pair.
Best Slip-On: Allen Edmonds Men's Cavanaugh Penny Loafer

Allen Edmonds is making a second appearance on this list thanks to its ultra-comfortable, high-quality Cavanaugh Penny Loafers. If you enjoy the penny loafer look, this slip-on pair comes in walnut, black, and brown colors to best match your wardrobe.
These loafers are leather with a leather sole and stacked heel. Made in Wisconsin, USA, this shoe combines the classic style with contemporary designs to make it an effortless addition to any man's shoe rack.
The penny loafer look works well with a suit, sportcoat, jeans, and just about any other style from casual to formal suit-and-tie occasions. With Allen Edmonds, you can't go wrong.
RELATED: How To Wear The Classic G.H. Bass Penny Loafers
Runner-Up, Best Slip-On: Steve Madden Men's Dwellr Slip-on Loafer

Steve Madden is a well-known brand for both men's and women's shoes. Their slip-on loafers offer a simple elegance that is great for office or social functions, and they work well with dress pants to dress up or jeans to keep it casual.
Steve Madden's dress shoes are reasonably priced and offer a good value for the cost. You can count on a comfortable sole and high-quality stitching. They won't last forever, but at this price point, you won't mind replacing them once in a while.
Best Statement: Calvin Klein Men's Atlee Ballistic Nylon Oxford

These bright red Oxfords (they come in more neutral colors, too) make a statement the moment you walk into the room. These shoes are made of nylon with a synthetic, flexible rubber sole, and add a tasteful pop of color to any outfit.
The classic lace-up shoes also come in navy, black, gray, and toffee colors, all of which are generally work-appropriate and stylish. They are super lightweight and can handle both a day in the office and a night on the dance floor. Add a little flair to your daily wardrobe with something that goes beyond classic brown leather.
Take Your Pick
A signature pair of well-made dress shoes is an essential possession. Choose a well-crafted pair, and choose wisely.
Ideally, your choice expresses your personal style and fits with the clothes you typically wear. You can add uniqueness and dimension to them with creative lacing methods or colorful laces.
Investing in Best Men's Dress Shoes
Not everyone can spend a fortune on dress shoes. Take into consideration how often you will be wearing them; and where you'll be wearing them. There's no need to break the bank if you'll only wear dress shoes occasionally at weddings, funerals, etc. But if you'll be wearing dress shoes as part of your daily professional ensemble; we suggest spending a bit more than you'd think to. Regular wearers who dress to impress should spend as much as they can comfortably afford to spend. Consider a well-made pair of comfortable men's dress shoes as a small investment.