How To Wear Oxford Shirt In Style
The term 'essential' is thrown around more than a dice on the Las Vegas strip. You only have to look at the fact that there's an album called Bon Jovi: The Essentials for evidence of that.
However, one piece to which the term has been correctly applied for more than 120 years is the Oxford shirt.
Sitting alongside a well-fitting navy suit, a selection of white T-shirts, and Selvedge denim in the menswear hall of fame, the OCBD (that's 'Oxford cloth button-down' to the uninitiated) is one of the few key sartorial building blocks guaranteed never to fall from favor.
Bought in classic shades of sky blue, pink, and white; an Oxford shirt has the ability to add a casual lean to an otherwise formal outfit or dress up a relaxed chino pants and sneakers combination.
It's truly one of the most versatile and timeless pieces a man can have in his wardrobe. An Oxford shirt can slot easily under a summer suit, or over a plain T-shirt; be fitted or slightly oversized; worn with the sleeves down to the wrists or rolled up, and in every case, it never looks out of place.
It's no overstatement to say that the OCBD is as near as you'll get to the ultimate wardrobe cornerstone. But in case you needed further convincing, here's everything you need to know about this menswear essential.
What Is An Oxford Shirt?
Softer in its construction than a stiff dress shirt, and a tad more formal than your weekend flannel, the Oxford shirt is a solid, fail-safe option when you're attempting to bridge the treacherous gap dividing smart and casual.
While the merits of owning an OCBD (or five) may come as no surprise, what might be that this staple has little to do with the English city with which it shares its name. In fact, the moniker is taken from the fact that it's made exclusively from a thick, woven fabric known as Oxford cloth.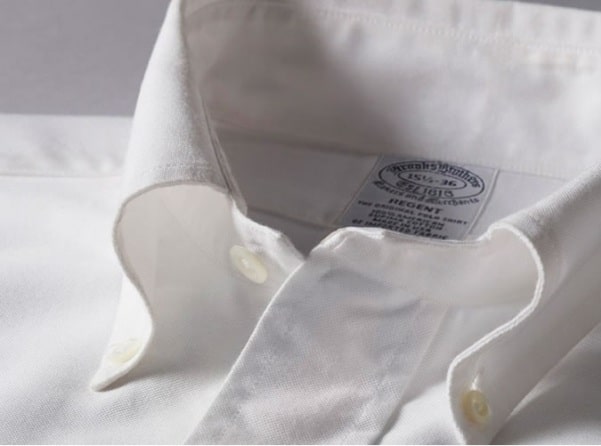 Brooks Brothers
Oxford cotton is created by weaving the cotton yarn in a certain way giving a textured rather than smooth finish. There are different types, starting with the classic Oxford, then the finer Prince Oxford, which has a slight sheen and more conspicuous weave.
Despite often being referred to as an Oxford cloth button-down, not all are finished with a collar that fastens to the shirt. Those that do are inherently more casual, but smarter styles (most of which use collar stays to maintain their shape) still qualify as Oxford shirts if they're cut from the right cloth.
History Of The Oxford Shirt
The Oxford shirt can be traced back to 19th century Scotland, where local mills were experimenting with different weaves and producing original fabrics. Four of these new types of cloth were named after the most prestigious universities of the day: Yale, Harvard, Cambridge, and Oxford.
While the other three have since faded into sartorial obscurity, Oxford cloth has stood the test of time. This is thanks in no small part to Brooks Brothers, the oldest men's clothing brand in the US.
In 1896, John E. Brooks noticed how English polo players pinned their collars down to keep them from flapping up during matches. Inspired by this, Brooks set about developing a shirt that used buttons to carry out the same task. The result was the Oxford shirt as we know it today and the end of the previous practice of men buying their shirts and collars separately.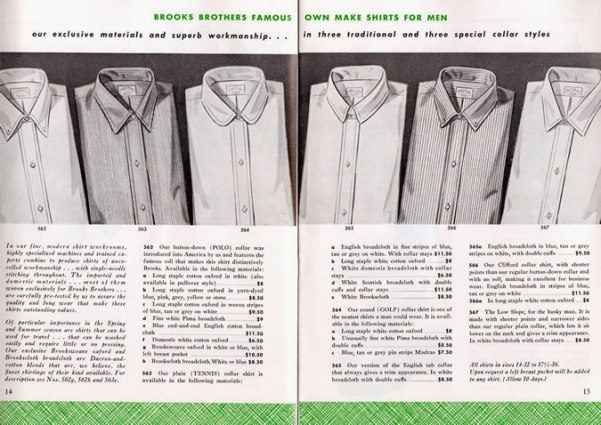 Brooks Brothers early Oxford shirt catalog
However, it didn't take long for the OCBD to gallop off the playing field; no doubt due to the fact that it looked equally at home paired with a tie and jacket as it did on horseback.
The style hit its peak in the mid-20th century when Oxford shirts were adopted by the preppy Ivy League set on America's east coast and later Vespa-riding mods in the UK.
From there on out, the Oxford shirt never went away – and given what a versatile piece of kit it is, it's unlikely that it ever will.
Why Do You Need An Oxford Shirt?
In a word: versatility. The Oxford shirt has an unparalleled ability to blend into any setting and as part of almost any dress code. You could just as easily wear one to a formal event as you could down the pub. There aren't many items of clothing you can say that about.
It works well with a button-down collar and button cuff, but also looks great worn open, with a traditional collar and button cuff. Oxford has become [even more] popular as men do not have to dress so formally all the time and it converts so well from suit to jeans.
How To Wear An Oxford Shirt For Different Dress Codes
Whether you're suiting up for a work meeting or cobbling together a casual dressing for the weekend, getting dressed is made infinitely easier with a selection of Oxford shirts to hand.
To give you a friendly nudge in the right direction, stylist Sarah Gilfillan from personal shopping service Sartoria Lab recommended four fail-safe ways to wear your OCBD, whatever the occasion.
Formal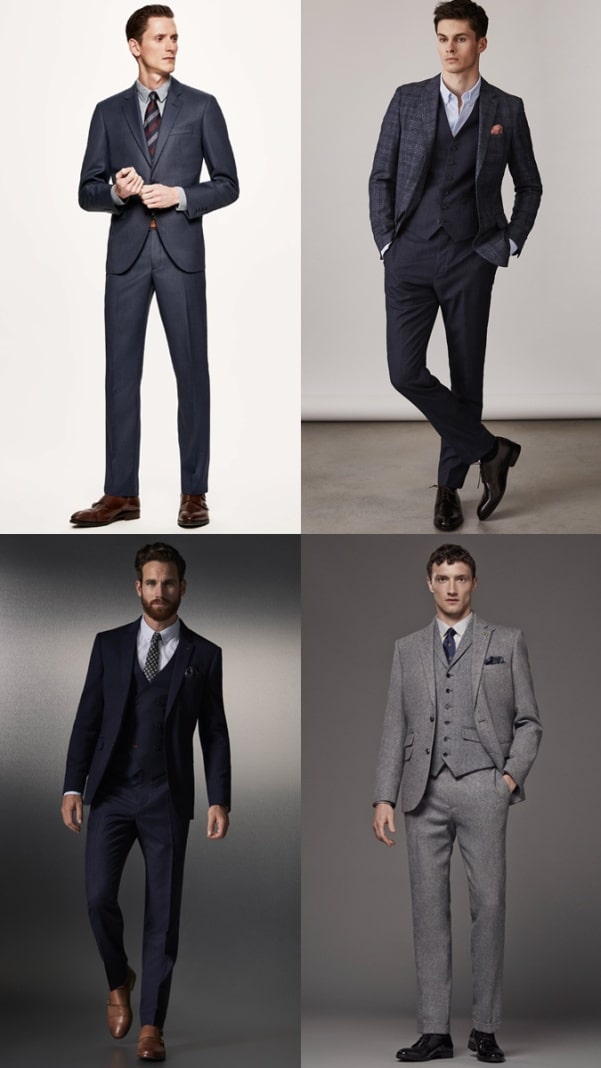 Oxford cloth may not be as fancy as poplin or pique weaves commonly used on dress shirts, but it can still be worn with a suit if you know how to get it right. An Oxford shirt is not the most formal style, so when it comes to styling, up the formality with high-contrast colors. "For example – a white Oxford shirt with a burgundy knitted tie, navy cotton suit, and oxblood loafers."
Business Casual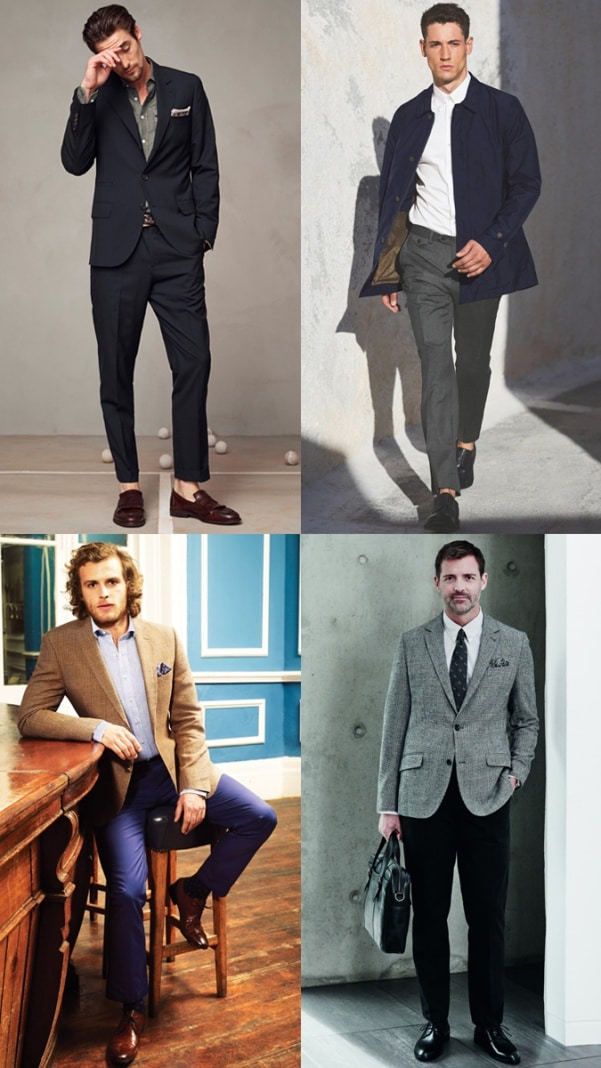 Understandably, business and casual aren't two words that have always gone together, but as office dress codes continue to relax, their pairing is becoming increasingly common.
An Oxford shirt is the perfect staple item for a business casual dress. Worn with an unstructured blazer or as part of tailored separates, you'll never look over or under-dressed."
Smart Casual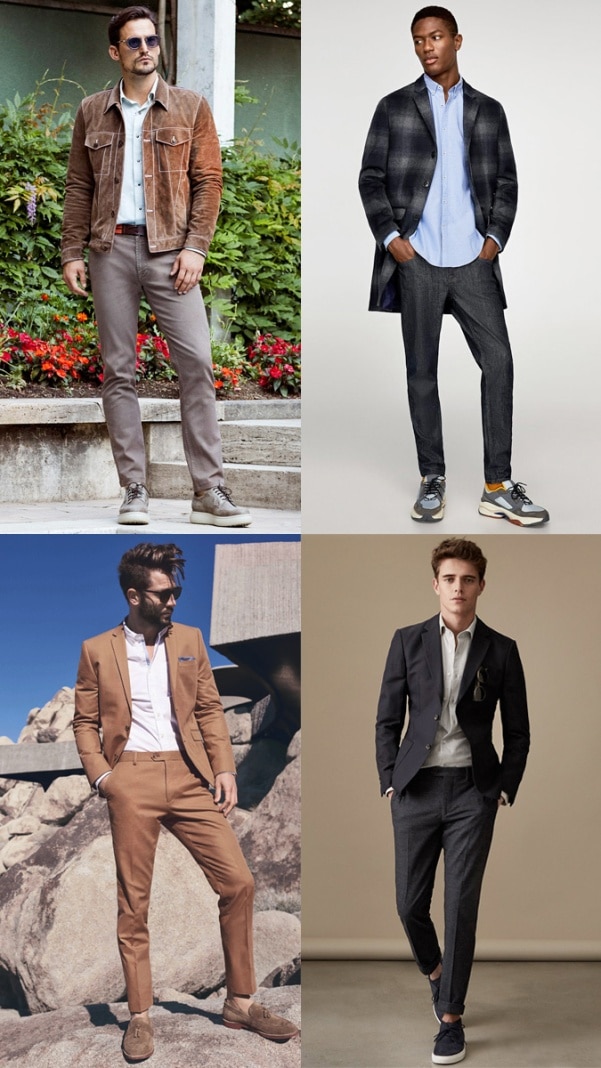 For day-to-day duties, smart casual is the only way to go. Helpfully, the often tricky dress for code is pretty much what the Oxford shirt was made for.
An excellent default option for smart casual, an almost denim-toned blue version works well with sand chinos, but there are endless other options, and you can play with tucking it in and leaving it out to change the vibe.
Off-Duty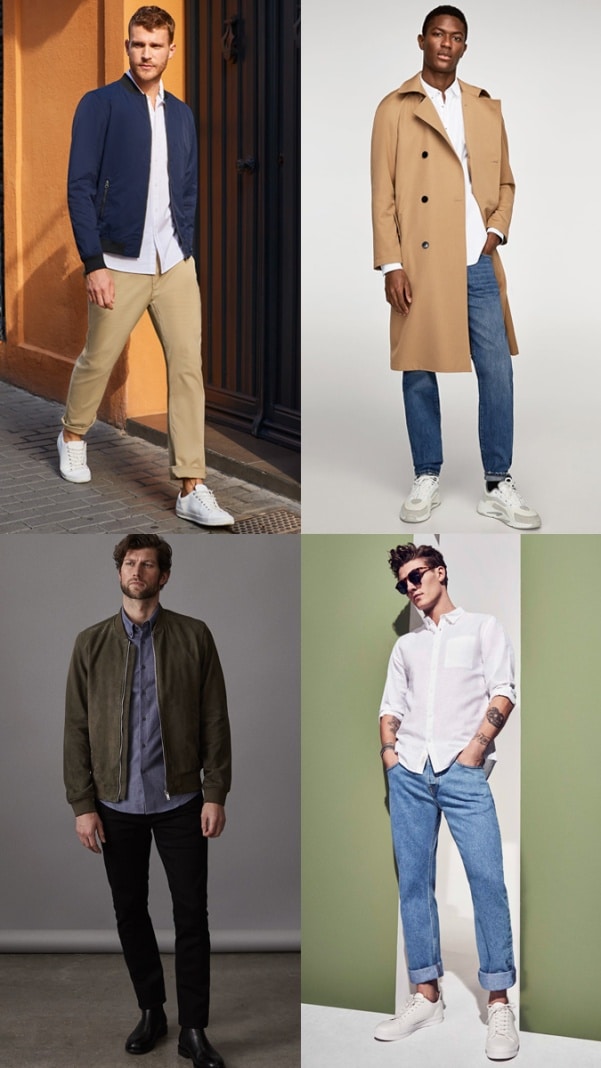 Dressing for downtime doesn't always have to mean reverting to the same faithful hoodie or pizza-stained T-shirt. Instantly elevate your weekend attire by opting for a button-down in place of sweat and earn yourself some off-duty style points in the process.
Switch out shoes for comfortable sneakers, throw on a casual jacket, and you're pretty much there. A light Oxford shirt with jeans, a bomber jacket, and white trainers makes for a particularly strong weekend look.
8 Ways To Wear An Oxford Shirt
If you were asked to name Scotland's greatest contribution to menswear, what's the first thing that comes to mind? Jumpers? Brogues? Kilts…?
Whatever it is, it's probably not Oxford shirts. Despite its name, the Oxford shirt's origins can be traced back to 19th century Scotland, where factories experimented with weaves to create four new styles, each named after one of the four best-known universities at the time: Yale, Cambridge, Harvard, and Oxford.
If you don't recognize the others as shirts, you're not alone – only the Oxford has proved popular enough to not be cut from production. Known for its basket-weave pattern; the Oxford is woven from two different strands of yarn (which gives it that distinctive marled appearance) and often, but not always, features a button-down collar.
It's changed a little since it was first introduced – your average Oxford no longer comes with a detachable collar and cuffs – but not that much considering we've been wearing them for well over a hundred years.
The secret to Oxford's longevity is its versatility. Here are the best ways to wear one: some obvious; some unexpected.
Oxford Shirt With Chinos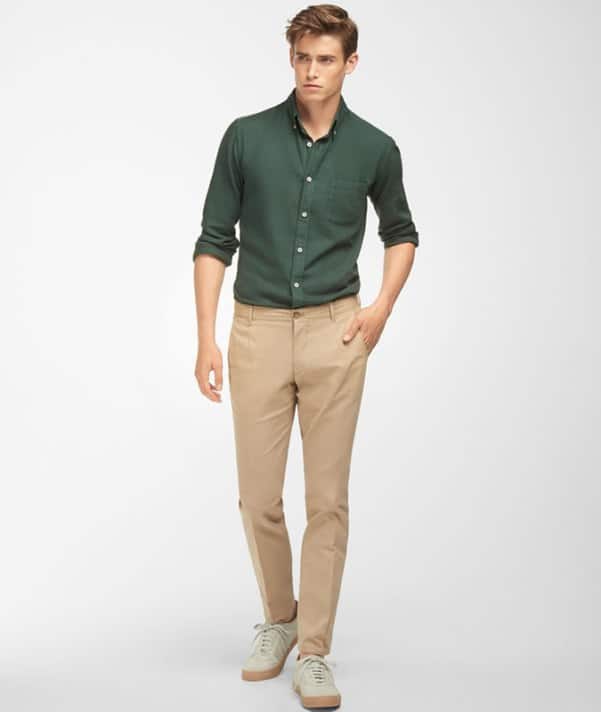 There's an inherent preppiness to the Oxford shirt – thanks in part to its history as an integral piece of polo uniform, but mostly to Ralph Lauren re-inventing it in the early 1970s; so pairing one with another Ivy League staple makes for a look that, although safe, still graduates magna cum laude.
Lightweight chinos in neutral and pastel shades work best. Never wear a red pair, unless your name's Teddie or Seb, you wear a signet ring and you may or may not have once stuck something in a pig's head that you really (really) shouldn't have.
Oxford Shirt With A Jumper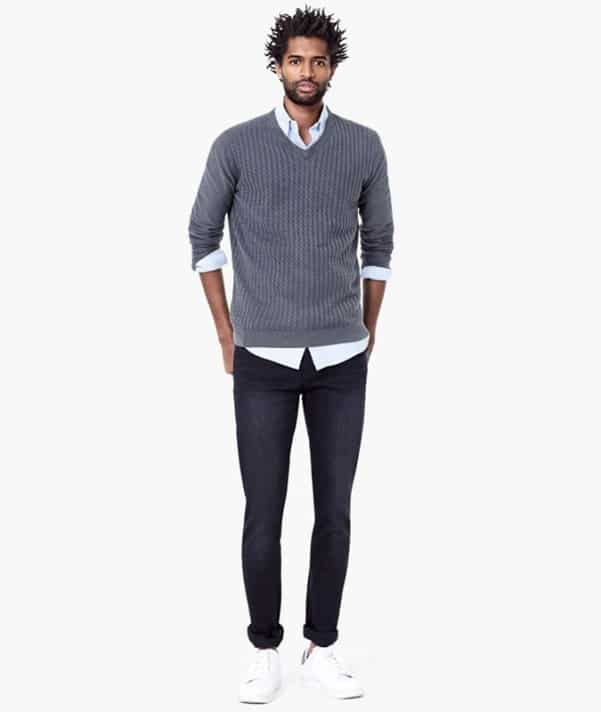 Unlike smart twill shirts, Oxfords characterized by their slightly coarser textural something which makes them the perfect partner for knitwear you can really sink your teeth into.
Mid- to heavy-gauge jumpers work best for layering over an Oxford shirt, creating a look that delivers on function (it's warm) and form (it adds more visual interest up top). When choosing colors, always opt for tonal variations, or clash them as you mean it.
Open Over A T-Shirt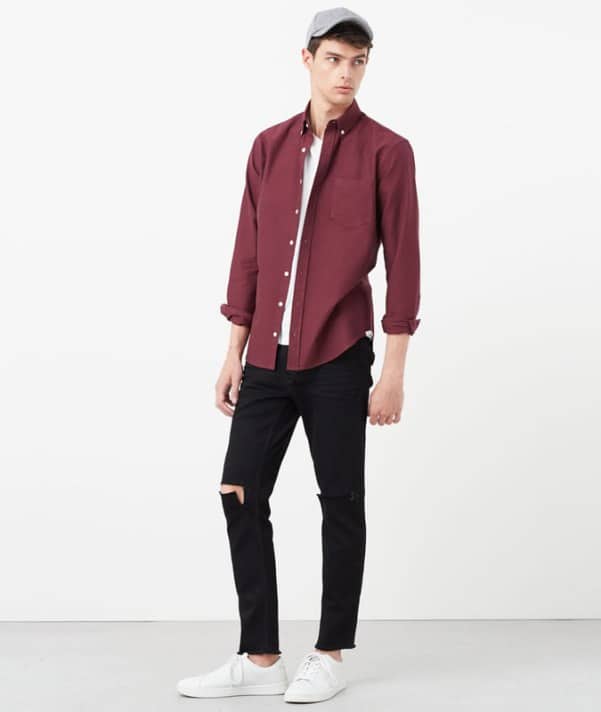 Mango man aw16
Before they became standalone layers in their own right, T-shirts were worn undershirts, so this styling trick – although popularized by the likes of Kurt Cobain and 1990s skate culture – a lot more vintage than you might first think.
For all its alt vibes though, this look runs the risk of coming off like a surly teenager on his way to band practice (and not in a Gosha Rubchinskiy way); so take care that the T-shirt's relatively plain and the shirt not so baggy in a fit that it looks like you're waiting to grow into it.
Oxford Shirt With A Technical Jacket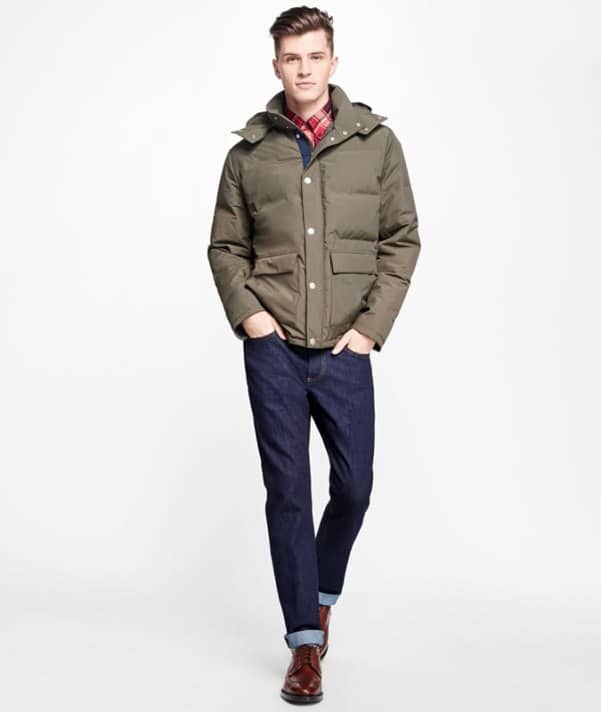 brooks brothers aw16
One of the Oxford shirt's main draws is its versatility; as inherently preppy as it might seem; it still works styled with pieces that skew more long-haul trek than a lecture hall.
Try layering a checked or rich autumnal-colored style under a parka or padded bomber jacket for a smart-casual mash-up that's equally at home on campus and in the country.
Oxford Shirt With A Suit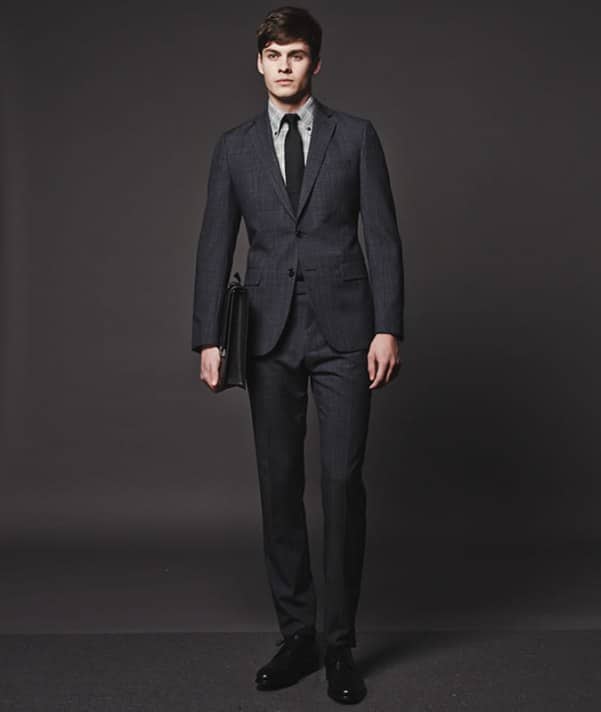 Reiss aw16
Purists might argue otherwise, but wearing an Oxford shirt with a suit isn't a sartorial sin. Sure, its button-down collar might read more casual than a flyaway, but – and most of you will know this providing you haven't been hiding under an inordinately large rock for the past year – tailoring has been shrugging off its stuffiness lately, so styling tricks that dress-down your two-piece aren't so much off-key as on point.
One proviso: the suit needs to lean casually itself, so don't try teaming an Oxford with super-sleek wool-silk suiting.
RELATED: How To Wear A Casual Blazer For Men
Oxford Shirt With Suit Separates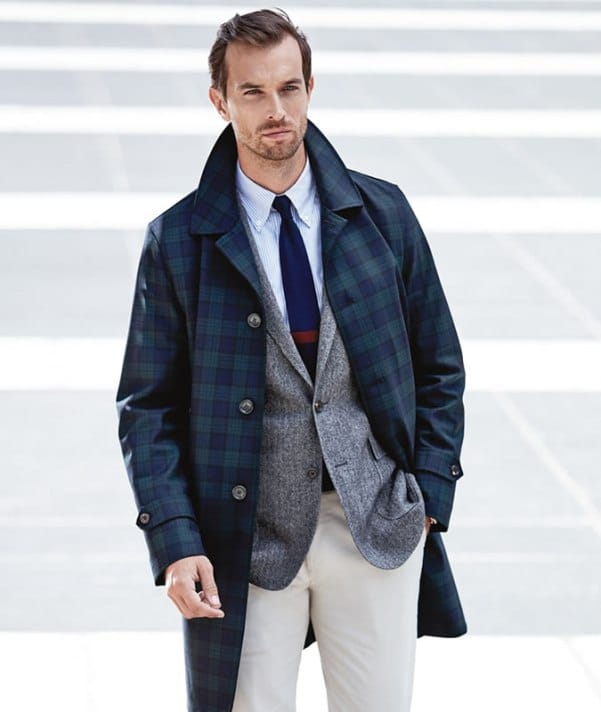 brooks brothers aw16
If the thought of meddling with sartorial codes makes you break out in a sweat, swap a full two-piece for separates when smartening up your Oxford shirt.
This slightly more casual take on tailoring chimes better with an Oxford's coarser finish weave and button-down collar. As with a full suit, choose fabrics (wool, tweed, cotton twill, and corduroy) that make the most of an Oxford's off-duty quality, rather than a jar with it.
With Tougher Stuff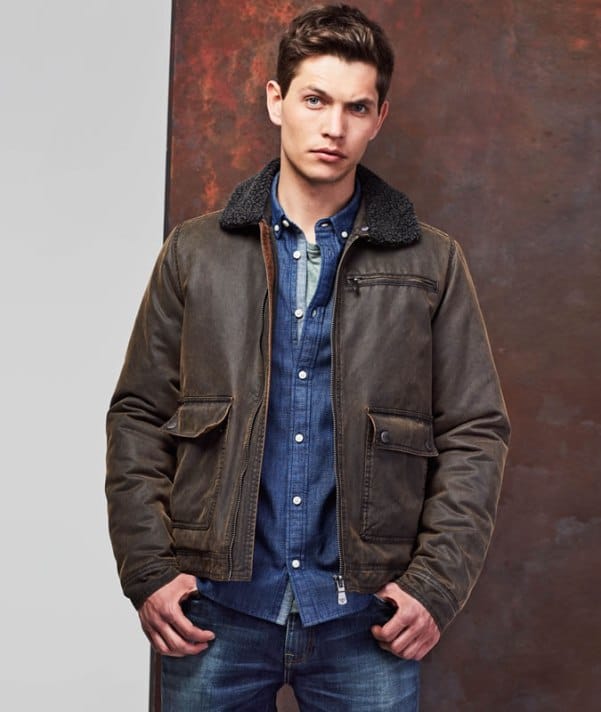 Matalan aw16
Although closer to tailoring than a tee; a textured shirt like an Oxford won't look out of place styled with pieces that look rougher than a suit.
Tip your trucker cap to all-American style by teaming an Oxford with a T-shirt and jeans; then layering a Borg-collar jacket on top. Finish with a healthy smattering of stubble and some leather work boots. NB: Don't actually wear a trucker cap.
With A Roll Neck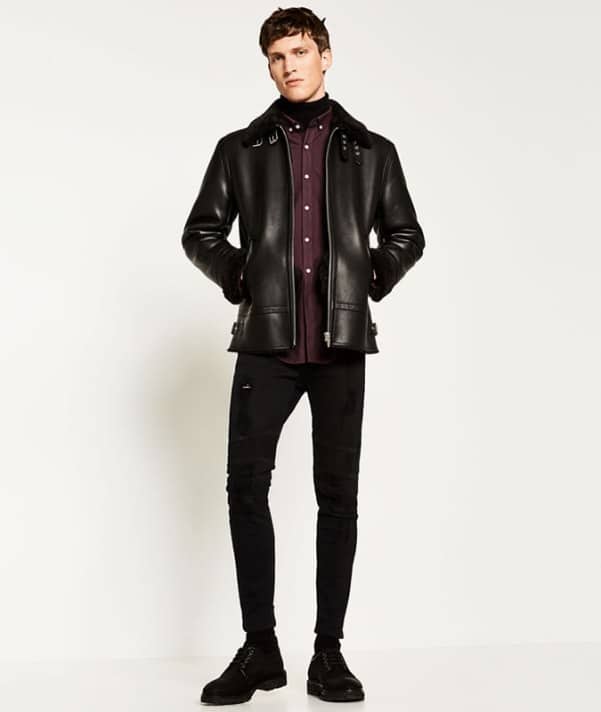 OK, hear us out. As an 'art teacher' as this combination might sound, done well it really pays dividends. Execute this properly, and you've got a slick and sophisticated look that leaves no one in doubt of your layering mastery.
The trick, as with all complex layering moves, is in the fit. Start with the roll neck – a fine-gauge merino wool version works best (mid-gauge might work at a push, but anything heavier is off-limits) – which should be one color and fitted enough to hug your torso. Then layer over an Oxford that sits firmly on the smarter end of the spectrum (swerve boat stripes, pastels, and anything else that sends this finely tuned look out of whack).
Buying Considerations
When it comes to the cornerstones of the male wardrobe, pale imitations are rarely a patch on the real deal. To make sure that your Oxford (literally) cut from the right cloth; take note of these tips when searching for the perfect shirt.
Fabric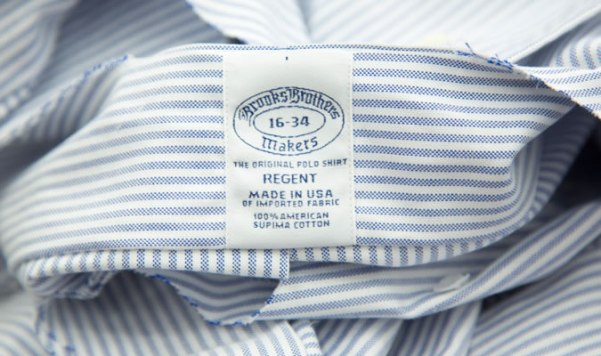 While it might be impossible to visually distinguish between an Oxford shirt crafted from cotton and one blended with manmade fibers such as polyester; you'll only get comfortable, breathable, and long-lasting wear from the former. Pure cotton Oxford shirts also offer a more pleasant hand feel and will fare far better at keeping you cool in warmer temperatures.
Color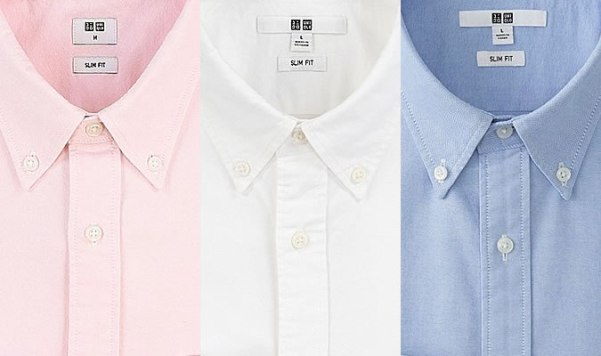 Depending on who you ask, different menswear experts will suggest a different starting point for your collection of Oxford shirts. Yet all agree on the holy trinity of colorways every man should own: sky blue, white, and pink. This applies whether your Oxford is uniform in color or striped.
Cut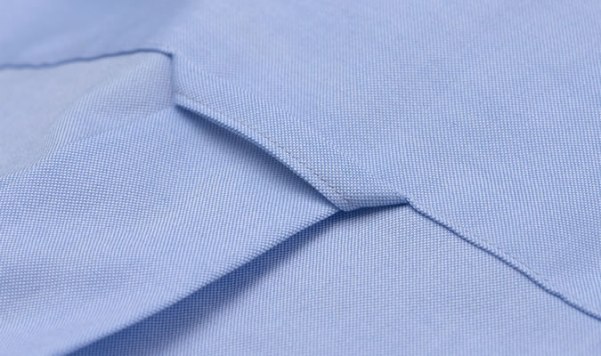 The enduring appeal of the Oxford shirt is its ability to be an everyman, which applies to fit as well as a formality. Seek out designs that neatly follow your form without straining over your frame; look out in particular for a box pleat (a rectangular fold of fabric that runs along the middle of the back); on the reverse for an increased range of movement.
Collar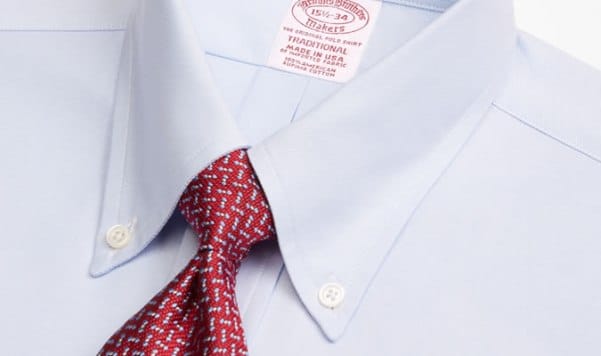 Menswear purists will say that an Oxford shirt should feature a roll collar (where the lack of interlining causes the collar to rest in a curved shape) but straight collars (which, as you guessed, rest flat) offer a slightly cleaner finish. Oxford shirts without button-down collars, but still cut from the correct cloth, usually reserved for formal outfits.
Details
As with any other area of the male wardrobe, the devil is in the detail. Play to the Oxford shirt's casual heritage by avoiding tricky French cuffs in favor of standard button cuffs. As for the fastenings themselves, mother-of-pearl sets the bar because it gives a depth of color and more resistant to cracking.
The Best Brands For Oxford Shirts
Uniqlo
High-street outfitter Uniqlo is well-known for turning out quality wardrobe basics at wallet-friendly prices, and Oxford shirts are one of the things it does best.
Quality cotton, tasteful colors, a flattering fit, and all this for less than half what most traditional designer brands cost. If that's not worth braving the high street for, we're not sure what is.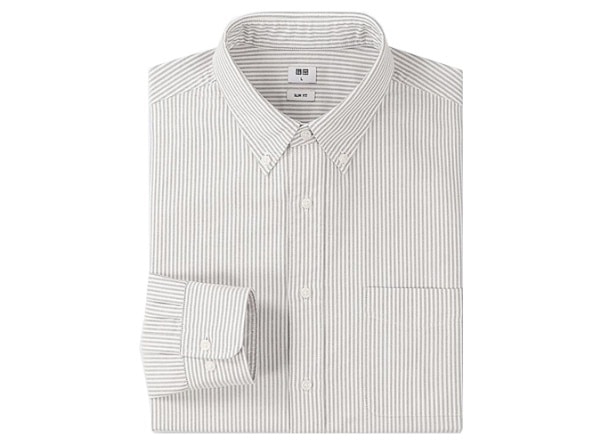 Brooks Brothers
The OG of the OCBD, Oxford shirt inventors Brooks Brothers founded in Manhattan over two centuries ago; making it the oldest continually trading men's outfitter in the US.
The firm released its iconic Polo Button-Down Oxford shirt in 1896, and in the process created a key building block in many stylish man's wardrobes.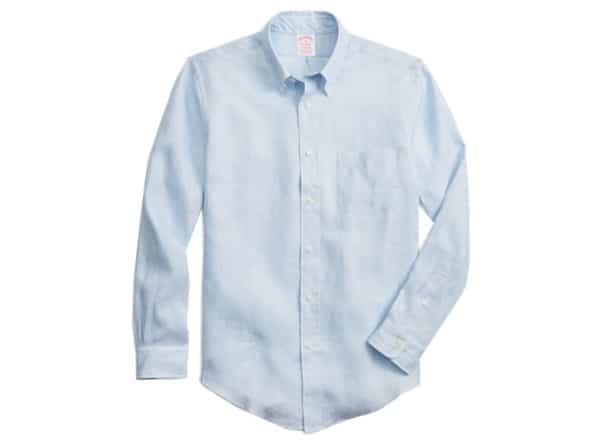 Gap
As the high street's go-to spot for simple American classics; it stands to reason that Gap has an extensive collection of Oxford shirts.
Expect soft, casual cotton, cut slim but not too slim; deployed across short- and long-sleeved versions in a wide range of colors, stripes, and checks.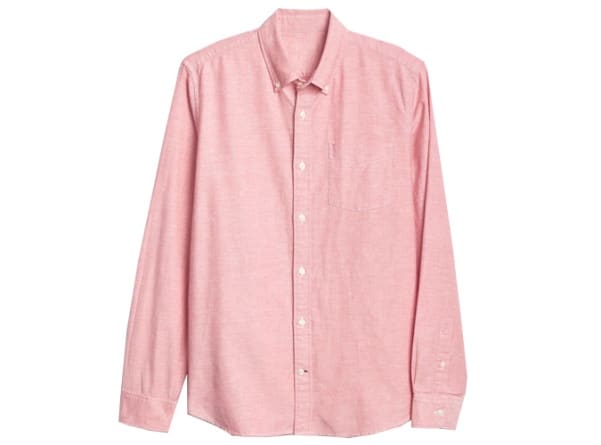 Ralph Lauren Oxford Shirt
It's impossible to think of an Oxford shirt without preppy, Ivy-League style springing to mind. And you can't think preppy, Ivy-League style without ending up at Ralph Lauren.
The New York label has made the look its calling card since 1967. And its fitted, flattering Oxford options are some of the best around.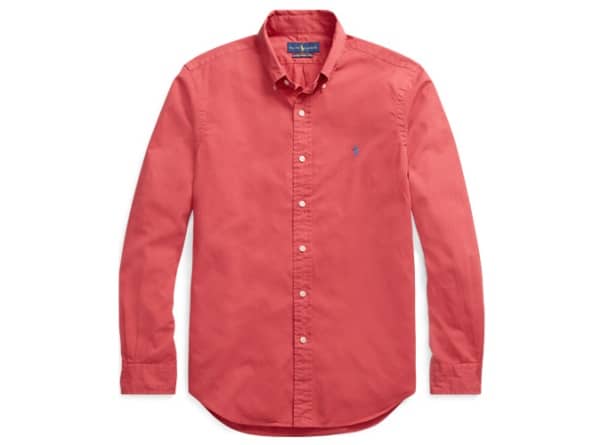 Ben Sherman Oxford Shirt
The mod movement of the 1960s one of the contributing factors that helped thrust the Oxford shirt into the mainstream, and it was Ben Sherman leading the charge.
Shirts by the British label have been passed from subculture to subculture, becoming iconic in the process. If you like your clothes to come with a story, it doesn't get much better than this.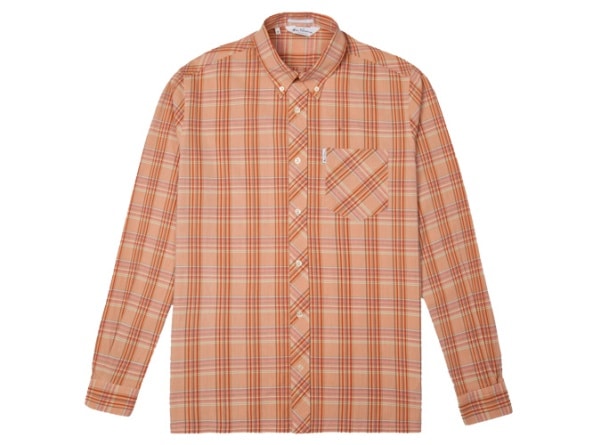 Gant Oxford Shirt
Headquartered in Stockholm but with roots in preppy Americana; Gant often cited as the brand that brought button-down shirts to the mass market. Also credited for inventing the hanger loop – another key casual shirt detail that was quickly adopted elsewhere.
While timeless, the clever detailing and modern twists on Gant's products keep things moving forward. For a quality Oxford shirt from one of the originators, look no further.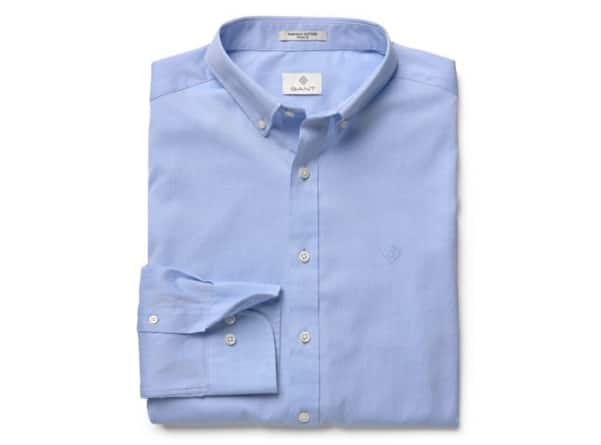 John Lewis Oxford Shirt
It should come as no great surprise that the old reliable British department stores; well-stocked on the old reliability of men's smart-casual dress codes.
With a strong offering from its in-house label, as well as plenty of recognizable names; the retailer bound to have an Oxford shirt that fits your wardrobe.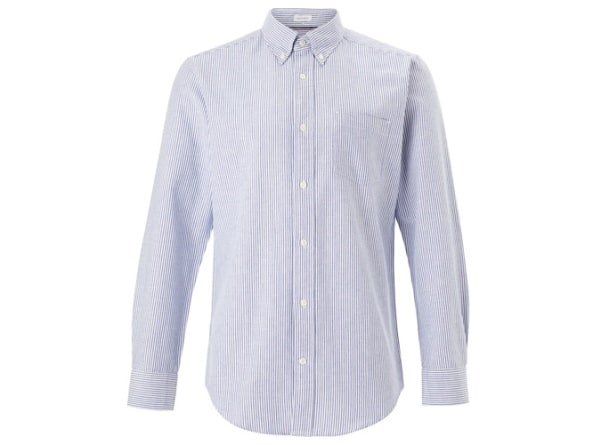 J.Crew
One of America's finest examples of classic, preppy style done well; J.Crew has become synonymous with easy-to-wear, modern wardrobe staples.
The brand's approach has earned its legions of followers worldwide and its neatly fitted Oxfords are just one of the things that keep style-savvy shoppers coming back.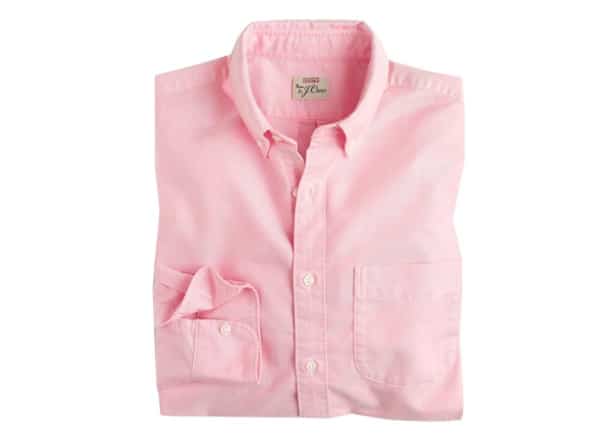 Emma Willis
With a shopfront on Jermyn Street – the capital of British shirtmaking. Emma Willis creates some of the finest bespoke and ready-to-wear Oxfords on the face of the earth.
You'll not see any fleeting trends among the shelves here – the focus is solely on traditional, all-English styles. So if you like the idea of timelessness, quality materials, and craftsmanship, Willis is most certainly the woman to see.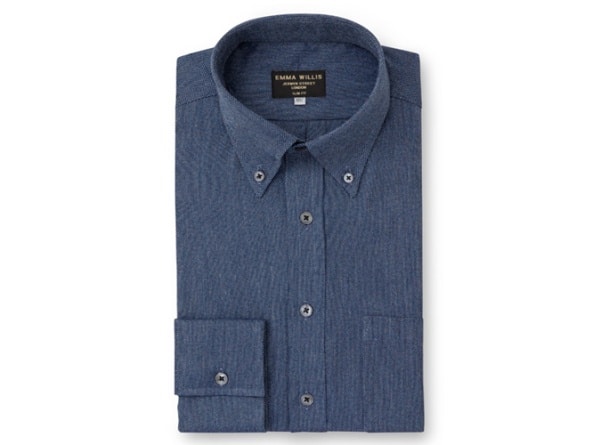 NN07 Oxford Shirt
Copenhagen-based label NN07 bills its products as the classics of tomorrow. And having kept a beady eye on its collections since 2007; we'd be inclined to agree.
The focus here on simple wardrobe staples. An approach evident in its Oxford shirts, which feature a tidy slim-fit profile cut from resilient, wrinkle-resistant cotton.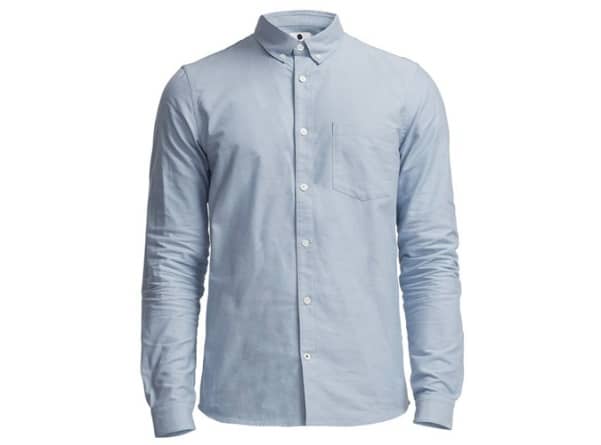 Topman Oxford Shirt
One of the most reliable names on the high street for almost half a century. Topman a safe bet for more or less every component of the male wardrobe.
The retailer's contemporary line-up of Oxford shirts is no different and includes options in bicep-hugging muscle-fit cuts; because even swole bros need to look smart.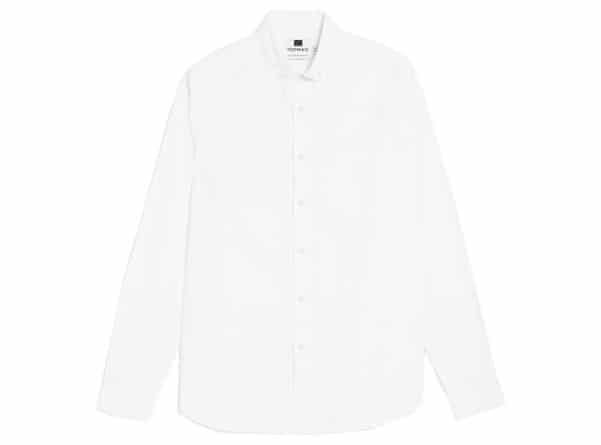 A.P.C. Oxford Shirt
Jean Touitou's French label has carved out a niche as the premier provider of minimalist, Parisian chic. A.P.C. pays little attention to trends. Instead of focusing its attention on a level of quality that is second to none.
The Oxford button-down has long been one of the label's key items; making A.P.C. the perfect place to pick one up.