What Color Shoes To Wear With Blue Jeans
When it comes down to it, everyone loves a good pair of blue jeans. Invented all the way back in 1871, this stylish, comfortable garment is a staple in any man's wardrobe. Whether you're wearing them to a casual day at the office or out to lunch, they are the ideal way to nail an effortlessly cool aesthetic. However, you can't go out in just those jeans, and every now and then a man has to wear shoes.
So, which color shoes should you pair with your blue jeans, and for what occasion? While at first, it may seem that the style of the shoe is the most important factor in footwear; the color you choose can also have a large effect on the overall outfit. Whether you're seeking to look rugged for winter, stylish for the streets, or polished for a date, we're here to break it down to basics.  To ensure you always pick your shoes like a pro, we present this guide to explain what color shoes to wear with your blue jeans.
RELATED: The Best Shoes to Wear With Jeans
RELATED: What Color Shoes to Wear With Suit
Men's Shoes With Jeans
Blue Jeans with Blue Shoes
Looking for a way to experiment with the color-blocking trend?  Pairing your blue jeans with some blue shoes is a great place to start. For a confident, fashion-forward look, opt for darker blues when it comes to selecting your shoe color. While pops of lighter blue on a shoe's detailing can add individuality to an outfit, this can become excessive if the whole shoe is light blue. Essentially, we'd recommend selecting shoes in navy, cobalt, and azure, while leaving the aqua and baby blue to the laces or smaller panels. As far as styles go, be bold with some on-trend high tops or new-season sneakers. Finally, to complete your color-blocking Endeavour, select your coat, jacket, or tee in a complementary shade of blue.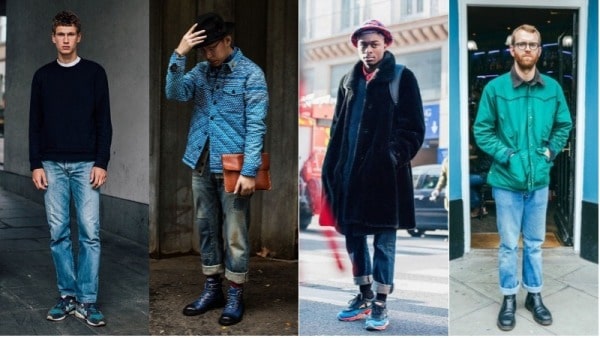 Blue Jeans with Black Shoes
While jeans are recognized universally as the cool, casual essential in any wardrobe, the addition of some black shoes can instantly elevate their sophistication. To give your outfit a sleek, modern update, try pairing your blue jeans with some polished, black shoes. Whether you're a boot, loafer, or sneakers kind of guy, this style can work for you. The simple rule is to select shoes that shine, whether they are leather or faux leather. This will allow you to wear this smart casual outfit to any occasion, whether that is lunch with the in-laws or cocktail hour with your colleagues.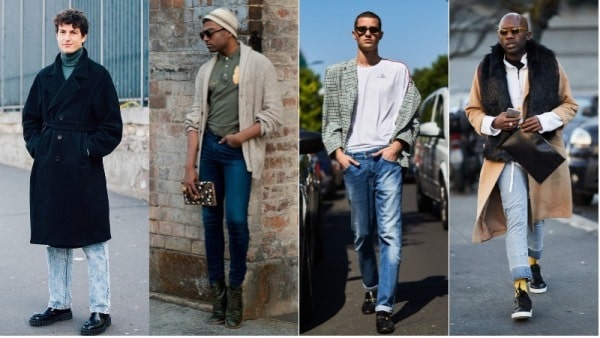 Blue Jeans with Dark Brown Shoes
For a rugged, yet modern way to style your favorite pair of blue jeans, dark brown shoes are always a winner. Perfect for winter, this shoe color is at its best when combined with a jacket or coat. For men seeking to project a more adventurous, explorer aesthetic; hiking, combat, or Chelsea boots are the way to go. On the other hand, if you're looking for the perfect shoe to complete your smart-casual outfit, you have two options.  For a luxurious finish, opt for some stylish loafers, whereas for a casual, laidback appearance, dig out your brogues.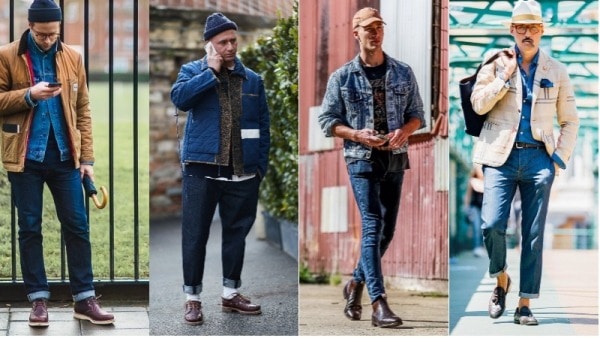 Blue Jeans with Beige Shoes
While blue jeans and dark brown shoes are a perfect ensemble for winter months, it is beige that reigns in summer and spring. Not only is this for practical reasons (who wants their beige shoes covered in mud after a rainy winter's day?), but they also will add a chic, light element to your outfits. Generally suited to daytime events or outings; shoe styles that look great in beige suede shoes include the derby, the loafer, and boots. However, feel free to experiment with other styles. To balance this look, go for a simple light-colored tee for a casual approach, or a similarly light-colored jacket for some added class.
Sneakers with Blue Jeans
What began its life as a necessity for any budding sportsman has now evolved into a wardrobe essential on the street style scene. From classic sports brands such as Nike, Converse, and Adidas to the high fashion houses of Prada and Lanvin; designers everywhere are releasing fashion-forward, must-have sneakers. As a result, they are a natural choice to complement a pair of blue jeans. With so many cool options on the market, now is the time to experiment with bright colors and innovative shapes. So, next time you're heading out, throw on a pair of your boldest, brightest kicks for an effortless, off-duty model vibe.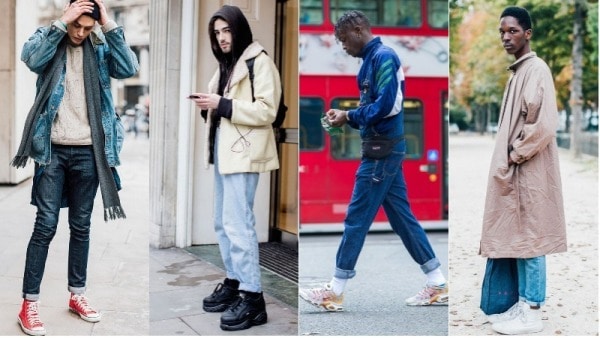 What Shoes to Wear with Raw Denim
To break it down to basics, raw denim is denim that has not been pre-washed or distressed prior to making its way into your wardrobe. As a result, it begins as stiff, dark denim that will fade and distress naturally with wear. This natural process of change that the jeans undergo throughout their lifetime will result in unique, natural fading. It is best, therefore, to pair raw denim with basic, neutral colors. For this, we recommend deep browns, clean whites, dark blues, or polished blacks. These simple, classic colors will make your raw denim look refined, yet still effortlessly casual. While these jeans are not suitable for formal occasions, they are a great, fashionable option for your 'Casual Friday' at the office, or drinks out with the boys.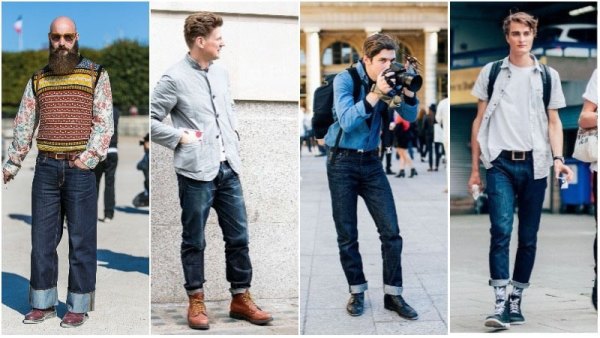 Shoes to Wear With Blue Jeans
If color-blocking blue shoes and blue jeans, opt for dark blue shoes to stay on-trend.
For men wanting to wear black shoes with blue jeans, stay sleek by keeping your shoes well-polished.
For a rugged, modern look to rock in the colder months, pair your blue jeans with dark brown shoes.
In Summer and Spring, go light and chic with beige shoes.
Choose statement-making sneakers to give your blue jeans outfit a high-fashion upgrade.
Keep your raw denim jeans looking refined and effortlessly cool by pairing them with classic shoe colors such as brown, black, white, or dark blue.