Men's Suede Shoes Complete Guide
Suede is a massive trend; we have seen it in jackets, accessories, and even trousers! Suede shoes, however, are a staple that every man should own. Here is our quick guide to styling them.
So you are finally ready to take the plunge and purchase a pair of suede shoes? Well, the market is flooded with suede shoes, whether chukka, Chelsea, or trainers you can literally get any style of footwear in suede. So we will take you through every style, how to wear it and finally how to look after it.
Suede can be a little intimidating, due partly to its need to be maintained properly; but with the right shirt and trousers combination, suede shoes can be worn in all manner of situations from that work meeting you've been dreading to the date that you've been trying to score for three months.
Suede Shoes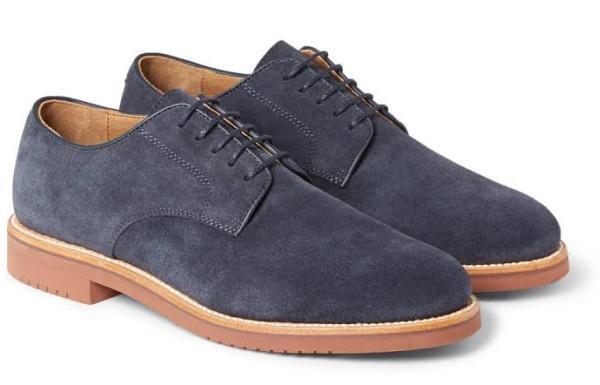 When it comes to wearing suede shoes there are so many components or rules that you should abide by. They are very much made or break and are in more need of care than any other pair of shoes you might own. There seems to be a common misconception or fear factor among men to stay clear of suede, this shouldn't be the case though.
Types of Suede Shoes
So before we start let get the basics out of the way. Knowing the different types of suede shoes there are on the market will steer you in the direction of the ones for you. Now you can get boots, shoes, trainers, plimsolls – the lot, in suede. However, we are just going to pick out our favorite (we're sure you'll like them too)
Men's Suede Boots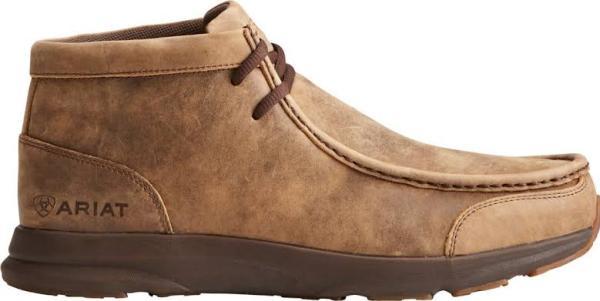 Suede boots usually come in the form of the Chelsea boot. These are classic pieces of footwear that will up your style game immediately if worn well. Kayne West is a massive fan of these, as well as countless other fashionable men. Just remember that you need to wear skinny/slim jeans with your Chelsea boots, anything else and you'll just look a bit frumpy.
The other suede boot every man should know about is the chukka boot. Unlike the Chelsea boot, these have a lot more versatility to them. Chukka boots and desert boots have various suede options on the market, so you really have a chance to personalize your style here. Whether you opt for a colorful, patterned, or textured boot, the chukka will give you endless style options.
Men's Suede Loafers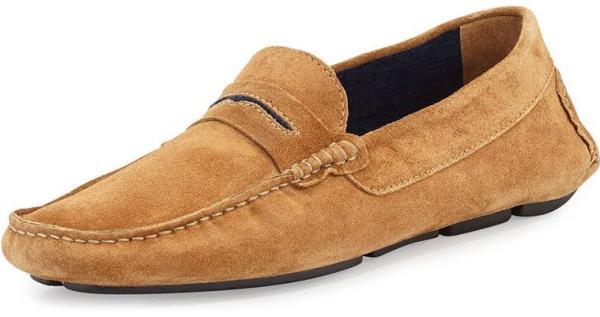 Now we'll look at the perfect summer shoe, the suede loafer. Before we go into the look itself it's best to keep in mind the different forms of loafers. You have the horse bit, the moccasin, and the tassel, all of these can be found in a suede counterpart. Another thing to consider is the color you are opting for, suede loaders tend to vary in color. Just make sure you are wearing appropriate trousers with your loafers, there is nothing worse than an overhanging trouser messing up the ankle-to-foot ratio. You will almost certainly have to go sockless for this look, so invest in some shoe liners and invisible socks to avoid any foot funk.
Men's Suede Trainers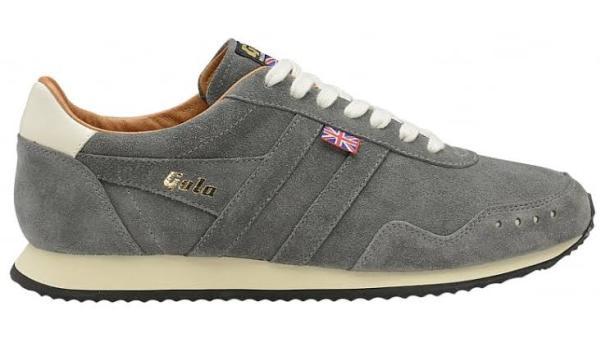 This sounds like an odd one, however; this is a really popular trend at the moment. Everyone from Nike, Asics, and Adidas is doing it. Suede brown trainers look particularly sleek in the summer, with dark denim and a white tee. With most trainers they aren't all suede, they usually have a leather base with suede inserts.
How To Wear Suede Shoes for any Occasion
When it comes to occasion, most people will tell you suede shoes aren't acceptable. This is an old rule, and in a fashion, we are always transitioning. Don't get me wrong I am not telling you to wear your new suede shoes to a black-tie event but weddings, work or races are fine.
Men's Formal Smart Shoes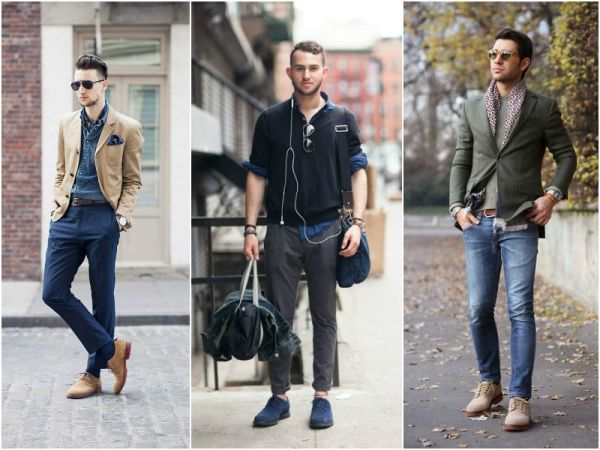 There aren't many suede shoes that can be worn in a formal way (sorry suede fans). Due to the material suede is often deemed causal, so you need some really formal shapes to push them over the formal line. If you are still determined to wear this look though then lookout for it.
Suede Loafers
Out of all the styles of suede shoes, you can wear, a pair of suede loafers is probably the most adventurous. However, this isn't to say that they're any less stylish. Suede loafers are more of a statement piece of clothing; especially if you want to dress prim and proper (and also to avoid the cliche of leather). Commonly sold in more tonal shades, loafers are the stylish brown suede shoes that every man needs in his wardrobe.
How to Wear Suede Loafers: Smart-Casual
As we said, it's the shoe built to give your image a touch of sharpness; so, no tapered jeans, hoodies, and definitely no sweatshirts. However, this doesn't mean they are the be-all and end-all of the dressing suave. So if you want to make the suede loafers smart casual, bring out your key formal pieces and switch to alternative details. Instead of a shirt, opt for a T-shirt. If the combination looks a bit bare, add a dose of a stripe to the situation. To make sure your blazer doesn't look miss-matchy over the rest of your look, pair it with a smart trousers in a subtle grey. Lastly, step into your suede loafers and you'll be ready for drinks at the bar.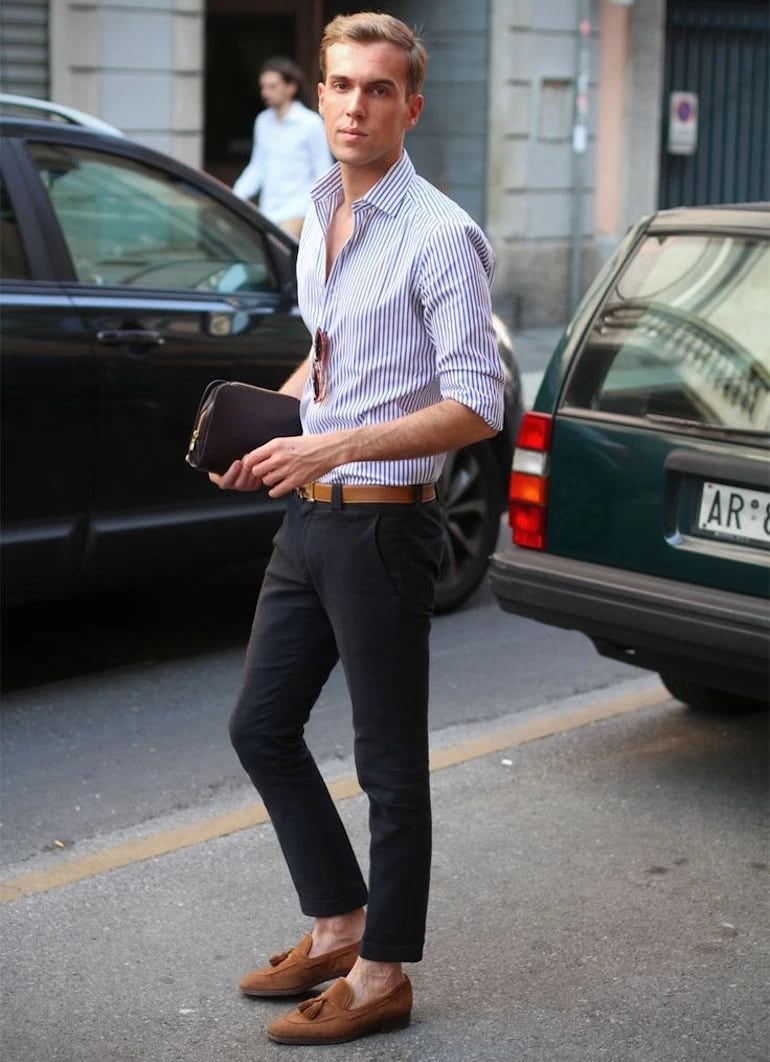 How to Wear Suede Loafers: Smart
When given the smart dress code, we are quick to jump on the suit, smart shoes, and tie combination. Classic, we can't deny, but easy and undoubtedly predictable. When it comes to suede loafers, seize the opportunity to go for a different look, especially with men's tan suede shoes. Keep the blazer but switch the trousers for a pair of jeans, preferably Selvedge denim. Plus make sure the jeans don't bag around your ankles – they need to finish before the loafer starts because there's nothing worse than baggy jeans paired with loafers.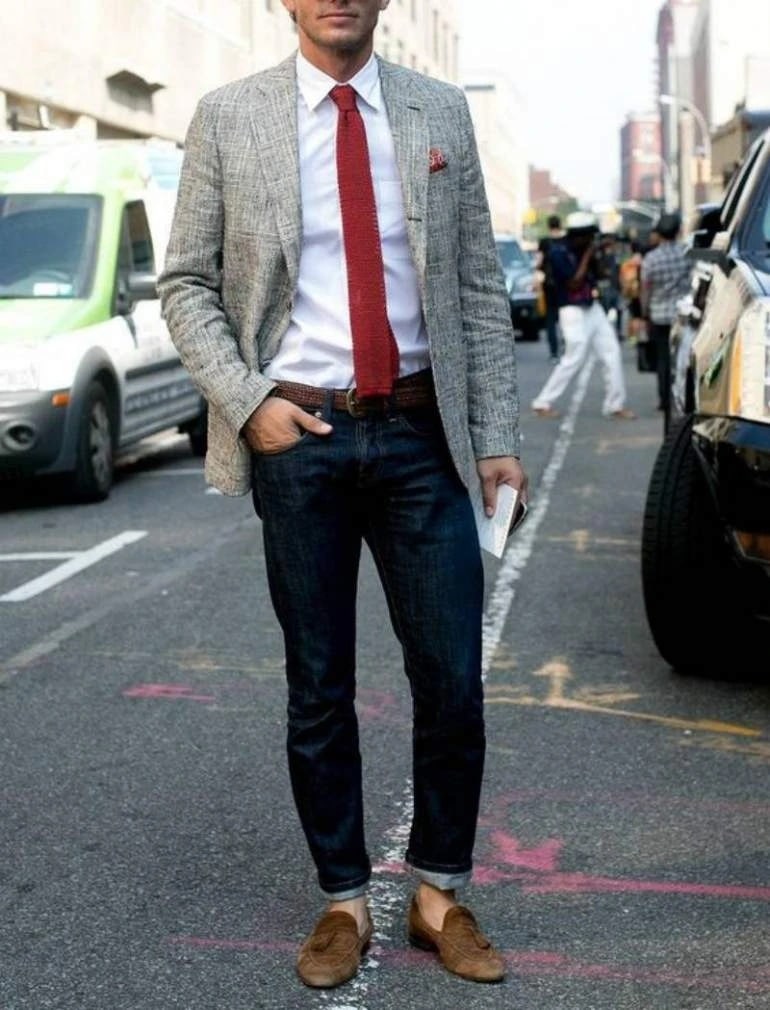 Men's Suede Oxford Shoes
If loafers are a bit too catered to the summer season for you, then switch to suede Oxford shoes. Oxford shoes have an extremely long and rich history in men's fashion and are therefore a perfect example of the evolving nature of fashion. Although Oxfords traditionally come in black or brown leather, today you can find a pair in many different shades and materials, including the much-loved suede. Suede Oxford shoes are perfect if you need a formal shoes but want to bring some modern style and innovation to the look.
How to Wear Suede Oxford Shoes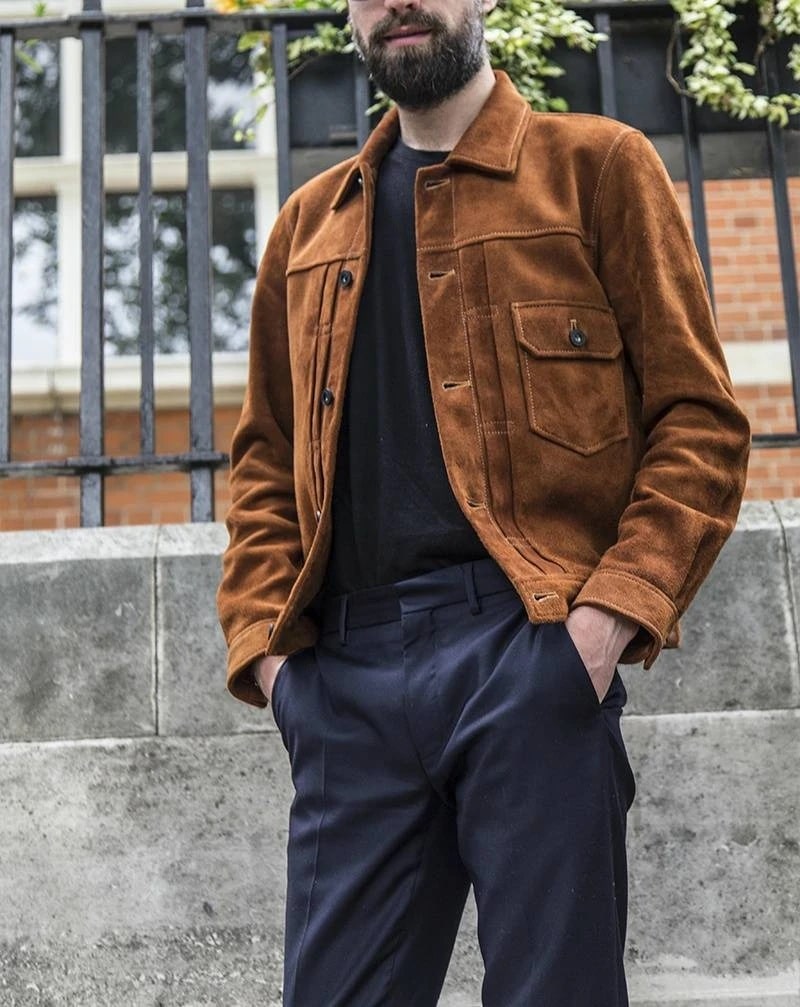 Like any Oxford Shoe, the beauty of them is that you can dress accordingly smart, and casual – without them looking too out of place. For this season, we have become fans of the doubling up – especially with denim. However, if the double blue is becoming a bit repetitive to your wardrobe, switch to the alternative of suede. As adventurous as this look sounds, it's dead simple. Opt for a western suede jacket style and a simple black tee. Then, for cool and collected, go for black or blue dark chino pants. We must stress, always remember to make sure your suede shoes and jacket coordinate by color.
How to Wear Oxford Suede Shoes: Casual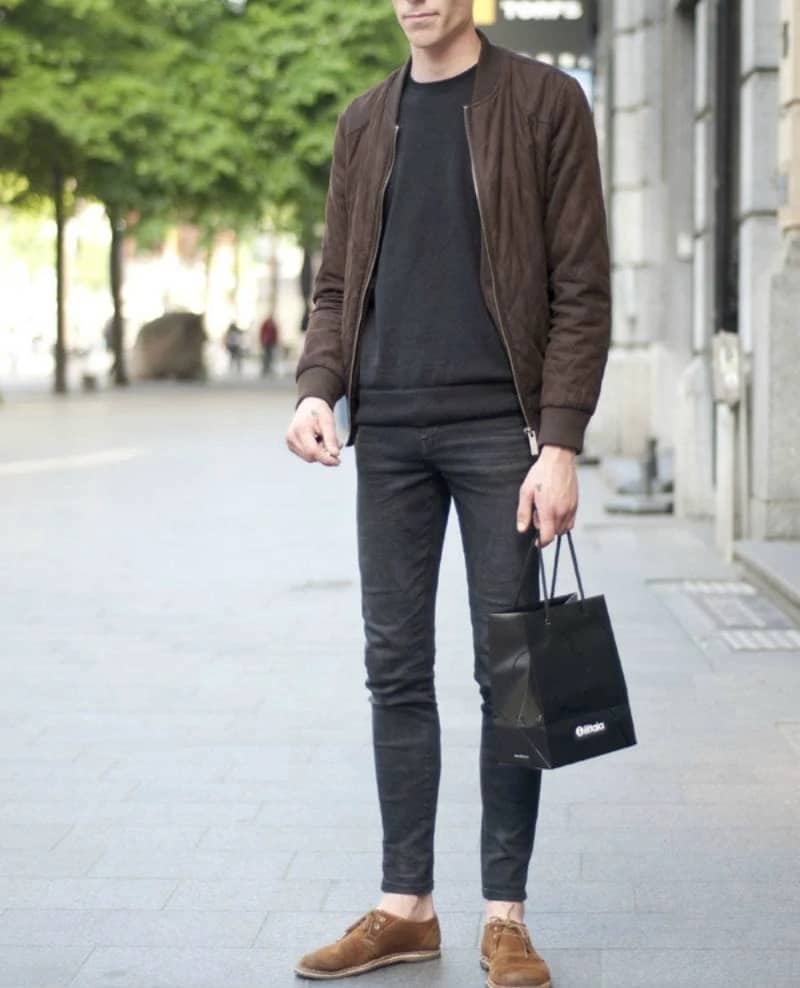 Like a minimal pair of trainers, suede Oxford shoes can be worn with pretty much anything. For example, if a sports-lux look is too close to comfort, switching to Oxford shoes can provide a touch of smartness. Make the most of this season's essentials; pair your shoes with a matching bomber jacket. Make sure to keep the colors coordinated and not so much the fabric. Lastly, keep it simple and minimal like the shoe. If you can pull off a look like this, you'll be able to dress it up and down; even more by switching the jacket for an overcoat or coach jacket if you want to feel more relaxed.
Suede Derby Shoes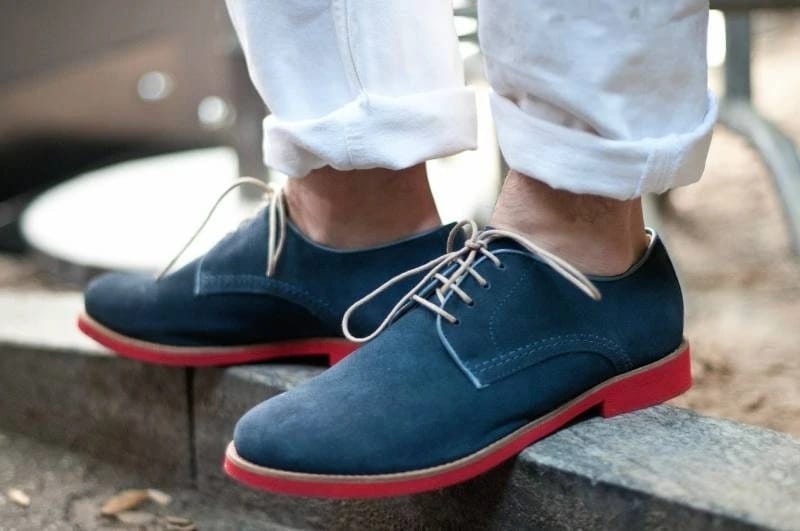 Derby shoes, although extremely similar to Oxford shoes, have minor distinct differences that make them unique from one another. The difference between an Oxford and derby shoe comes down to the stitching of the lace section on the upper of the shoe. On the one hand, Oxford shoes have 'closed stitching'. This means that the stitching for the lace eyelet tabs is under the vamp of the shoe. This can make the shoe appear neater and flatter on top, also allowing for more brogues detailing if you want. Alternatively, Derby shoes have 'open stitching'. This effectively means that the stitching for the eyelet tabs is only along the edges of the shoe's upper and is open. This allows your foot more freedom in the shoe, as you can loosen the laces and pull the tabs open.
Men's Suede Boots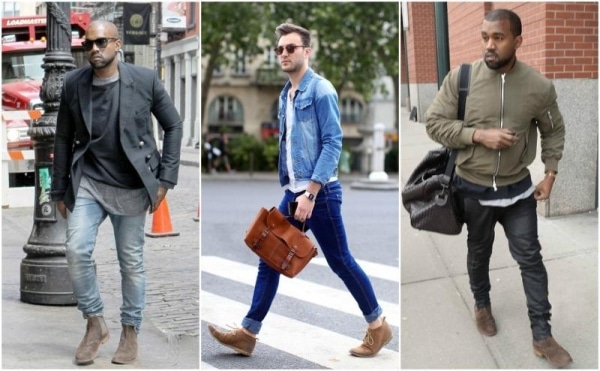 How To Wear Men's Suede Boots
Many men often see purchasing suede shoes as being a particularly risky decision. Although suede can look extremely stylish, it's not always practical for every occasion. While this is a valid concern to have, you really should have a bit of suede in your footwear arsenal. Here is your full guide on how to wear (and where to wear) suede shoes.
One of the most classic types of suede shoes a man can wear is undoubtedly a pair of suede desert boots. These are a true classics of men's footwear fashion. As with much of popular fashion, desert boots originally had a military purpose. British soldiers fighting in the western desert campaign of World War II were some of the first people to wear this type of boot – hence their name.
Investing in a pair is the perfect way to spruce up your wardrobe, especially for autumn. It's the perfect alternative to men's black boots. If it is the case of you opting for a pair; we can't stress enough the two points you always need to keep in mind. When looking for a pair always consider 1) quality and 2) color. You need a pair that will last for more than one season, so opting for a shade and design which can keep up with your lifestyle is vital.
Casual
The suede boot is the most versatile shoe out of the family. Easy to dress up for a smart-casual dressing vibe or to tone down for your casual dressing attire; it's the perfect day-to-day shoe (just avoid extreme rain or weather). If opting for a chukka boot, dress accordingly to create a comfortable body silhouette. Overdressed and skinny fit can affect the proportion of the shoe, looking a tad oversized. To conquer the morning challenge, we've devised a look that can be found in your current wardrobe. A flannel shirt, a jersey tee, and a pair of slim-fit jeans are effortless combinations for any men's tan suede shoes. Additionally, it's easy to mix and match your color palette of choice, and a look that can be tailored to any persona.
Read: What Shoes To Wear With Jeans For All Occasions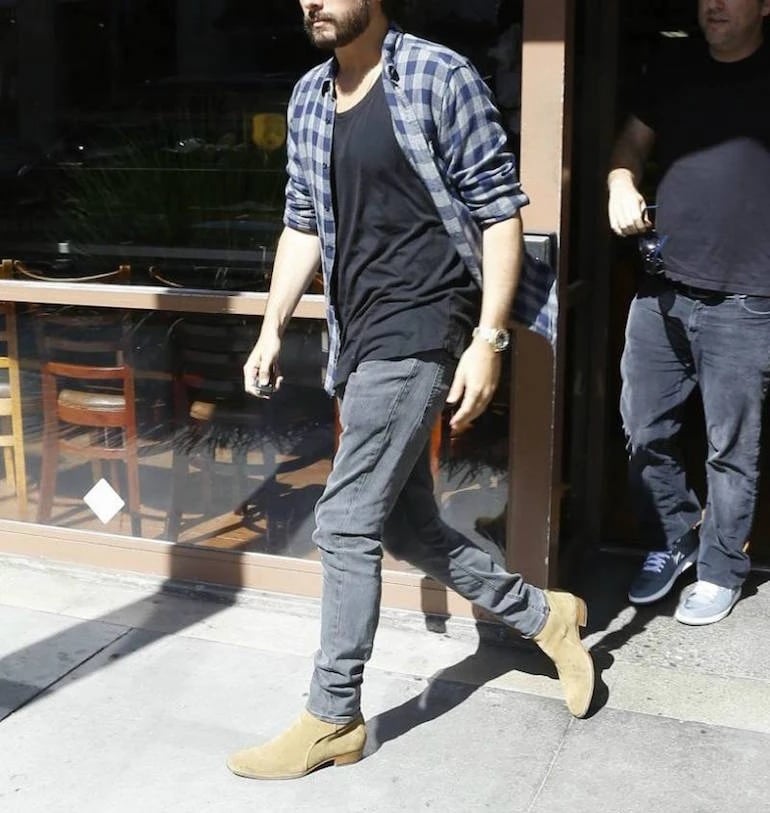 Smart-Casual
The suede boot is an easy transition for the wardrobe. While being great for the day, you can also play around with your 'dress-to-impress wardrobe and add a dose of suede. While the suede boot has a story to tell, make sure your outfit does too. This means, opting for a smart look that is timeless for the modern man. From the feet up, opt for a pair of chinos or smart trousers. Then, move on to throwing on a casual blazer and layering up with an overcoat. If the autumn season is in full swing and the weather is still a bit chilly, don't be afraid to layer up more underneath with a fleece. For this, go for either tan or grey suede shoes.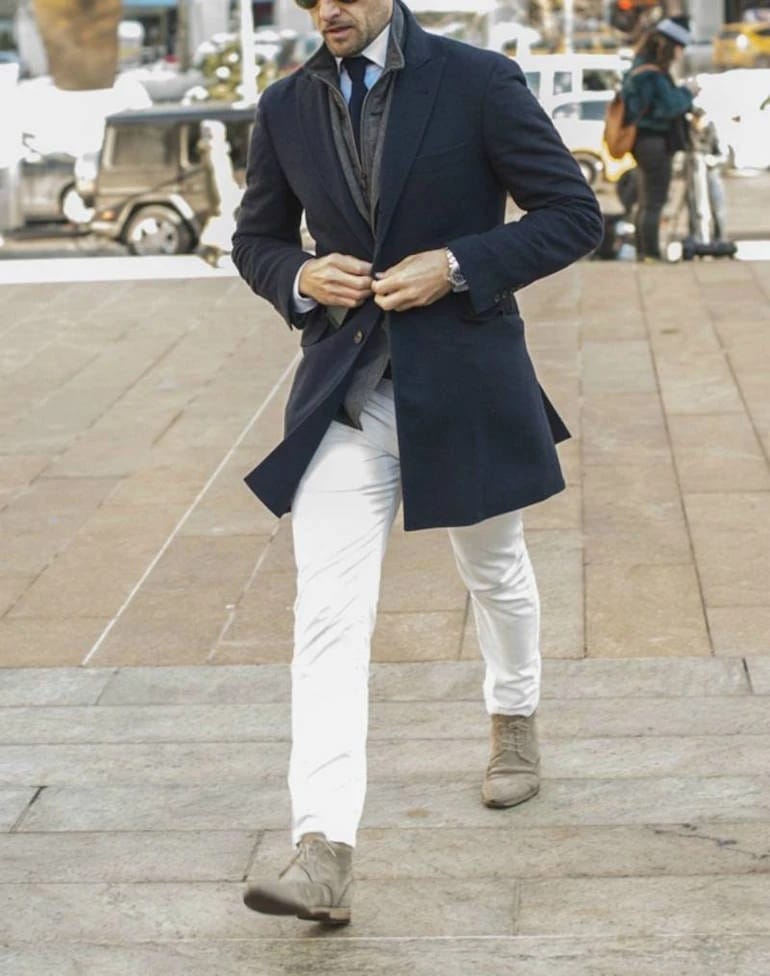 Suede Shoes Outfits
Finally, we move on to the key part, the styling. Now there are many ways you can wear suede shoes but we want to leave you with the basics. Remember when styling you want to inject your own personality into your outfits. So we'll take you through casual, smart-casual, semi-formal, and that oh-so-special date night.
Casual Daywear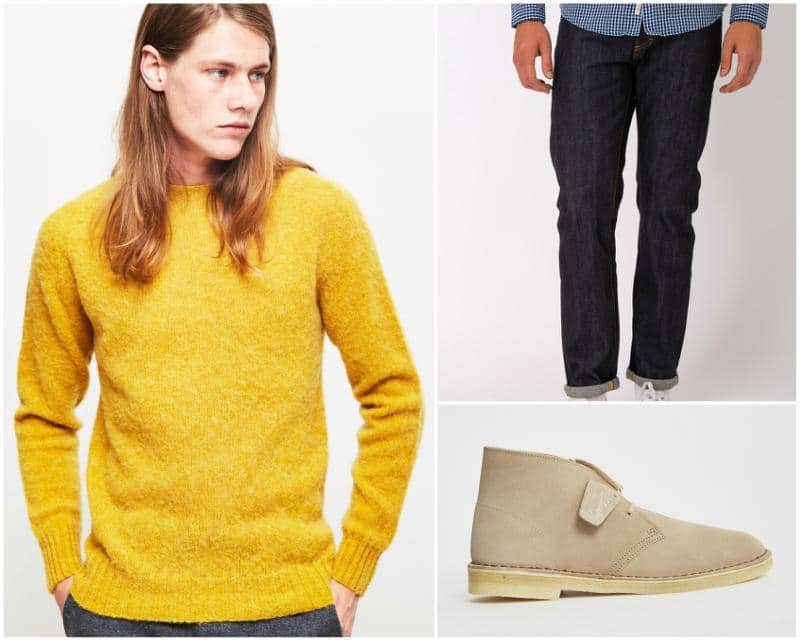 What better way to introduce suede into your wardrobe than with a pair of suede chukka boots? For day-to-day wear, comfort is key but that doesn't mean you have to compromise on looking swish. Chukka boots provide the best of both worlds; when paired with smart jeans and snug knit you can go about your business in ultimate comfort whilst safe in the knowledge that you're wearing a good quality shoe that will last the distance (all the way to the pub, even!).
For accessories try throwing a duffle bag over your shoulder. It's a practical addition to the outfit and one that may also trick your friends and co-workers into thinking that you've got an evening gym session planned; versatile and stylish; you can take everything with you for the day ahead.
Smart Daywear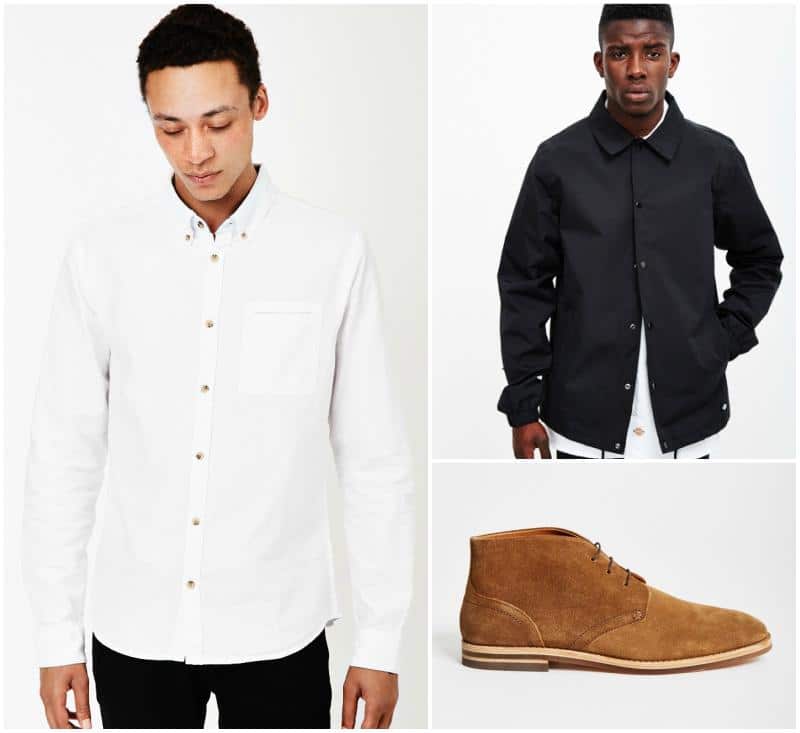 For a daytime look that perhaps doesn't involve a trip to the pub, desert boots are a great option. More comfortable than your average brogue but just as sturdy, these are a great way to tie together a smart outfit without looking like you've just stepped out of the boardroom. A button-down shirt is, of course, the go-to option when striving to achieve that highly-coveted yet highly elusive smart-casual look. A collared jacket style is also a great way to layer up without smothering those smart-casual vibes.
Semi-Formal Attire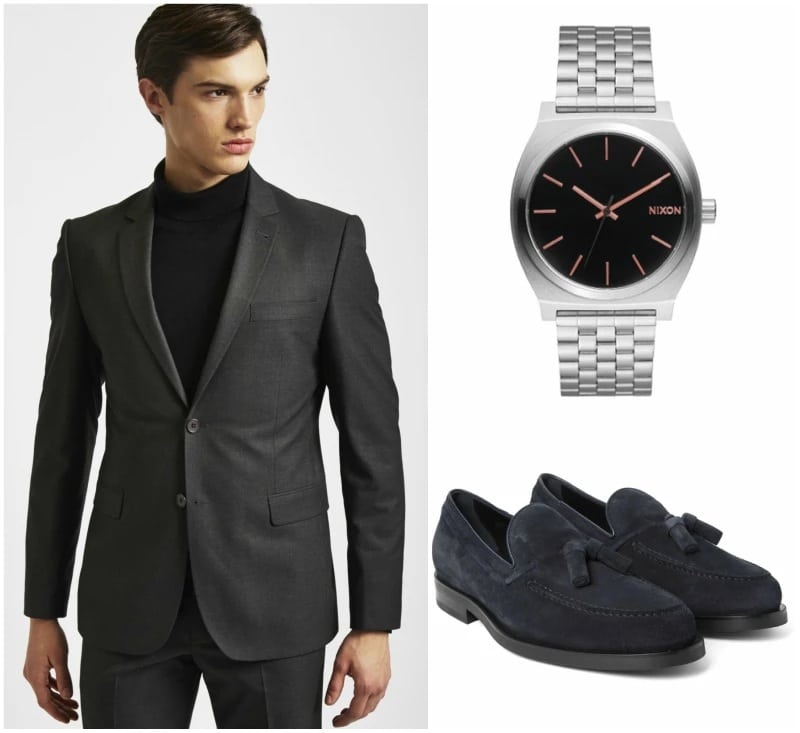 Tasseled loafers might be a slightly more extroverted option – one to satisfy the inner fashionista's needs – but when styled with a classic suit, they are the perfect way to make a statement. Whether you're going for a working lunch at an upmarket restaurant or wanting to jazz up your Sunday best, the addition of tasseled loafers to an outfit is certainly a brave choice but one that can be easily pulled off with the right skinny-fit suit. All-over navy with a pop of white is a tried and tested color scheme that can be revitalized with some swanky footwear.
Read: How To Wear Semi-Formal Attire In Style For Men
Date Night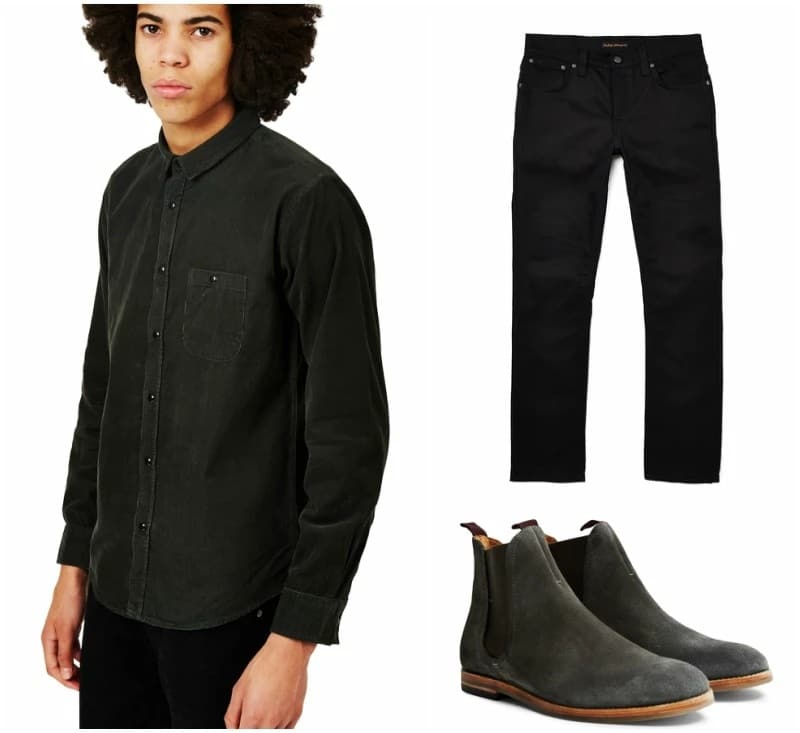 Whether your perfect date night is dinner and a movie or a few drinks down your local, Chelsea boots are a surefire way to smarten up your favorite pair of jeans and a worn-out flannel shirt. Of course, the Chelsea boots and skinny jeans combo is to be worn at your own risk; you may end up looking like you're auditioning to be in a boy band. If you play it safe with a flannel shirt and simple jacket, you should be able to avoid the wannabe teen-heartthrob look.
Best Brands for Suede Shoes
So we are nearing the end of our suede journey, by this point I hope you are leaning towards purchasing a pair or at least considering it. Now, like any shoe, it is best to invest your money into some quality shoes. If you buy cheap shoes you have to be wary that they might fall apart while you are walking! Here are the brands we recommend making your shoe purchase from to avoid a talking sole at the end of the day.
Hudson
Grenson
H Bass & Co
Thom Browne
Tods
Clarks
Russel & Bromley
Timberland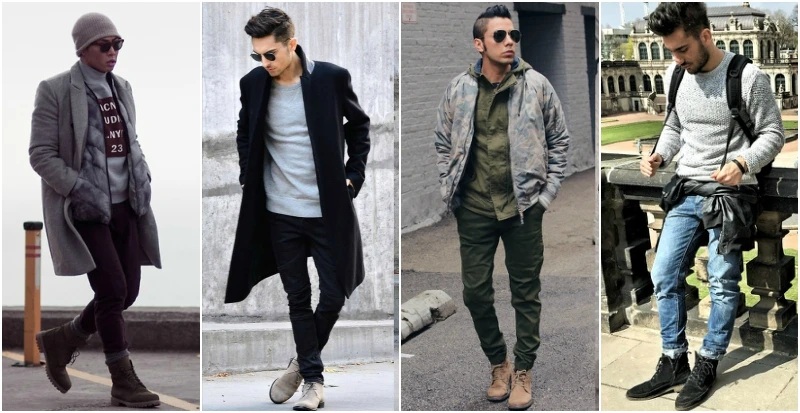 How to Protect Your Suede Shoes
One of the most important things you should take away from this article is how to protect your suede. There is no point in dropping copious amounts of money on new shoes if you aren't going to look after them. First, you need to wait until the suede is dry before you tackle it with a brush or cloth – when the suede is wet the bristles are fragile, and rubbing at them will cause a tear in the fabric. Not only does the fabric damage it will actually push the stain deeper if you tackle it when wet Investing in a suede brush is a must if you are purchasing suede shoes,
Firstly, fill your shoes with newspaper or a shoe tree to retain the shape of the shoe
Brush the surface of the suede lightly to remove any large clumps of dirt
Using your suede cleaner lightly coat the shoe using a soft brush
Make sure you use the suede brush gently, sweeping in short, gentle strokes to freshen up the nap of the fabric
Finally, follow the grain of the fabric
How to Clean Suede Shoes
What you will need to Clean Suede Shoes 
Suede Brush
A Suede Rubber
Suede Shampoo
Crepe Protect spray
Flannel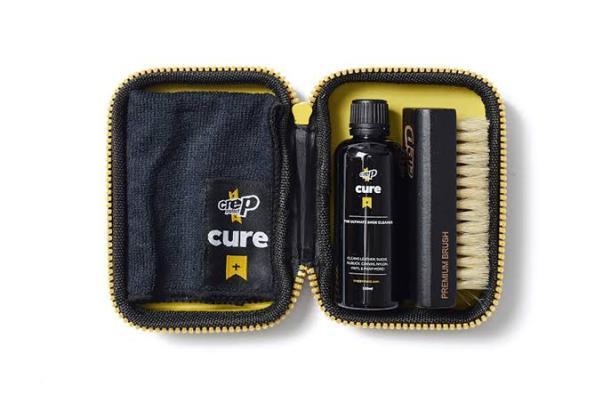 Before you begin, check that your suede shoes are in a cleanable condition. There is no point in trying to clean a pair of suede shoes if they're soaking wet, for instance. If this is the case, leave them somewhere indoors to dry before you begin.
Now, when it comes to actually cleaning the shoes, you will probably want to invest in a suede cleaning kit. Most suede cleaning kits will contain at least a suede rubber and brush. However, if you've got a more expensive one then it may contain suede shampoo or spray.
Suede Brush
The suede brush is going to be the most important weapon in your suede-cleaning arsenal. You can get different types of suede brush, each varying in bristle strength; although, if you don't have time to get a specific brush, you can use other types of brush, such as a toothbrush.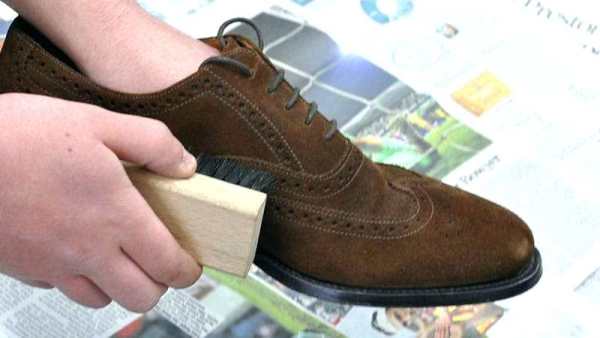 Once you've got your hands on a brush, use it to scrub any dirt on the outside of your shoes. If there are any particularly stubborn marks, try using a suede rubber on them. Take the rubber and rub it against the grain of the nap, then use the brush to push the nap back down.
If your shoes are extremely dirty then you may consider using your suede cleaner mixed with a small amount of water. However, be careful not to use too much as this will just make your shoes soggy and may leave them with salt lines.
Suede Cleaner
After you have brushed away the excess dirt on the top of your shoe, you need to give them a proper clean. The best way to do this is with suede cleaner or shampoo. If you're wondering, there isn't really any difference between cleaner and shampoo. They're both just liquids that create leather and can clean suede shoes.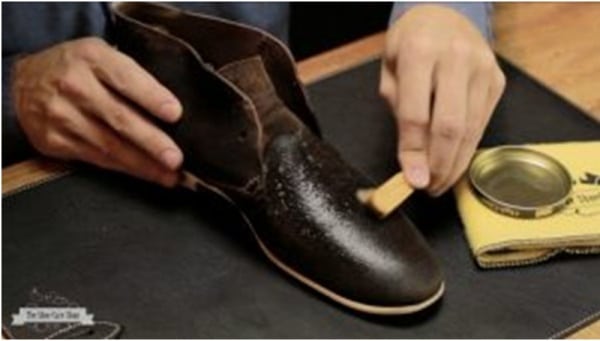 Take your suede brush or an old flannel and apply the suede cleaner to it. Begin scrubbing the cleaner into the suede shoes in circular motions. Try and apply the cleaner as evenly as possible to your shoes, although, you can concentrate on areas that are particularly dirty if you need to.
Best Suede Protector
While it's true that leather is sturdier than suede, it's a myth that suede will fall apart in the rain or be ruined the first time it gets wet. Really, the only thing that will totally wreck suede shoes is salt (and the same goes for leather there). A bit of water won't damage them in the long run as long as you dry them out carefully.
After you have cleaned your shoes, a suede-protecting spray is a worthwhile investment and will lengthen the lifespan of your shoe.
Perhaps the most important is properly storing your shoes. Make sure they're somewhere dry, and it's a good idea to keep them in a pillowcase or something similar. This will keep them protected from dust, but still, be breathable.
To make sure that your shoes are always kept clean and damage-free then why not try using a protection spray and cure to keep them looking fresher for longer. These products from Crep Protect are spot-on for keeping your favorite shoes pristine for longer.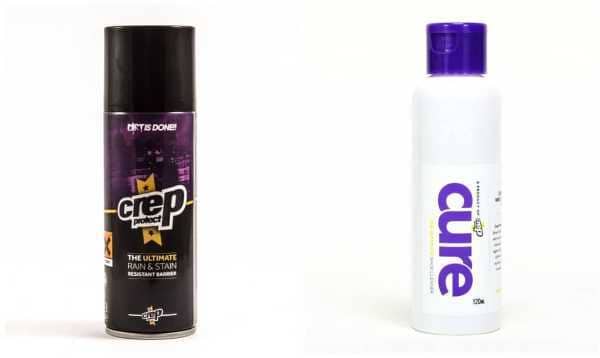 How to Clean Timberland Boots
Timberland boots are undoubtedly some of the most classic suede shoes. Typically produced in a light tan or sand color, Timberland boots offer a great combination of style and practicality.
The Timberland boots have gained a reputation for being particularly hardwearing. However, they have also grown into iconic fashion pieces. Whether you're wearing Timberland suede boots for their practical uses or just because they look great, you will want to keep them as clean as possible.
When it comes to Timberland boot care, you will want to clean them similarly to other suede shoes. However, the lighter color of most Timberland boots can mean that you will want to take some extra precautions.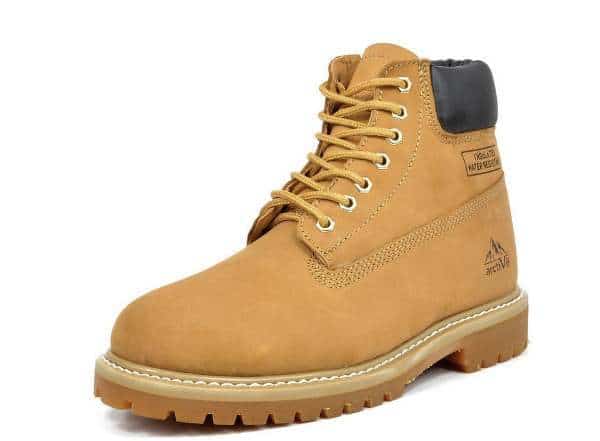 For instance, when brushing your suede shoes, why not try adding some suede cleaner to the brush itself before applying the brush to the shoe.
You will also want to clean the sole of your Timberlands. To do this, take your brush or flannel and some soapy water, and then scrub away any dirt or marks that remain on the boot sole.
Styling And Cleaning Suede Shoes
With a bit of proper care, you can get many snappy and suave outfits from your trusty suede shoes. So, to all, you doubters put on your dancing feet and take some suede shoes out for a spin. You might just like it.
If you want to learn a bit more about what shoe is which, and when to wear them, here's a handy guide to the best dress shoes you need to own and how to wear them in style.