How To Wear Double-Breasted Suits And Blazers
In donning a double-breasted suit you are making a statement. It's a statement that can only be made by wearing a double-breasted suit. For you to wear the suit, the suit doesn't wear you, so check out this guide to see how to choose and style a double-breasted suit.
How To Wear Double Breasted Suit In Style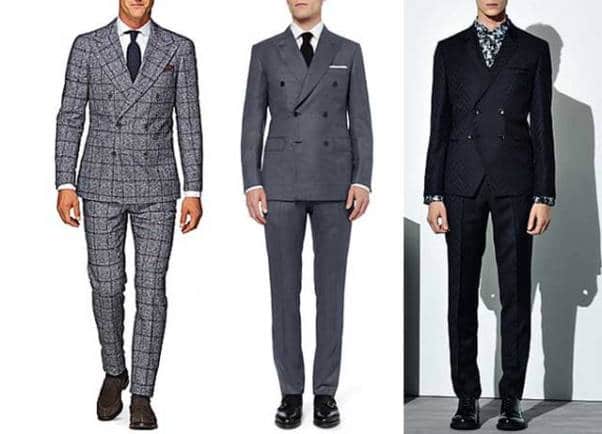 For a while now, many have associated double-breasted suits and blazers with late-night talk show hosts and actors in an amateur production of The Greats Gatsby. Suffice to say, this style of suit jacket has split people's opinions. Say the words "double-breasted" to some and they will think of a style that's baggy and dated, while others will think of a classy throwback. Right now, it's a style that is making its comeback.
While its single-breasted counterpart has proved its versatility and continued popularity, you will want to pick the right setting for a double-breasted suit or blazer. You will also want to think about how you will wear it. With the right sensibility and style, you can nail the double-breasted look.
A double-breasted suit is one to always keep on hand for formal and business occasions. With its two columns of detailed buttons, it creates a sophisticated exterior to match that of the event. The wider panels of the suit overlap in order to fit neatly across one another. As the double-breasted suit should be worn while buttoned, it contributes to the overall polished look that the suit provides.
Coming in a multitude of styles, colors, and fits, you can determine the statement that you want to make when rocking your jacket. Whether that is deciding upon a slim-fit double-breasted blazer in plaid or in navy, you are in control of the statement you wish to present.
RELATED: How To Wear A Pinstripe Suit With Style
RELATED: How To Wear A Three-Piece Suit With Style
What is a Double-Breasted Suit/Blazer?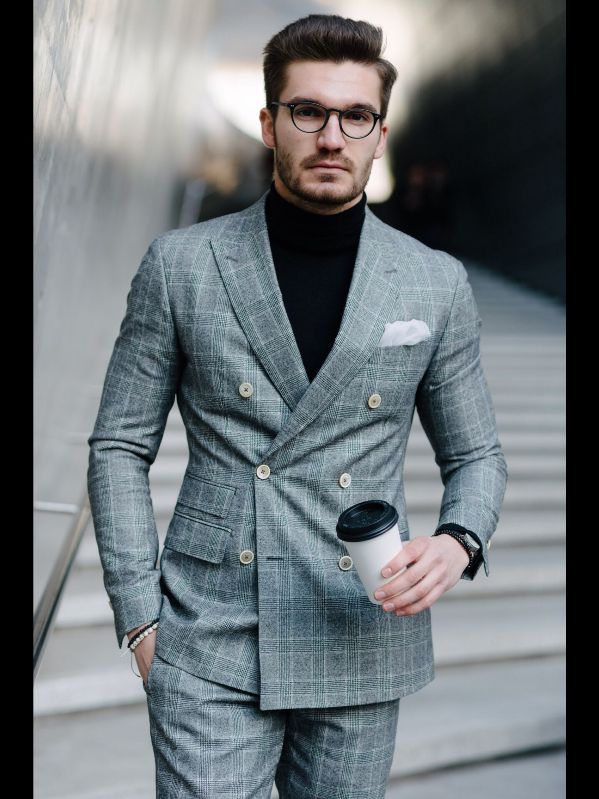 The traditional double-breasted suit is comprised of a six-by-two-button design along the front of the suit. With the buttons almost forming neat columns on the two panels of the suit, these buttons can act as extra decoration to the suit.
This classic design has a secret button in the inner panel of the left side of the jacket. It is known as an anchor button that helps hold the suit together so that the suit is laid nicely on your person. Having this anchor button adds to providing a slim-fit double-breasted suit.
At the top of your blazer, there are two wide-set lapels. These lapels look like flaps at the top of your suit. While they may seem simply there for decoration, they hold a much bigger purpose. The lapels make your chest appear wider, similar to the way shoulder pads broaden your shoulders.
Next to the lapels is a small breast pocket. This pocket used to hold a handkerchief for use and decoration. There are also two larger pockets located toward the waist on each panel of the suit.
Today, the blazer has slimmed down a little. Designers have re-imagined the style for modern sensibilities; creating a fit that more closely matches a man's silhouette than previous versions. Typically, you will see peaked lapels and six buttons. Contemporary styling will create an aesthetic that is more subtle than those you may have seen on Wall Street in the '80s. Of course, many guys will choose the double-breasted option for its inherent flair.
How Should the Double-Breasted Suit/Blazer Fit?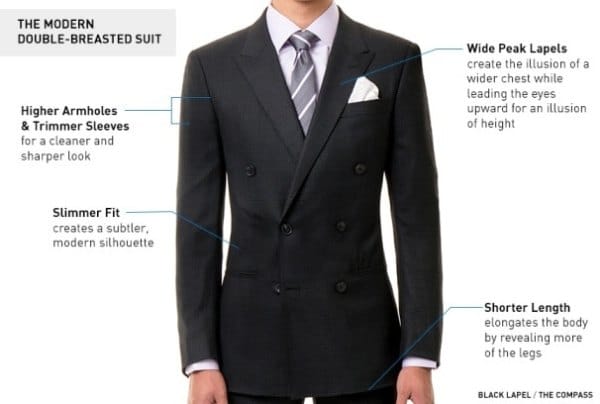 It is a style with many variables. The design of the suit, along with how it's tailored can tell a big story about you. The silhouette of today's styling is slimmer than its boxier predecessor. If you're looking for a double-breasted suit or blazer with modern sensibilities, opt for a blazer with a slim fit that's cut close to your torso. Look for sleeves that are trim and armholes that are higher, as this will keep everything looking a bit more subtle.
You shouldn't expect the double-breasted blazer to fit in the same way as a single-breasted jacket. A blazer cut close to the torso looks great, but it shouldn't hug you. Contemporary styles should pay homage to tradition while still looking relevant.
The key to wearing a men's double-breasted blazer is the fit. If the suit doesn't fit just so, then it needs to be hemmed or tailored to fit your body type. Or perhaps you are in need of a new suit altogether. Before looking for a new suit, make sure you have all your correct measurements with you, from your chest size to your shoulders and waist.
Buttons
When buttoning your double-breasted jacket, you must be able to button your suit. As an obvious start, if you can't button your suit then your suit is too small. The jacket should be buttoned comfortably so that it is not too tight, nor too loose on your body. The right fit will accentuate your body without taking away from your form. So, if your buttons seem to be pulling at one another it is time to look for a new suit.
Shoulders
The suit's seam should sit perfectly on your shoulders. This means that the seam must end when it reaches your shoulders, just as a shoulder pad needs to stop at the shoulders as well.
Arms
The length of the sleeves of the jacket must meet in the middle of your palm. If the sleeve is any longer than that, then the sleeve is too long for your arm. The sleeve itself should fit, comfortably along your arms.
Chest
When donning your jacket, there should be no more than a fist's worth of space between you and the jacket. The blazer needs to fit your body type and enhance it.
Hemline
The hem of your double-breasted suit jacket should end just at your hip. This is important to have the correct length or it may look like it doesn't fit you.
Trousers
Every great double-breasted suit would be nothing without a matching pair of trousers to finish off the look. In order to find a pair that fits correctly measure your inseam, waist, and leg.
RELATED: Men's Suit Fit -Your Definitive Guide
Choosing a Men's Double Breasted Suit/Blazer
Now that you have the fit down, there are many extras that need to be taken into consideration. Each one will contribute to the statement you want your suit to convey.
Lapels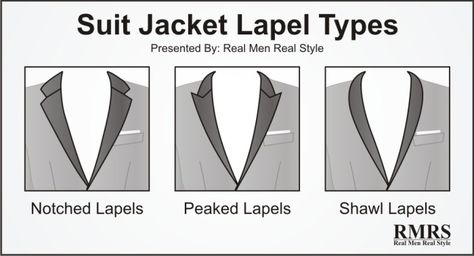 At the top of each suit, there are two folded flaps. These flaps are known as lapels and can make your frame appear broader. There are three different widths of the lapels slim, which is between 2.25 and 2.75 inches, and wide, at 3.77 and 4.5 inches. The regular or standard size is 3 to 3.5 inches wide.
Notch Lapel The notch lapel is the most casual lapel. As its name suggests, between the top and bottom of the lapel there is a slight 75-degree notch.
Peak Lapel It is a bit fancier than the notch lapel; the peak lapel's edges peak up at a sharper angle.
Shawl Lapel The shawl lapel is the most formal of the three and contains neither peak nor notch. It is one smooth constant lapel without a break.
Buttons
When it comes to buttons, they act both as accents and functions to the suit. The double-breasted suit should always have the bottom buttons buttoned with the top an optional style.
Colors

Choosing a color for your suit can be a daunting task, but can have an immense impact on your outlook on the suit. So, select a double-breasted suit jacket on both the fit and the color. White Double-Breasted Suit There's something about white suits that just seem to pop. The light and airy look makes this color wonderful for the summer and spring. Double-Breasted Pinstripe Suit Long elongated lines line the entire suit. Coming in a variety of colors, the pinstripe suit is a classic style. Black Double-Breasted Suit The all-black look has always been popular when searching for a go-to look the black double-breasted suit is the way to go. Blue Double Breasted Suit Both blue and navy provide a sophisticated, yet bold statement to your suit.
RELATED: Shirt and Tie Combinations with a Navy Suit
Cuffs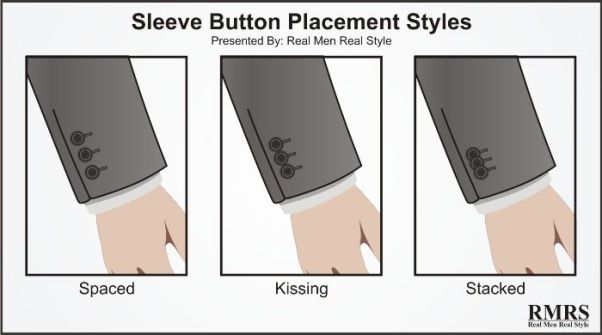 When looking at the cuffs of the jacket the more buttons on the cuff equates to a more formal occasion. On a suit's cuff, there tend to be one to four buttons arranged from casual to formal. The spacing of the buttons can also, change the look of the jacket
Spaced On the cuff, the buttons are evenly spaced apart.
Kissing The kissing spacing of the buttons is just touching one another.
Stacked The buttons placed close to each other almost on top of one another.
Double Breasted Suit vs. Single-Breasted Suit
Are double-breasted suits in style? Well, they are quite popular at the moment. With their wider panels and two columns of buttons, the slim fit of the jacket makes them both sophisticated and attractive.
On the other hand, the single-breasted suit is also popular. Single-breasted suits have one to three buttons lining the front of the suit instead of four to eight as a double-breasted suit does.
The single-breasted can have notch, peak, or shawl lapels, unlike the double-breasted, which only comes with peak or shawl lapels. The most generic label for the single is the notch lapel and the peak for the double-breasted.
The main difference between the two comes down to how formal the suit is. The double-breasted suit jacket by a rule of thumb is more formal than a single-breasted jacket.
When to Wear a Double-Breasted Suit/Blazer
Smart-Casual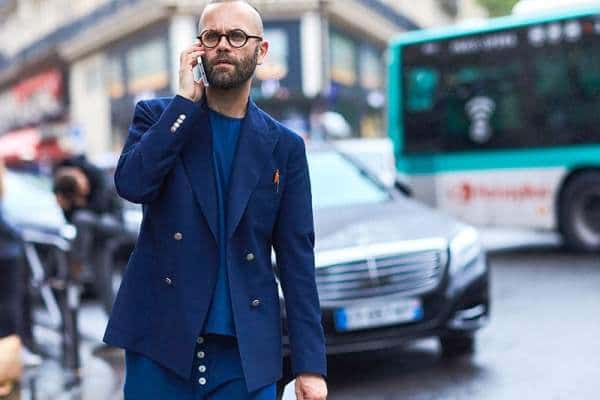 The great thing about double-breasted suits and blazers is that they are incredibly versatile. You may think of the style as being too stuffy and formal for a smart-casual setting. But the combination of the traditional double-breasted look with a casual finish makes for an interesting juxtaposition. For some reason, it just works.
Your sartorial intuition will be the major factor in how you dress down a double-breasted suit or blazer. Combine the blazer with a pair of chinos, jeans, or shorts for an unassuming approach. Bright colors are great, especially for a summer vibe. Another option is to combine a full suit with white trainers and a bright shirt. Of course, what's happening under your jacket sets the tone. Ditch the tie and go for a t-shirt or linen shirt for a minimalist, casual dressing style.
Semi-Formal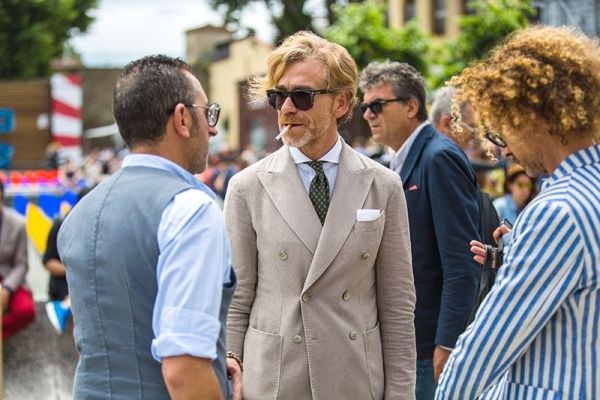 It's the style of dress that is a step below formal and causes great confusion for many men. Thankfully, a semi-formal dress allows for a lot of your personal flair, and that's exactly what a double-breasted suit can bring. For a semi-formal suit, opt for more reserved color choices; think creams, grays, and navies. Patterns bring a lot of interest to any suit but don't go too over the top for semi-formal. Subtle variations of Glen check, gingham, and houndstooth are great options.
Business Casual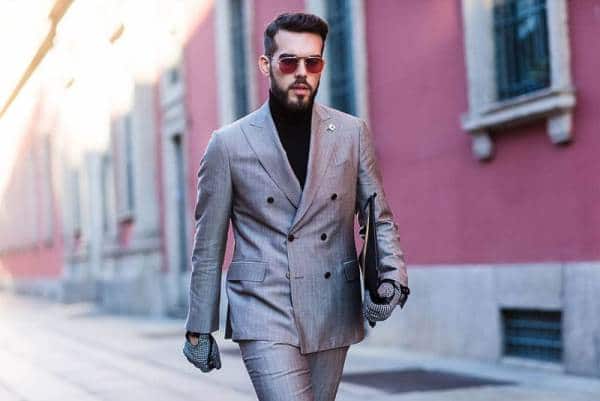 It is a style of dress without a strict definition, but at its most basic, business casual is the attire that you would wear to the office without being too corporate. If you do choose to wear your double-breasted suits or blazers to the office, you will be well served to dress it down a notch. You don't want to look like that '80s Wall Street banker. Go without a tie and wear a casual shirt or turtleneck.
Formal Attire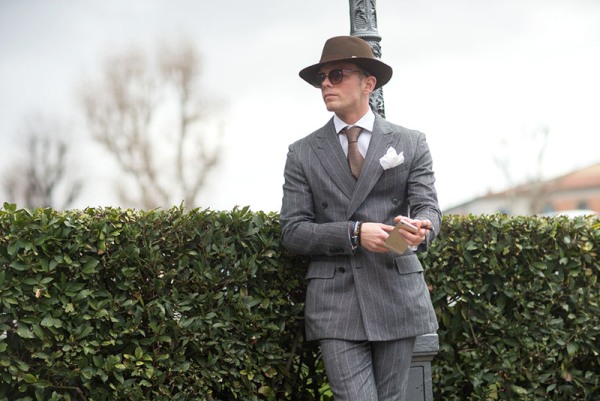 We've spoken a lot about how double-breasted suits can be dressed down, but remember this style inherently sits on the formal dress code. Choose a French cuff shirt paired with a darker tie to dress the suit up. Keep in mind the blazer will hide much of your tie, so a shirt with a wider collar will draw more attention to what we can see of your tie. As is the case with a single-breasted suit, darker colors reflect formal settings.
How to Fold a Double-Breasted Suit Jacket
After spending time and money picking out the best suit for you; there is no reason to pack it for an occasion and then find it wrinkled later. When traveling for a formal occasion, fold your suit to keep it in the best condition for the occasion. Follow the steps below to keep your suit wrinkle-free and ready to wear.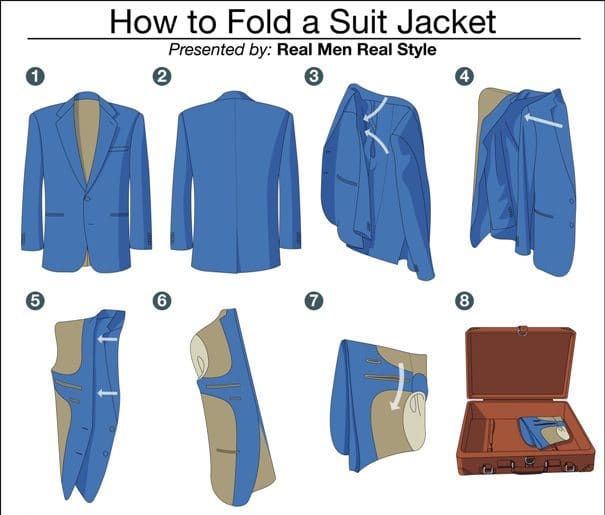 How to Wear a Double-Breasted Suit/Blazer
With so much going on in the way of buttons, it's easy to get confused about which buttons to the button. We know with single-breasted jackets that you should leave the bottom button untouched. In the same way with a double-breasted blazer, you should leave the bottom inside the button open.
We wholeheartedly encourage choosing double-breasted suits and blazers in bright colors, bold patterns, and different fabrics. It is a bold look that you can nail with an assured sense of style. Do keep in mind; however, over-accessorizing might come across as ostentatious.
As a rule of thumb, the more structure your jacket has, the more formal it will appear. Heavily structured, dark blazers are your best option if you're looking to wear your suit to the office or formal events.
With the wider fit, this style does a lot to accentuate a man's width. The broad shoulder profile and the peak lapels can make a gent appear broad, so it's an excellent choice for skinnier guys. For the same reason, if you're already a broad-chest man, you may want to opt for a single-breasted blazer.
RELATED: How To Wear A Dinner Jacket For Men
How To Wear Double Breasted Suit In Style
With the two panels that overlap it creates a well-fitted look that is neat and polished. As a formal suit fit is everything. That means it is vital to make sure that the double-breasted jacket fits well in the chest, shoulders, and arms, as well as the trousers. A double-breasted suit jacket looks best buttoned and can be buttoned with the middle, and or the last button only, or with the top button as well. By buttoning the jacket it forms a slim-fitting suit that adds to its overall formal look. In turn, making it a great fit for formal occasions.
So, make sure all of your measurements are correct so that you have the right fit when donning your double-breasted suit jacket. Let your suit jacket make a statement with whichever style and colors you choose to wear. Whether that is bold or classic, your double-breasted suit is exactly what you make it. For the suit doesn't wear you, you wear the suit and you decide upon the statement you wish to make when wearing your double-breasted suit jacket.