The Most Stylish All Black Outfits For Men
No matter where you're going, there is an all-black outfit to suit any occasion. Dark shades will have you looking sharp, even if you're in a casual setting. This is a versatile color combination that works for every guy's personality, no matter the season. Whether you love luxury goods or you prefer streetwear, here's how to wear all-black outfits with style.
RELATED: White Jeans Outfit Ideas For Men
RELATED: How To Wear Pastels For Men In Style
All Black Outfits
Coat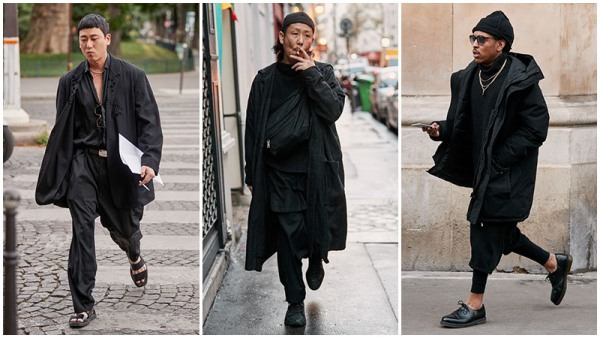 Elevate your winter outfits by pairing black with black. Wear a roll-neck with a coat, jeans, and a beanie, and you'll be ready to tackle the cold weather. You could also replace a roll-neck with a T-shirt or button-down if you're on your way to a smart casual event. Opt for outerwear that hits below the knee so you can stay warm and look like you've stepped off the runway.
Suit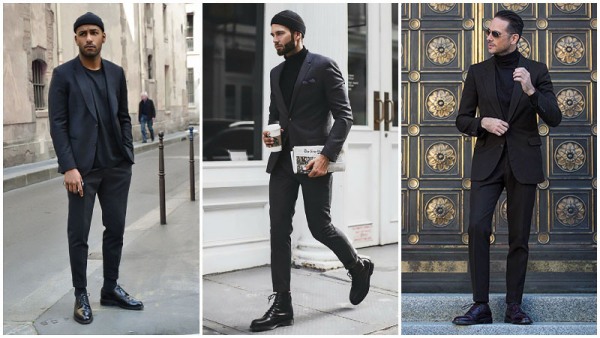 Go to a work event or a wedding in style with an all-black suit. Sleek and sexy, these items of clothing are perfect for almost any occasion and can be dressed up or down. Pair the ensemble with a T-shirt and sneakers for smart-casual events or rock a roll neck for business-related functions. This is an excellent option for the colder months, and you can mix and match your getup the whole year round.
Shorts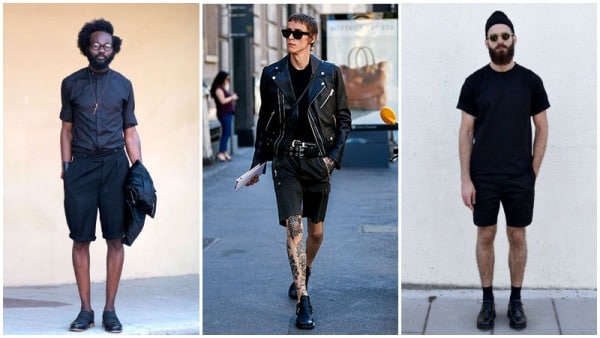 If you're transitioning between seasons, adjust your body temperature with a leather jacket and dress shoes, or stay chilled with a basic T-shirt and sneakers. Choose to wear an all-black printed shirt with your shorts, or stick to a solid color. When the sun is beaming, you can look fresh as a cucumber in these getups.
Ripped Jeans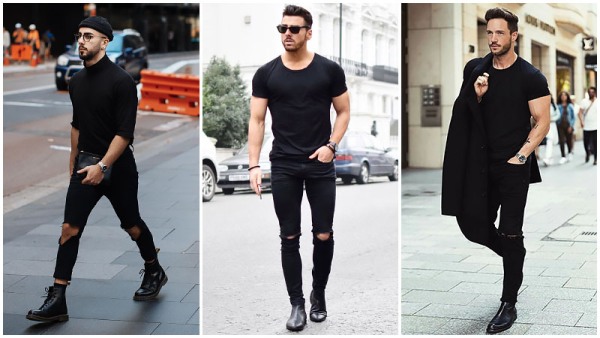 Put an edgy spin on your everyday outfit with a pair of ripped jeans. From a small tear to a gaping hole, the punk-inspired denim looks great with almost anything. Complete your look with a T-shirt and Chelsea boots, or a roll neck and combat boots. You can also find ripped jeans with some embellishment on the pockets for the ultimate badass feel.
White Shoes
Add a touch of contrast to your all-black outfit by rocking a pair of white trainers. Choose from the classic black jeans and a T-shirt or take it to the next level with tailored trousers and an oversized coat. There are so many ways you can wear it; you can try something new every day.
When to Wear All Black Outfits For Men
Casual All Black Outfits For Men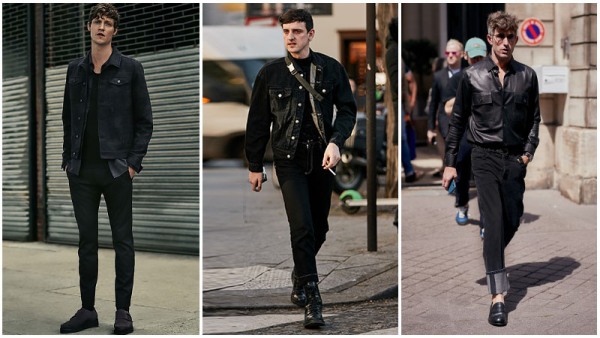 From black jeans and a T-shirt to a button-down and tailored pants; you can rock these ensembles on the weekends and to casual events. Finish the look with a pair of black sneakers, loafers, or boots for the ultimate laid-back aesthetic.
Smart Casual All Black Outfits For Men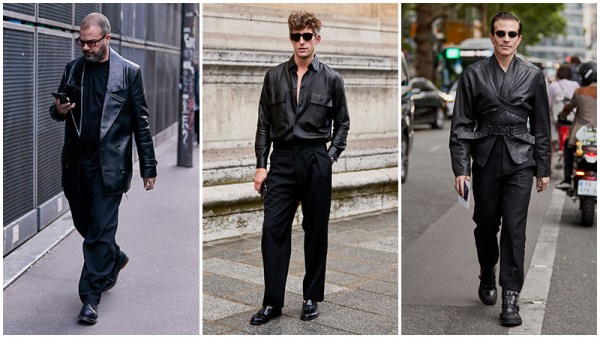 Dress in style for a smart casual event in an all-black outfit. Stylish and sophisticated, you can wear this getup at any time of the year and look cool everywhere you go. For an evening event, opt for a black T-shirt and fitted pants with a leather jacket. Wearing a monochromatic theme is an easy way to streamline your attire, so don't be afraid to experiment a bit!
Business Casual All Black Outfits For Men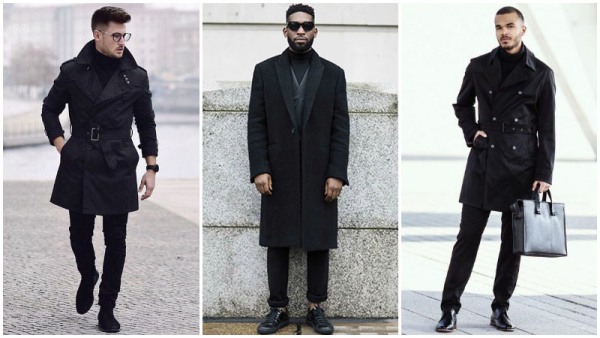 Whether you're heading to a meeting or a work Christmas party, you can't go wrong in an all-black business casual ensemble. From suit pants with a roll-neck jumper and coat in winter to a button-down shirt and chino pants in summer, there's a myriad of ways to wear these looks.
Formal All Black Outfits For Men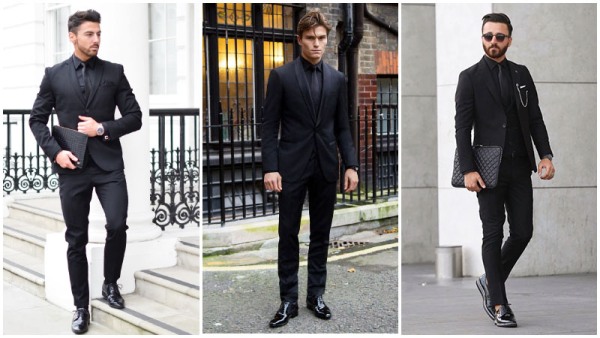 Be your classiest self in sleek and sexy all-black formal outfits. A monochromatic suit, tie, and shirt are an easy way to streamline your entire ensemble. As a timeless piece of clothing, wear a simple blazer and trousers – complete the look with a pair of dress shoes and subtle accessories for the most refined aesthetic. Whether you're on your way to the races or a cocktail event, you'll look extra sharp in this getup.
Read: Men's Dress Codes Guide For All Occasions
6 Rules to Live by When Wearing Black Clothes
If you like to wear black clothes, listen up. Black is great for anyone's wardrobe and it should be a staple throughout your life, but it comes with a few challenges. Most importantly, different fabrics do not hold black dye as well as others.
With this in mind, here are six rules that you should follow when it comes to the blacks in your wardrobe.
Why You Should Love Wool
Wool fabrics are always a deeper black than those made of cotton because wool holds the dye better.
To get the deepest blacks, look for trousers, sweaters, and, of course, suits made with wool when shopping.
What's even better is that wool doesn't fade as cotton does over time. In the long term, you will be making a better investment by paying up for wool if you like to dress in black frequently.
Matching Your Black Clothes
No matter what the fabric, shades of black differ, so be careful when putting an all-black outfit together. For example, when pairing a black shirt with black trousers, the black shirt might have a purple cast while your black trousers have a brown cast.
These differences are subtle but important. They can become more noticeable under certain lighting conditions, so be sure to check your blacks under true daylight.
Mix Textures and Fabrics
There is a right and wrong way to wear black clothes. As with any ensemble, it's important to mix different fabrics and textures.
For example, a heavily textured sweater with smooth pants looks dashing, as does a plain Merino wool sweater with tonal stripe pants.
Doing this will make you look less like you are wearing a uniform and more like you put a little effort into your outfit.
Cotton: Proceed With Caution
When it comes to cotton fabrics, be aware that they fade rather quickly. Instead of 100 percent cotton, buy black shirts that have a touch of Lycra in them.
The synthetic fiber helps cotton hold the dye better.
Also, consider buying mercerized cotton shirts. These are made from fibers with a polyester core and cotton covering. The blacks in these fabrics are deeper and richer than other forms of cotton.
Caring for Your Black Clothes
If it is black (or dark), dry clean it. Even if you launder your shirts, make it a habit to dry clean any black ones as it will keep the color from fading as quickly.
When it comes to washing black (or dark) cotton items at home, use a cup of vinegar the first time you wash a new article. The vinegar helps set the dye and the smell dissipates once it's dry. Vinegar is actually a good fabric softener to use, anyway.
If that sounds unappealing, you can use Woolite Dark Laundry Fabric Wash. This product is specially formulated to minimize the fading of colors and maintain color intensity.
Also, always use cold water with your dark items.
Know When to Say Goodbye
Retire clothes when they start to fade. Faded blacks just make you look tattered and we don't want that now do we?
How to Wear All Black Outfits For Men
Dress an outfit up or down by swapping out sneakers for dress shoes.
A black suit and tie is a timeless option for a formal event.
Put an edgy spin on your outfit by wearing ripped jeans.
A T-shirt and a blazer are easy ways to go from casual to smart-casual events.
You can wear an all-black every season. Swap out jeans for shorts for an instant summer upgrade.