15 Beautiful Wedding Guest Dress Ideas
It feels great to open your mailbox and find a wedding invite, isn't it? Weddings are fun, celebratory, and a perfect opportunity to doll up and put your best foot forward. But, once the excitement fizzles out, reality punches you right in the face. What do you wear? That's the first thing that comes to everyone's mind, and the confusion is real. If you have a group of friends, you can coordinate, talk, and decide on something, but that's not always the case. So what makes for an exciting wedding guest dress? Let's look at some looks we have curated that are sartorially approved and acceptable too. Here we go.
RELATED: Wedding Guest Attire for Women
15 Beautiful Wedding Guest Dress Ideas
1. Pastel Colored Dress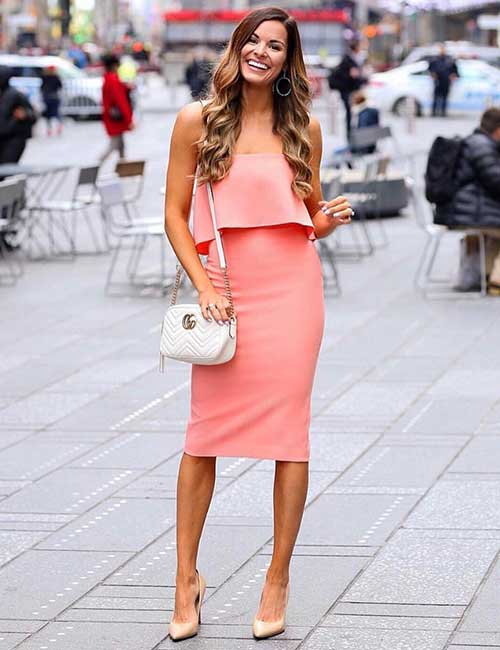 Summer and spring are the most comfortable seasons when choosing an outfit; you do not have to worry about the weather as much as you would otherwise. Go for pastel undertones like peach, mint, or off-white without stepping into the white territory, and choose something that is simple, but stands out. This peach-colored bodycon dress with ruffles is a perfect mix of the elements. You can wear sequined stilettos or nude, but elevated footwear is a must – it will look great with these outfits.
RELATED: 8 Best Types Of Party Shoes You Will Love
2. Soft Pleated Midi Dress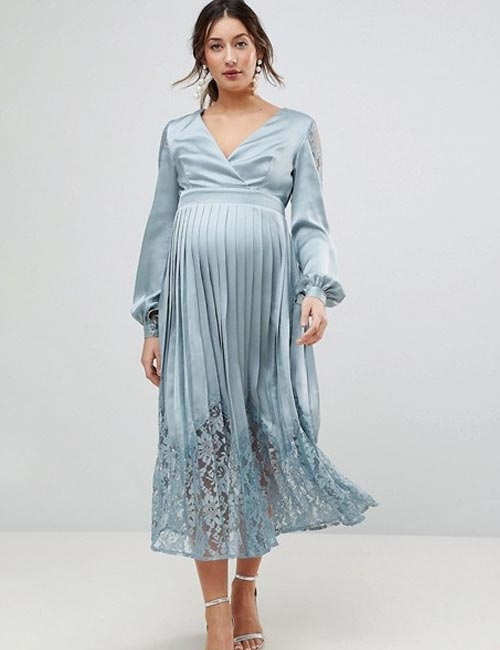 Choosing a dress becomes twice as hard when you are pregnant for a lot of reasons, but bank on that pregnancy glow. Wear something that is soft on your skin and elegant. Go with midi dresses that hit a sweet spot with the length. And go with platform heels or wedges that go perfectly with these outfits. Style this with a silver side body bag, and a simple pearl necklace.
3. Short Bottle Green Dress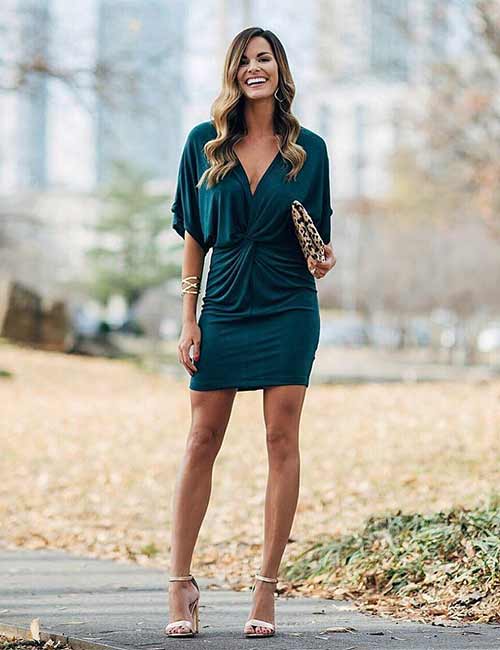 Short dresses don't always have to be skimpy; this dress is proof. Wedding guests generally steer clear of short dresses, but you just need to know how to go about flaunting them. Bottle green is a gorgeous wedding color that just brings out an instant glow, and when you add details like shoes, accessories, and a clutch, it elevates your style even further. You can choose to dress up or down in dresses like these.
4. Skirt And Crop Top Outfit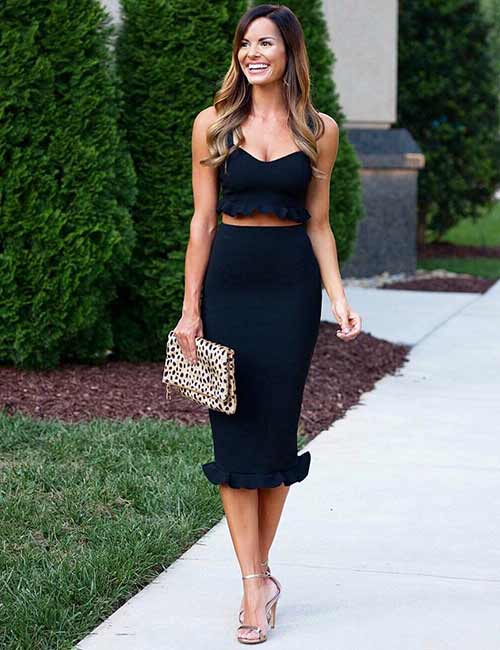 If you want to try something new, try two-piece dresses as they are turning out to be a hot favorite of most women. Pantsuits, crop tops, peplum skirts, etc. are interesting choices. This royal blue skirt and crop top are screaming elegance. Pair the attire with contrasting accessories with a tinge of animal print etc. to let it all pop.
5. Off Shoulder Pantsuit In Blue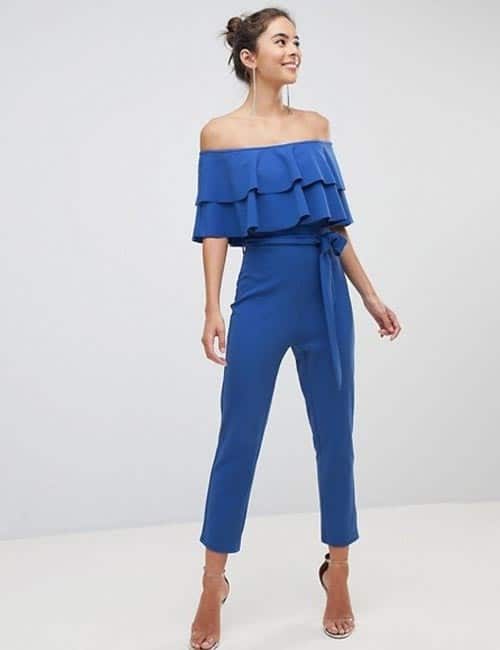 Talking about pantsuits, if you are headed to a destination wedding or weddings that have a specific theme; your hosts would appreciate people following it. Go with a simple, yet elegant blue off-shoulder pantsuit and pair the outfit with ankle-strap sandals. You can tie your hair in a messy chignon bun and carry a clutch to keep it all easy and breezy.
6. Maxi Dress For Fall Weddings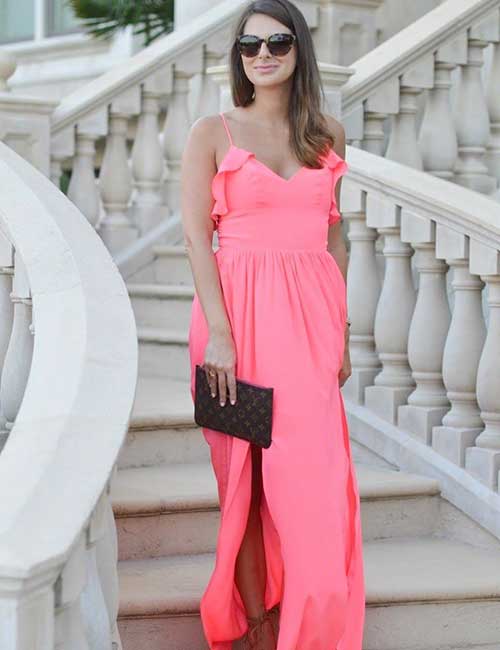 If you are lucky, fall weather accommodates dresses like these. If it's a ranch or vintage wedding you are invited to, a simple spaghetti strap dress with gladiator sandals, an oversized hand clutch, and big sunglasses will seal the deal for you.
7. Floral And Sheer Outfit For A Beach Wedding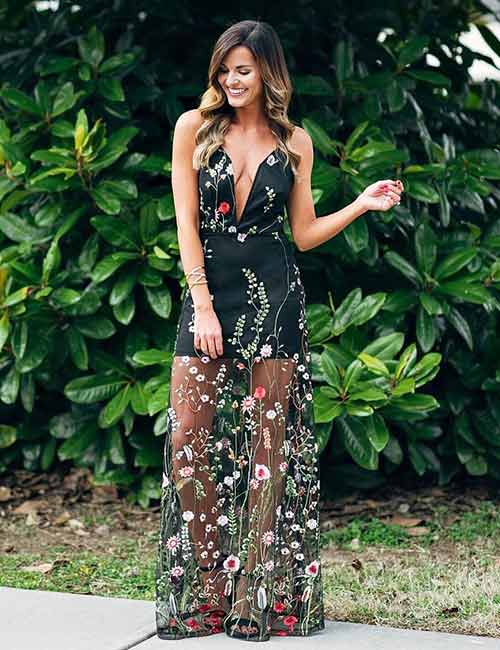 Unless you are from the bride's closest tribe; don't venture into anything light, white, or something similar when choosing your dress. Instead, go for a dress that is unique and an off-beat choice. The delicate floral threadwork for the body and the sheer extension that flows below the knees gets you all kinds of beach-ready. Wear high or sheer sandals to take this look up a notch.
8. Embellished Chiffon Gown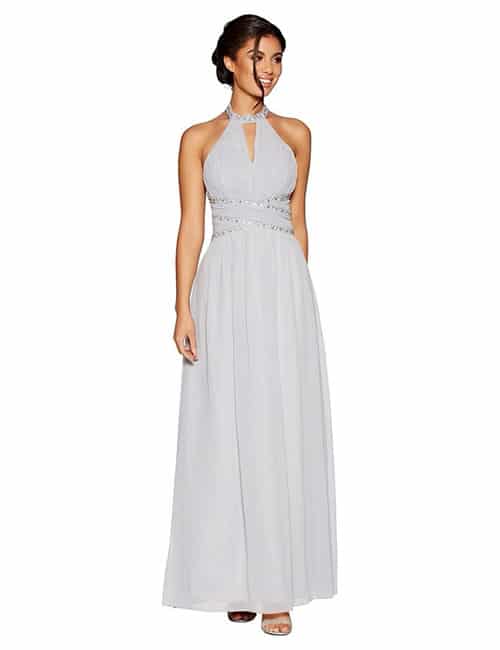 Look like a glam diva in this chiffon gown with embellishments and diamante details. The halter neck and keyhole style are balancing all elements perfectly. Carry a sleek side body bag and wear ankle strap heels. Put your hair up and let your neckline steal the show.
9. Rose Gold Bohemian Outfit Wedding Guest Dress Ideas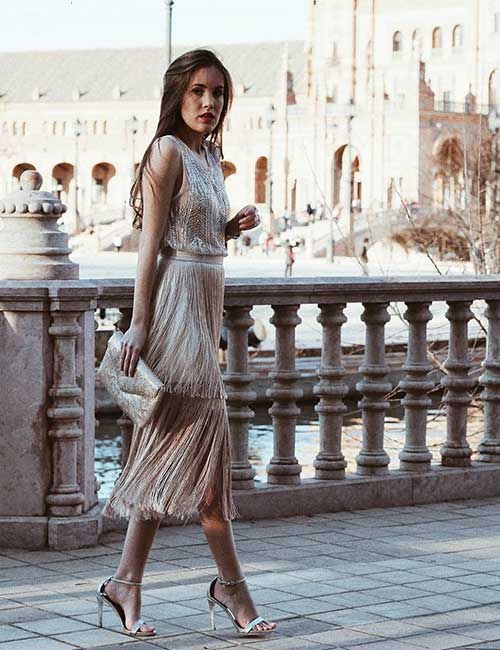 Bohemian, Victorian, vintage, etc. themes have become increasingly popular over the last few years, and so it's always good to have dresses that have an old-world charm but a modern aesthetic to them. With fine rose gold embellishments and fringes, this dress is a perfect definition of being the best of both worlds. Let your makeup be subtle and finish it all with deep red lipstick to look like a damsel from the retro era.
10. Navy Blue Fit Mermaid Style Maxi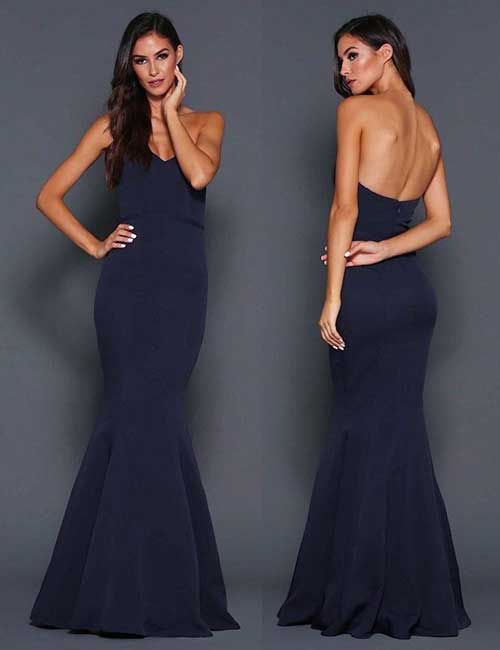 If the wedding is at an upmarket banquet hall, boutique, or palace; you need a dress that is equally compelling. Go with a dress like this and flaunt your body without worrying about stealing the bride's thunder. You don't need any accessories either; the dress will do all the talking.
11. Off-Shoulder Lace Wedding Guest Dress Ideas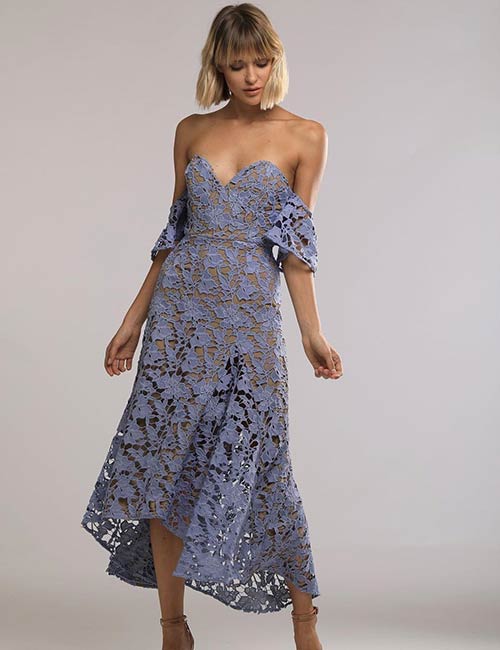 Weddings and lace are synonymous, leave the whites to the bride and go for pastel or muted undertones. The off-shoulder neckline and the high-low hemline are details that do the talking for you.
12. Pencil Skirt Wedding Guest Dress Ideas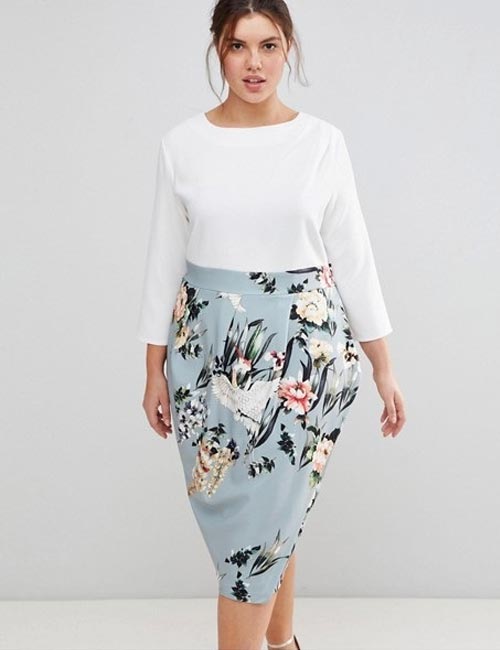 Guest wedding dresses are a huge part of the bridal line and cater to women and their varied preferences and body types. Petite, plus, middle-aged or pregnant, there's a dress for all of us, we just need to be more open and not confine ourselves to boring dresses. This pencil skirt dress is fashion-forward and elegant too. Pair this dress with white sandals and beach waves to complete this look.
13. Asymmetrical Spaghetti Dress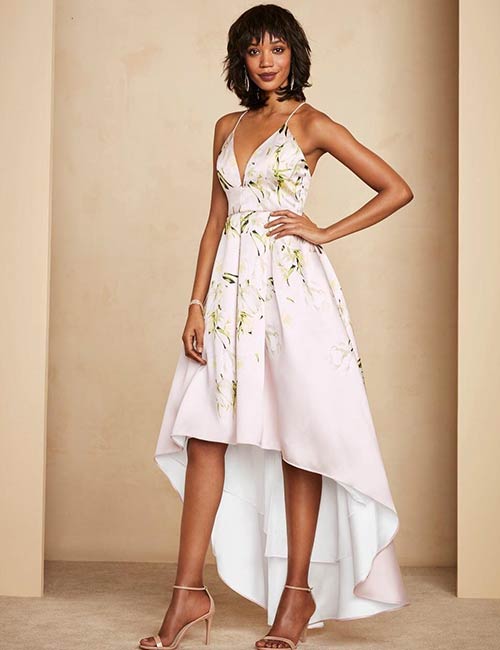 Asymmetrical dresses stand out, just like that. This asymmetrical floral dress is just breathtakingly beautiful.
14. Long Beaded Wedding Guest Dress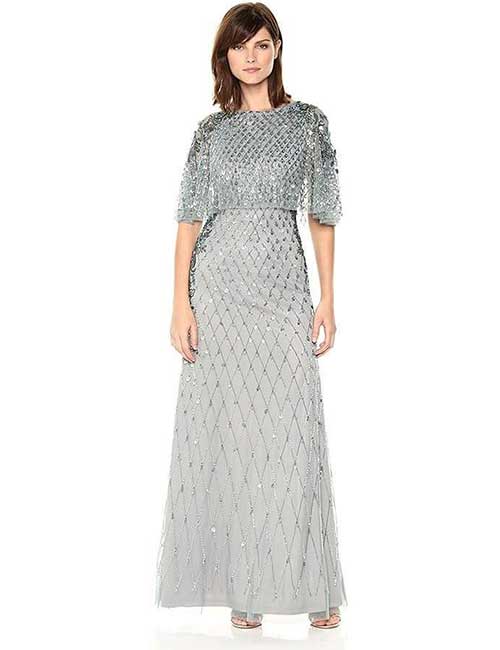 If you are looking for something more embellished and loaded; go for dresses like these and choose colors that complement the heavy work. Flashy colors can seem loud and over the top.
15. Red Peplum Skirt Style Dress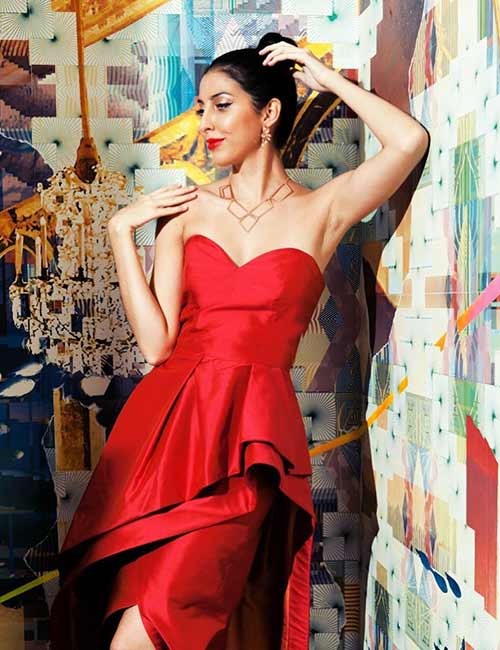 Peplum skirt-style gowns or skirts just bring out the oomph like nothing ever does. That combined with an asymmetrical cut – near perfection.
RELATED: 8 Best Types Of Party Shoes You Will Love
Wedding Guest Outfits – Dos and Don'ts
Dos
Stick to the theme, and respect the invite.
Choose dresses that are romantic, and not too revealing.
Wear shoes that are comfortable for dancing etc. because wedding ceremonies are followed by receptions, which always feature dances.
Be watchful of the cuts and patterns of the dress you choose.
Look for alternate and new outfits while sticking to the code.
Pop your outfit with accessories.
Always prefer carrying a clutch or a sling bag over the big office or beach bags.
Don'ts
Wearing white is a big no-no, and there's no excuse for this.
If you know what the bridesmaids are wearing and you are not one of them; don't even think of matching clothes with them.
Showing up in dresses that steal the bride's thunder in any way is not a nice thing to do.
Opt out of dresses that are too revealing.
Don't be overly casual or informal with your dress, so no jeans, flip-flops, distressed denim, etc.
There's a difference between being stylish and sleazy, tread cautiously.
Don't pick colors that are loud and glaring.
Black is turning out to be an acceptable wedding color, but always check with the host, you never know.
Carrying huge laptop bags is not a nice thing either.
You don't want to look overdressed (for sure), or be underdressed and look disinterested. Here is also, a handy guide to wedding guest attire to decipher the difference between cocktail, semi-formal, formal, and black tie.