The Perfect Formal Dress for Your Body Type
When buying a formal dress there are many elements you'll need to take into consideration.
You'll need to look at the type of formal event you'll be attending. That includes what style of dress might be most appropriate to fit the dress code. You'll also want to make sure your dress is the right color and flattering for your body type too.
Finding formal attire that adds balance to your body's natural shape is the key to finding a perfect dress. There are so many different body types. From hourglass to pear shape and apple shape – and everything in between.
Figuring out which body shape you are in will help you in your quest to find the right formal look. Once you have a good understanding of your shape, you can dress accordingly. It's about showing off your best features!
Some of us who have had lower body procedures to change the shape of our bodies can still find the perfect outfit. Everyone is fabulous, regardless of shape or size.
If this seems overwhelming, never fear – we're here to help. Today we're taking a look at some of the most common body types out there. That includes what suits them, what you should avoid, and how to make the best choice for your special occasion.
RELATED: How To Choose A Prom Dress Guide
Perfect Formal Dress for Your Body Type
What Body Type Am I?
Take a look at your natural shape – what shape is your silhouette (the outline of your body)? If you aren't sure of your body type, measure yourself across the shoulders, bust, hips, and waist. You'll start to see where your body inclines and where you are widest.
This is going to help you determine which shape you are in. Read over the most common body types below and our tips for formal dressing each shape to look its best. Remember, it doesn't matter what size or shape you are. There's a perfect dress that will flatter you and make you feel beautiful!
Perfect Formal Dress for Your Body Type
Apple Body Type
The Apple Body Type commonly has slim legs and thighs but with a wider upper body and a rounder mid-section. To dress an apple body shape the best, look for pieces that create a defined waist around your midriff. A plunging neckline such as a sweetheart shape or deep v-neck will look gorgeous on you. As well as an off-the-shoulder style.
If you're attending a cocktail party, take the chance to show off your legs since you tend to have beautiful gams. For a formal event, a dramatic ball gown with plenty of skirt volume will add more balance to your silhouette. For example, this stunning navy pleated dress with a sparkling belted waist.
Busty Body Type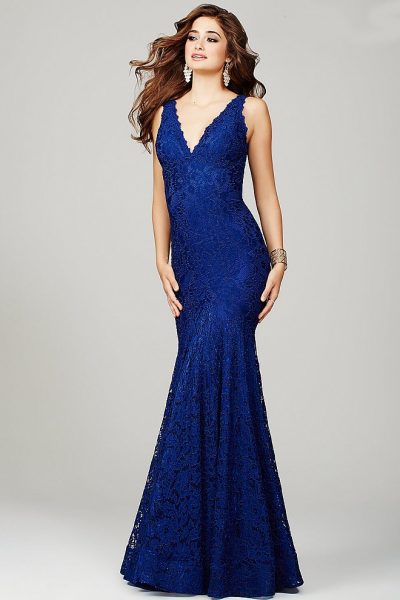 If you've been blessed with a fuller bust, by all means, flaunt it! The Busty Body Type has a bigger chest but narrower hips. The key to striking balance is to look for pieces that highlight and support your bust and also balance your lower half.
A dress with an A-line skirt will help add some flare and proportion. Another great choice is a mermaid dress, which naturally highlights your body type with a figure-hugging bodice. This style also has a nipped-in waist and flares dramatically at the bottom.
Avoid very high necklines. They'll make you look even bustier and won't provide a good balance. This fitted lace gown is the perfect choice with its plunging v-neck and flared end.
Hourglass Body Type
The Hourglass Body Type is easily identifiable – you'll have a narrow waist with a bust and hips that are about equal in width. This creates a symmetrical curve on your upper and mid-body. This is a very desirable shape!
You'll look gorgeous in figure-hugging styles that show off this stunning natural silhouette. Look for body-conscious jersey dresses. This design with an open back is particularly attention-grabbing.
A high neckline will show off your hourglass shape even more, as will a dress in black color. Avoid oversized styles that drown out your natural curves.
Pear Body Type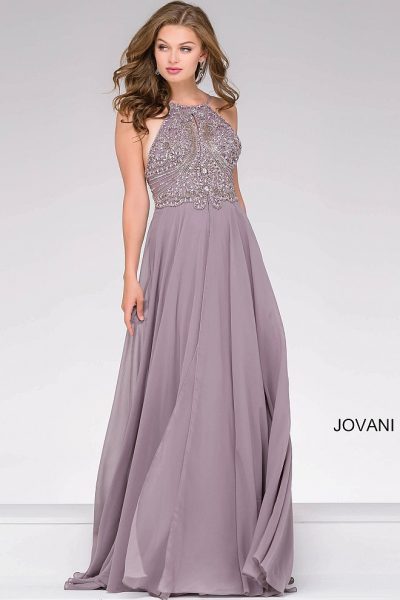 A Pear Body Shape has a narrower upper half (shoulders) with wider hips, thighs, and bottom. This body shape is easy to balance out. All you need is to add pretty details on top. Add a flowing skirt to your lower half that gently skims over your bottom half.
Pear-shaped body types look beautiful in a halterneck or plunging bodice. That includes a style that features beadwork on your upper half to draw more attention upwards. We love this gorgeous chiffon gown option for pear-shaped women.
One thing to try to steer clear of dresses that are entirely body-hugging. Always opt for a loose or flared skirt. An attention-grabbing bodice can form your focal point for your formal look, so be sure to choose a top that really makes a statement.
Petite Body Type
The Petite woman is often shorter in stature and with a slim, short upper half. To make the best of this body type, try selecting a beautiful dress in a block color. Petite women look great in single-tone dresses since they don't break up your body shape. They draw the eye to the entire length of the gown, elongating your silhouette.
One other style to consider for petite shapes? Dresses with a higher belted waist will give the illusion of longer legs and add height to your look. For semi-formal events, you can also wear shorter-length dresses (knee length) to show off your legs.
Slender Body Type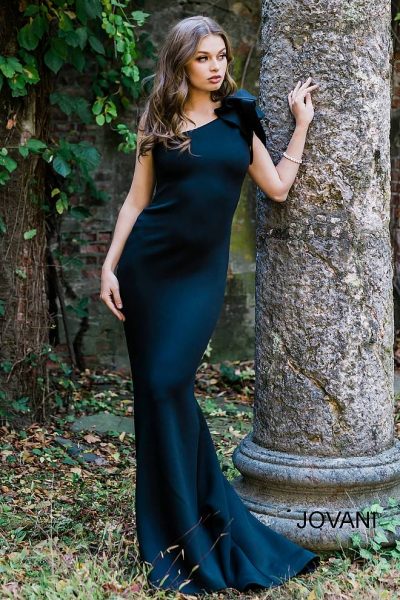 The Slender Body Type, also known as Athletic, can be identified as having a rectangular figure with few curves. Thankfully, it's easy to add a few gentle curves with the right dress. Look for designs that subtly hug the hips and bust with a narrowed waist or flared tail.
For example, this mermaid style with a one-shoulder design. Sweetheart necklines help add sexy curves and femininity to your shape, especially when paired with a mermaid or trumpet skirt. Try to stay away from column dresses (types of dresses that are straight up and down).
You should try to add a few curves to look your best. A cinched waist and a ballgown skirt will also have a similar effect on the eye.
More Dress Options & Ideas to Find the Perfect Formal Dress for Your Body Type
Don't forget – pear shape, apple shape, hourglass, busty and athletic are just a few of the typical body types out there. If you don't necessarily fit into one of these body shape categories, don't panic! You can use your own measurements to decide what aspects you want to highlight and hide.
A good rule is to try to balance your shape by concealing where you are widest and highlighting your narrow points. When in doubt, a mermaid dress is the ultimate option. It naturally creates a gorgeous hourglass silhouette with minimal fuss.
8 Tips for Choosing

Evening Gown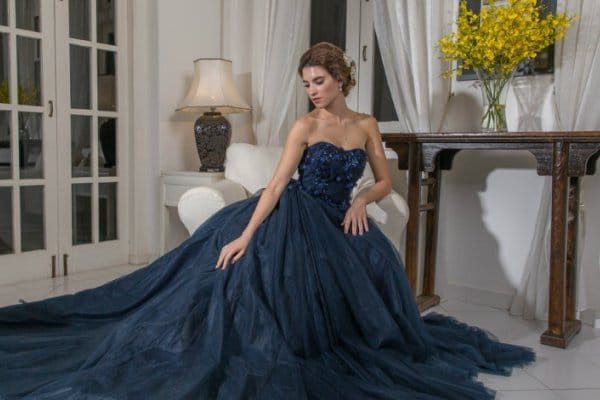 Finding the right dress will make you feel like a diva in it. Not only will it be comfortable, but it will also bring out your best features and make you happy to show them off. But there is so much variety in evening dresses, that it can make shopping for the perfect one totally confusing!
So, how do you set about looking for one, and identify if it is the right choice for you?
Here are ten valuable tips from Best for Bride, to help you find the right formal gown for your next big social event.
1- Before You Go Shopping Assess your body shape first
This is the primary factor in finding a gown that will look great on you. For best results, you should always choose one that enhances your best features, while hiding or camouflaging the less desirable aspects of your body frame. To find the right silhouette for your body shape, you should first determine your body shape. In brief, we can say that most women fall into one of the following categories:
Apple-shaped: where the shoulders and upper torso are wider than the hips and legs.
Pear-shaped: Where the lower half of the body, from the waist and hips, is more pronounced than the bust
Hourglass: Where the bust and hips are similar in proportion and separated by a distinctly slender waistline
Rectangular: Where there are few to no noticeable curves and the frame is slender overall
Petite: where the overall height is less than 5'4" with a well-defined bust and hip region
By choosing a dress style that flatters your body shape, you will look and feel confident and attractive. Certain styles, like dresses with A-line skirts and V-necklines, are universally flattering and are suitable for most body types. If you are unsure of your body shape, these may be the options to consider.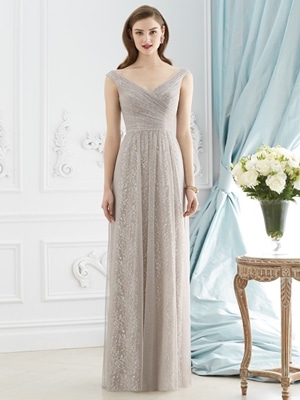 This A-line, from the Nordstrom collection, is a safe bet in terms of fit, color, and style.
2- Stick to a budget
Before you go shopping, it is essential that you first calculate the maximum amount you can afford to spend on your evening gown. This will help you narrow down your choices and find a dress that is good, and within your specified range. The price is often determined by the number of details in the gown, the fabric, embellishments, and the designer collection to which it belongs.
Evening gowns can be expensive. However, you should balance out the price with the use you intend to get out of it. If it is in a neutral color and timeless design, so you can get several uses out of it, it is worth spending more for the good quality. Plus, this will help you make sure that it will last longer and look fresh.
If you want to find a good deal for the money you spend, it is a good idea to look in the sale section. If you have an eye for detail and know it when you see a gown that is just right, you may find the right pick for a fraction of the original price, in the discounts department.
Also be prepared to shop in the off-season (typically summer and winter), when prices will be at their lowest. This way, you can find a gown for the next holiday season, without paying a fortune for it.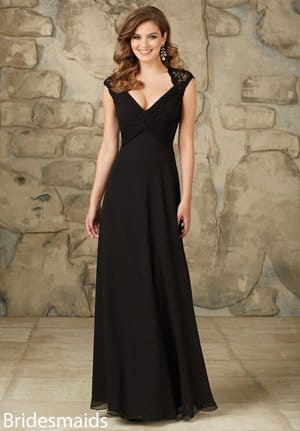 Check out this sale and clearance section on Nordstrom for the latest attractive offers in wedding dresses and evening gowns.
3- Give priority to dresses from good designer collections
Although you can find formal dresses that are really cheap, you will be trading off design quality for savings, when you choose them. Evening gowns designed by experienced professionals are usually superior in terms of look and quality. They will feature flattering fits, neat seams, and beautiful necklines.
These dresses are created to showcase the best of the fabric and enhance the natural features of the wearer, through the appropriate placement of embellishments. So, the extra price associated with a designer gown is usually worth it. If the price tag is a major source of concern, you can choose from discount and sale sections or be on the lookout for shops that offer sales on the designer collection.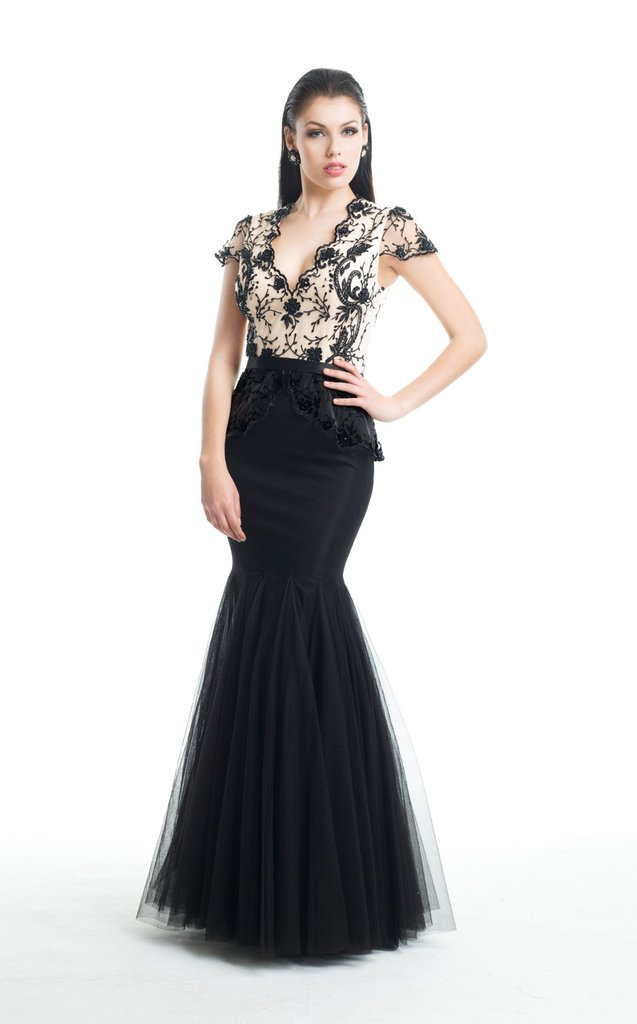 Featured here is the evening dress from the Jadore Collection. This collection features exquisite designer gowns showcasing the latest trends.
4- Choose a gown closest to your actual size
There is no such thing as a standard size for women, and so it is highly unlikely that you will find a gown off the rack that fits you perfectly. For the best fit, recommends that you have your chosen dress altered to your actual measurements.
This is quite easy to do, and so you incur the least expenses on alterations, you should choose a gown that is closest in size to your actual measurements. This simply means that you shouldn't choose gowns that are too big or too small in size.
Don't ever make the mistake of choosing a gown that is smaller than your actual size, expecting that you will shed several pounds closer to the time you have to wear it. Just in case you don't, you will simply lose the chance to wear the dress you carefully chose for the occasion.
Buy your actual size at the time you go shopping, and you can always have the extra fabric taken in when you lose the extra weight. When wearing close-fitting gowns, it is also recommended that you invest in some good quality shapewear to hide any unsightly bumps and sport a fantastic, trim figure instead.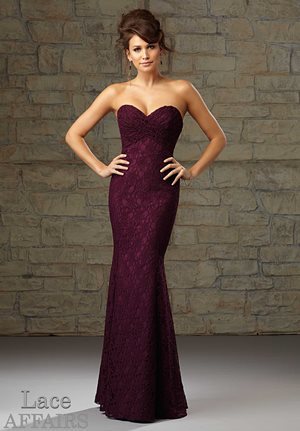 This gorgeous Mori Lee evening gown in lace, for example, features a slimming fit and flare silhouette. To bring out the actual beauty of the dress, you should either have a perfect hourglass figure or wear shapewear underneath to tuck in any flab you may have around your waist or hips.
5- Choose formal dress colors wisely
As beautiful as a dress may be in a picture or when on display, it isn't necessary that it will be the best choice in color for you. When choosing formal evening gowns, it is always a good idea to only look at colors that match your complexion.
Colors play a significant role in enhancing your overall look. They also have the power to do the opposite. Why should you want to wear a dress that makes you look pale or sick when you could be wearing one that makes your eyes pop and your skin glow?
Remember this when you go shopping, so you can stay focused even though you may be attracted to a dress in a beautiful color that may not work for you. Many dresses are available in more than one color. So you may like to look at the other color options if you absolutely love a particular design but the color doesn't look great on you.
Also, always try on the different dress options you have shortlisted. This will clearly reveal which one is best for you, rather than going by instinct.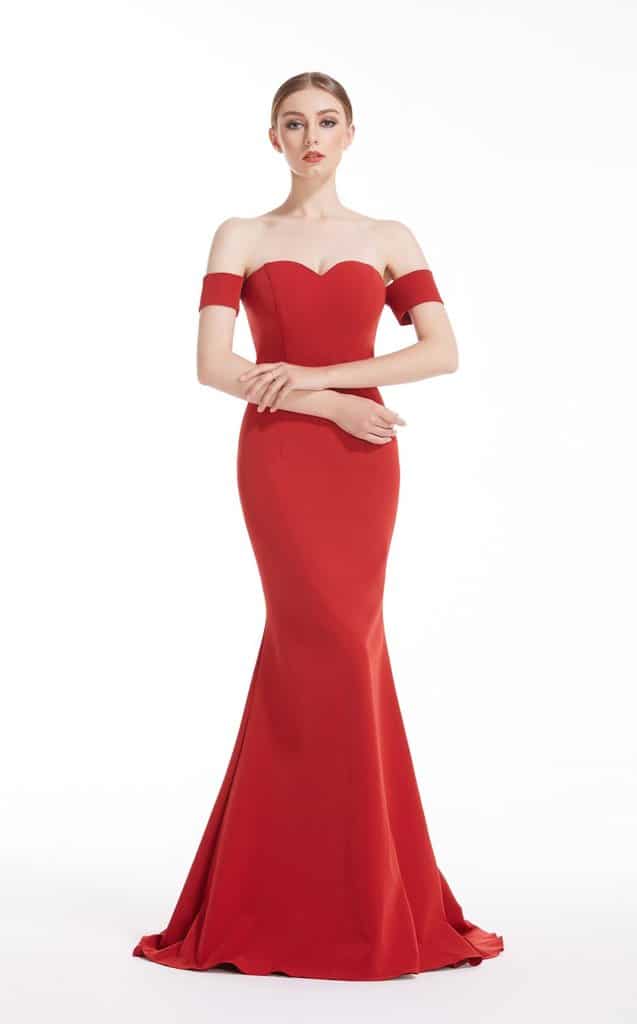 This stunning red beauty, from the Jadore collection, is also available in Taro and black. So, you can satisfy yourself with the same design in an alternate color, if this dress doesn't look as beautiful on you, as you would want it to.
6- Don't always go for the trendiest formal dress
Trends come and go with startling speed. Unless you don't mind your gown looking outdated in a few months, it is best to buy dresses that aren't too trendy. Choosing dresses with features that are always in style, will allow you to use them for much longer. Specific prints, styles, and embellishments can quickly lose their charm, and you may not find it appropriate to wear this dress in a year's time. Some of the safe choices that are bound to always be fashionable include the following.
Sweetheart necklines where the neckline gently follows the natural curves of the bust.
V-necklines have been and will always be popular because of their universally flattering style
Cap sleeves are romantic, whimsical and a versatile choice for many types of figures
A-line dresses appeal to all women as they are a safe option that looks good on all body frames
Colors like black, white, navy, and gold are always trendy
Here is a gown that will always be a favorite for several reasons. This Mori Lee 112 evening dress is a classic beauty, with a sweetheart neckline and an A-line silhouette. The criss-cross ruched bodice and gently shirred skirt, as well as the stunning navy color, will always be festive and suitable for most formal occasions.
7- Choose the right fabric for your

formal dress
The way a fabric drapes around your body and the natural flow it has will impact the overall effect of the dress. While some fabrics like tulle are crisp and rigid, others like chiffon are soft and flow gently. The fabric you choose for your dress should be one that is suitable for your structure and height.
If you are naturally very slim, a fabric that clings to you may make you look even thinner. If you are bulky, a crisp fabric structured to give more bulk to a dress may add extra pounds to your look. So, make a wise choice where the fabric is concerned. How the fabric is layered and whether it features ruffles or similar dramatic elements can also alter the overall look of the dress.
Another factor to consider is the suitability of the fabric for the weather at the time you will be wearing your evening gown. Since you will most likely be using this dress more than once, also find out how it has to be cared for and cleaned. Certain materials like silk will require a great deal of care and you may have to dry-clean it to keep it looking fresh.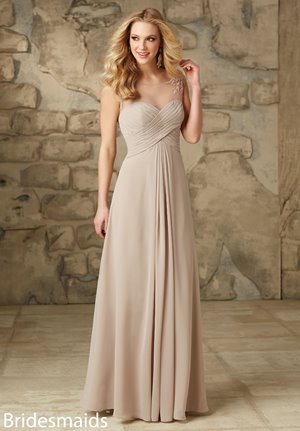 This Mori Lee chiffon dress with embroidery is suitable for functions in summer and spring, as the fabric is soft, lightweight, and breathable. It is also low maintenance, making it an ideal choice for women who don't want to spend too much time or money on cleaning it.
RELATED: 16 Best Cocktail Party Handbags
8- Choose to dress it up or down with accessories
While a great dress will do wonders in transforming you into a striking beauty, it is also necessary to choose the right accessories to complete your look. You can always dress your overall look up or down, based on the accessories you wear with it. As a general rule, if your evening dress has elaborate details, stick to minimum accessories to avoid a cluttered look.
On the other hand, if your dress is relatively simple, you can dress it up with bold accessories that add the desired touch of drama. Apart from shoes, earrings, necklaces, and bracelets, also consider clutches, hair accessories, scarves, and belts or sashes to create an entirely different look. Other factors to look at when choosing the right mix of accessories; include the neckline and sleeve, as well as other design elements of the chosen dress.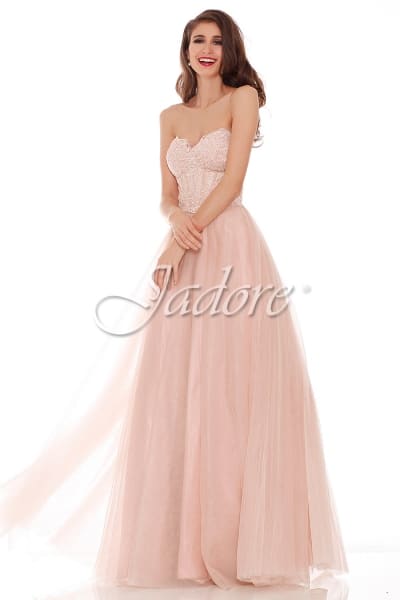 This one from the Jadore collection is a dress that can be accessorized in many different ways to create the look you desire. It is a lovely dress that will work by itself, as well as look great with the right choice of accessories.