Top Pearl Jewelry Trends
It is the beginning of the New Year, and with it comes a flurry of brand-new trends that you simply cannot miss out on. This year has seen the merging of new and old trends into one pot of delicious accessories that you can add to your look.
Jewelry needs to be a vital component of your outfit every day. If keeping up with the latest fashion trends, and dressing up every day is not your style; jewelry gives you the opportunity to add that modern flair to your look. It is both cheaper and easier to keep up to date with jewelry trends than to keep replacing entire outfits. A simple outfit can easily be zhuzh up with the right accessories.
So, what is hot this year? We are thrilled to say that Pearls have bowed back into the fashion world, and we couldn't be happier. Pearls have been, and will always be one of the most sought-after additions to the jewelry box. We took a look at some of the biggest trends that you can integrate pearls into. Enjoy.
RELATED: How To Match Jewelry With Your Outfit
Top Pearl Jewelry Trends
Oversized, Chunky Pearl Necklaces
We are over the moon that this trend is back in style. A chunky necklace can give any simple outfit that dynamic twist that it needs. A trend that can be worn with both summer and winter outfits and can be paired with a long summer dress. Over a buttoned shirt, or even over a snug jersey. Chunky pearl necklaces are even better. They can give that swish of elegance to any outfit, no matter how plain.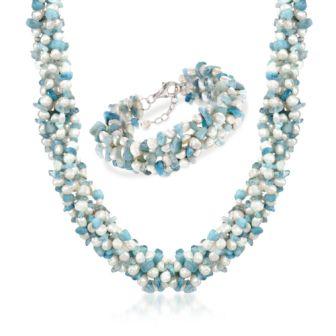 A plain white t-shirt, light denim boyfriend jeans, court heels, and a string of oversized pearls a perfect combination to step out for a summery brunch. Oversized pearls can also add that bit of sparkle to a chunky jersey if it is cold. Not only can it break the monotony of the jersey, but it can add a feminine touch to what could look overwhelmingly unflattering. The added bonus, that colorful pearls are a must-have, so you can match them perfectly to your outfit.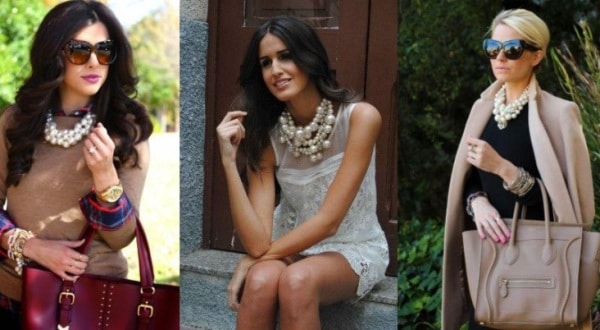 The One Pearled Earring Trend
This trend might not be for everyone, but it certainly adds character and personality to your outfit. 2019 saw mismatched earrings making an appearance, and this year, the trend is taken even further. One earring is completely dropped, while the remaining one becomes as dramatic as possible. Earrings range from oversized hoops to geometric shapes, colorful tassels, and intricate designs.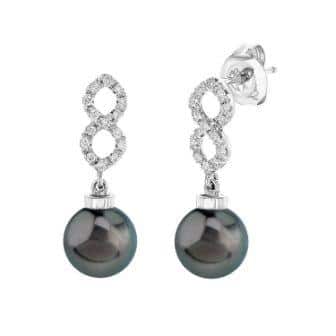 Pearls are also high in this fashion trend. Whether it is an oversized pearl, drooping from the ear, or a set, delicately dropped onto the shoulder; pearls are a great accent to define one side of the face. Make sure you remember, if you have long hair, to accent the other side of your face with a strand or, even, set all of your hair to the non-earring side to add volume.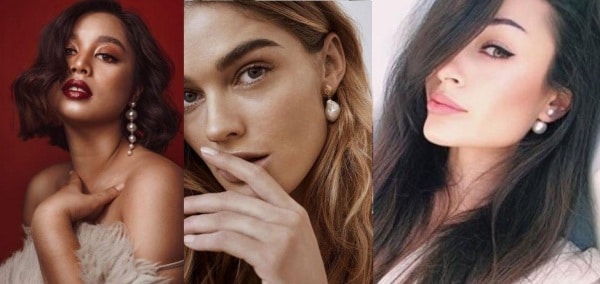 The Simple Pearl Necklace
It's almost as if the roaring twenties have just decided to repeat themselves a century on. Why not celebrate this by buying a few strings of simple pearl necklaces. As Jackie Kennedy said; "Pearls are always appropriate" and there are very few outfit combinations that you can go wrong by pairing with a string of pearls. But, how do you wear them?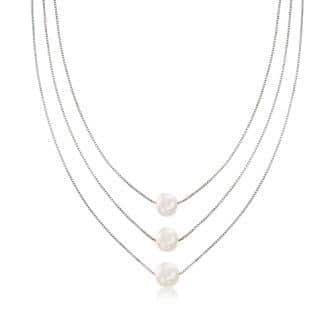 A simple, casual outfit can be matched with a single, simple string of pearls. If you are adding this to a jersey, shirt, or t-shirt combination less is more. If you are swapping out the long pants, leggings, and jeans for a skirt or dress, you can start adding string on top of each other for a fuller, more elegant look. You can choose either length or volume to add more drama to the outfit, making sure you match the pearl color to the shades that you have chosen. Longer, more solid-colored outfits can be broken with long dropped pearls, or you can double them up at different lengths to break monotonous colors.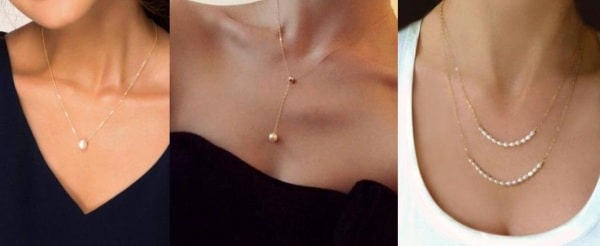 Linked Bracelets Pearl Jewelry Trends
Our favorite bracelets are back on the scene and are even better than ever. 2020 has seen the return of the linked bracelet with the addition of quirky charms dangling off the arm. The predominant color of the bracelets this year is gold, which offsets a pearl white charm perfectly. What is great about this trend is that you can choose simple links, size to your preference, and add as many additions as you like.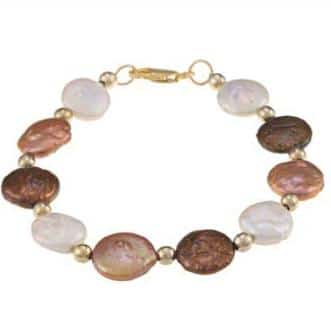 Charms can also be interchangeable. So, if your mood caters to it, and your outfit is calling for color, you can slip in some multicolored pearl charms, or you can keep to the classic gold and white for a more formal, classic look. It's an elegant look that will not go out of style, so you can really spend a little more on your investment bracelet if you are choosing a classic style as it will last years.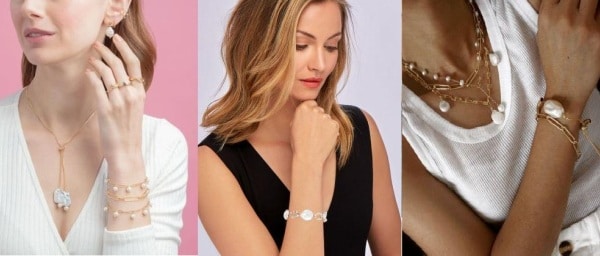 Top Pearl Jewelry Trends
Pearls are a classic addition to any outfit and an absolute must-have for every woman at some point in her life. A good set of pearls can last years, even decades; so if you are looking to make the investment, do some research on the best place to purchase them, and make sure you know what you are looking for. If you are looking to spend more on pearls, keep the classic look in mind. Try and avoid any overly colorful sets that might, in a few years go out of fashion. Keep the basic principles of trends in mind; whites, blacks, silvers, and gold are the staple of any good outfit.
RELATED: How To Wear Gold Chains With Style
When Should You Wear A Pearl Necklace?
People have been fascinated with pearls since the first day they were discovered.
Their uniqueness among other gemstones comes from the fact that they are found in the sea; rather than arising from the depths of the earth like other types of gemstones.
Pearls have been worn throughout history since the earliest times of civilization and date back to 520 BC. In the past, the use of pearls was exclusive to medieval European princesses and other wealthy aristocratic women for their symbolic power and value. Historical shreds of evidence show that men also enjoyed flaunting their pearls, especially during the pearl age in England as a portrayal of authority and wealth.
Fortunately, this lustrous beauty isn't too precious for the average woman in our modern-day. Yet many women might feel confused about how and when they can wear their pearls. The obvious answer to this question should be all day every day.
So, we have put together a brief guide on how you can practice your love for your pearls and wear them freely without worrying about being too extra.
Wear Pearl Jewelry During Office Hours
Wearing your favorite pearl necklace every day to work seems like a dream many of us can't achieve. However, if your 9 to 5 office job requires that you wear formal business attire, you can make this dream come true with some simple tips that can be taken into consideration. As experts say, it's not at all difficult to do as some pearl accessories, such as a pair of plain white pearl earrings, can easily match almost any formal outfit. If you wear suits or formal jackets and trousers; then you can complement your blouse with a shorter and a single-strand white pearl necklace.
If you prefer something to add a touch of color and boldness to your outfit, then you can go for pearl necklaces with lavender or gold hues. It's important though to pay attention so that your outfit doesn't look too busy.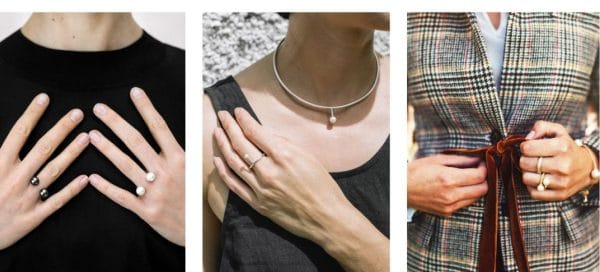 Wear Pearl Jewelry In Casual-chic Days
Even if you are running errands, attending a casual gathering, or even going to school; you can still choose the right pearl necklace to go with your outfit. A simple casual outfit of your favorite pair of jeans and sneakers can be taken to the next level when it's matched with a two-strand pearl necklace. A two-strand necklace or an opera pearl necklace can also be the perfect accessory for mini types of dresses with leather jackets or some casual sporty outfits. A black leather jacket with a black pair of jeans can be spiced up a little with some contemporary-chic choker pearl necklaces or a long black opera pearl necklace; worn in a long elegant single-strand style for more of a gothic vibe. However, with casual outfits, you should never wear two pieces of pearl jewelry together.

Wear Pearl Jewelry In High-End Formal Events
This is the best time to start parading your favorite collection of pearl necklaces. Think of your evening gown as a blank canvas so you can add color to it with your pearl necklace. The color of your necklace, however, should be chosen carefully to add the perfect finishing touch to your dress. If you are thinking about choosing one of the necklaces that are currently in fashion, such as massive chunky chockers, then your gown should be understated. Think of Audrey Hepburn's long black dress with the chunky pearl chokers she wore in her classic movie "Breakfast at Tiffany's" and how iconic that outfit was.
Elegant dresses of solid colors and precious fabrics are considered the perfect outfits for wearing a pearl set with; either earrings or bracelets along with your necklace. This could easily result in an over-the-top outfit, and not in a good way. And this is why you should always make sure that you aren't matching your pearl set with any other jewelry pieces.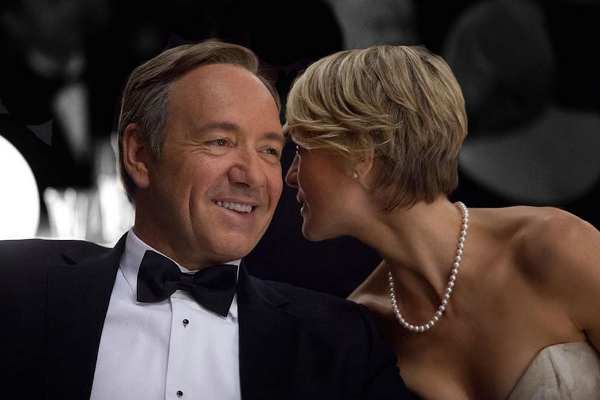 How To Pair Accessories With Pearl Jewelry Trends
If you want to know how to wear pearls; you need to know how to pair them with accessories. Pearls are distinctive; they cannot always complement some jewelry items.
If you're looking for something a little formal, the classic combinations are pearls with pearls. So match a necklace to a pearl bracelet. You'll look as beautiful as Audrey Hepburn in Breakfast at Tiffany's.
They work in harmony with a stud or teardrop earring; which allows the beautiful gems to do all the talking.
It is possible to match a pearl necklace with other stunning gemstones. Yet, you must keep the rest of your outfit simple; or the look could look a little messy.
The best option might be to opt for diamond jewelry. You'll become the personification of elegance.
If you want to wear a colored gem with pearls; match the stone to the clothing shade.
Want to wear the perfect metal? The right plating will depend on the color of the pearls. Gold complements a pearl necklace; as it highlights white, yellow, and cream pearls.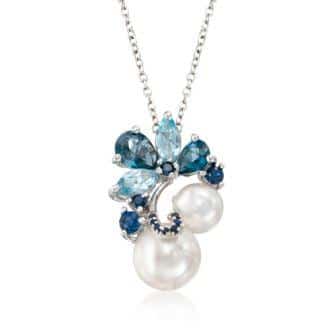 How To Wear Pearl Jewelry Trends
A lot of fashion items and accessories go in and out of style, but there are simply some that are timeless. Right before diamonds became the "it" gemstone, pearls were every girl's best friend. While today many styles and pieces might be considered old-fashioned, the right pearly jewelry piece can immediately change this opinion.
Even though black modest dresses might theoretically seem like they can accept any type of pearl necklace; your outfit might look wrong if you choose the wrong length, style, or color of pearl necklace. Determining the right time and event to wear your pearl necklace should be more about what works for you, your body, and the style you can pull off. While some rules still need to be applied, you are the only one that decides how and when you will be rocking your favorite pearl necklace.