Tips on How To Choose The Perfect Little Black Dress
Every woman should have at least one perfect little black dress in her closet, Regardless of your personal sense of style. It's not only a must-have for any occasion; your little black dress can save you plenty of money and embarrassment when you're suddenly invited to an important event. It'll be there to save your behind and make you look effortless, yet beautiful.
Follow these important little black dress styling tips in order to find 'the one if you are not sure where to start to find the perfect little black dress:
Match your body shape
It's important to remember that most women have different body shapes. In fact, the person sitting next to you may not look the same in what you're wearing at this moment. It's also important to remember that there's absolutely nothing wrong with that. There isn't one body shape that's more ideal than another. They're all beautiful. So remember when choosing the perfect little black dress to ensure that the shape flatters your body shape.
If you have wider hips, wear a hip-hugging skirt/dress. If you have broader shoulders, choose wider straps. If you're small on top, go for a v-neck. Choose what makes you feel and look comfortable and beautiful.
Pay attention to your 'problem areas
As much as we'd want to avoid them, we all have 'problem areas' – areas we may not like as much as we'd want to. Although you have the body that was given to you, it's normal to take a look at different areas of your body and feel a need to work a little bit harder in that specific region. So when choosing the perfect little black dress, know where your 'problem areas' are, in order to find a dress that's going to flatter you all around. Remember, your 'problem area' may only be a problem for you, but to the rest of the world, it's beautiful.
RELATED: Guide For Hiding The Tummy With Right Clothes
Complement your personality
Don't invest in a little black dress that doesn't represent you. It's important to stick with what screams your personality. Remember, it's something you'll have in your closet; purchased with the idea to wear it again and again. So if you're a little bit edgy, choose a little black dress with a little bit of flare. Go with a pencil below-the-knee dress if you're classic. Choose what screams you.
Find the perfect texture
If you want to feel comfortable, the material choice is important. Satin has a way of accentuating every curve, so if you're not extremely excited to show everyone your hips and booty, don't go with satin. Alternatively, soft stretchy material has plenty of benefits. Your dress grows with you. You don't have to feel suffocated if you had a little bit too much to eat at dinner. Then again, silk is beautiful. Know which materials make you tick and stick with them.
Comfort is key
Apart from all the important deciding factors when choosing the perfect little black dress, you need to be comfortable. It's a dress that's going to be worn by you on numerous occasions; for hours on end. Thus, it's important that you feel comfortable in whichever dress you choose. You'll be the life of the party if you do instead of the wallflower.
Remember your lifestyle When Choosing the Little Black Dress
Lifestyle is as important as matching your personality. Although two very different things, your lifestyle has plenty to do with the style of the little black dress that you choose. The last thing you want is to show up at a cocktail party in an elegant glitter gown. You also don't want to show up at a black-tie party with a fun, less elegant little black dress. Choose wisely when shopping online or in-store.
Is it within your budget?
Budget is an important factor to consider. Although our little black dresses are affordable, you do need to have a closer look at your budget when shopping online. It's extremely easy to throw your morals out the window when it comes to finding the perfect little black dress.
Choose versatility – The Perfect Little Black Dress
Some little black dresses can be worn for various occasions. If you do have a limited budget and plan on purchasing only one dress with the intent to wear it on numerous occasions, opt for a little black dress that can go either way. Fun or elegant. They are out there. Simply match different accessories with your little black dress and see it transform.
Are you in love with your Little Black Dress?
It's important to figure out if you're in love with the dress. Although not a difficult observation to make, you do need to know whether or not you simply can't live without your chosen dress. You're going to be wearing it. It's you who's going to have to pay for it. The least you can be in love with it. If not, move on. The one is out there. You just need to look for it.
Make sure you can breathe with 
Yes, beauty is a pain, but it's not suffocating. For that, it is important to make sure you're able to breathe in your little black dress. If you can't breathe with it standing up, there's no way you're going to be able to breathe with it sitting down. Pick a bigger size or make peace with the fact that it may just not be matching your body shape. Be true to yourself and wear the perfect little black dress, instead of the perfect little black dress wearing you.
Perfect Little Black Dress You Were Looking For
Regardless of the season, it's important to find the perfect little black dress to ensure you're always prepared whenever the occasion arises. There are a lot of online boutiques that offer the most beautiful and practical little black dresses for any occasion and all body types.
These dresses take many different forms, so if you're not sure which one is best for you, don't fret. Here is a list of the perfect little black dresses you have been looking for. Always show up prepared!
Perfect Little Black Dresses
Black Cocktail Dress
Get flirty and fashionable with a black cocktail dress. They're ideal for a semi-formal occasion or night out on the town. Described by the length, this LBD falls simply above or beneath the knee. Include some drama by exploring different avenues regarding various textures – silk, and satin are excellent choices for a summer occasion. Set out to add a little shimmer to your outfit – cocktail attire looks stunning with a touch of sparkle!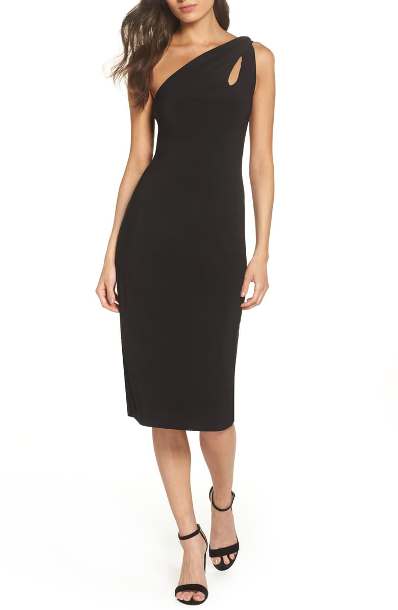 Classic Black Dress
On the off chance that it ain't broken, don't fix it! A classic LBD is a flat-out must for each lady's closet – exquisite and ageless, you can't turn out badly! A Bardot-style neckline or a mock turtle neck can be charming and classic at the same time. A sleeveless or long sleeve black dress catches the attention of everybody around you. Keep it basic with a solid black color, so you can raise the stakes with accessories and shoes. For occasions, for example, weddings, corporate evenings, or dinner with your friends, cocktails, or tea-lengths are the ideal fit. Regardless of whether you lean toward A-line, bodycon, empire waist, or a shift silhouette, you won't falter with this classic.
Sexy Little Black Dress
Stop traffic and turn heads in sexy LBDs. Presently, an LBD doesn't need to be very short or uncovering to be alluring. Figure-hugging silhouettes are ideal for a night out. You can wear solid black or include a little spice by wearing something sheer with a slip underneath. Feature your pins with a mini paired with some killer heels and a smile.
RELATED: Sexy Date Night Outfits To Impress
Dresses with Sleeves
Create an impression with some sleeves on your LBD. Regardless of whether you incline toward long, flowing sleeves or a Victorian-inspired puff shoulder, the alternatives are endless for this super stylish selection. For colder evenings, select something longer; if it's a warmer event or you're inside, turn things up a notch by wearing an off-the-shoulder or something 80s-inspired. Regardless of how you wear it, you'll catch the eye of each room you stroll into!
Lace Dresses
Feminine and classic, the lace LBD is an ideal piece to wear to any occasion. Extravagant and daring, these delicate designs can enhance your night out. Regardless of whether you wear it as a little detail or you go all-out and wear head-to-toe lace, you're certain to create an impression, regardless of where you're going. Keep things basic in terms of accessories: pearls and neutrals look best when combined with a delicate fabric. For an edgy twist on the classic piece, wear a leather moto jacket, and you'll have the ideal mix of lovely and punk.
Cute Dresses
When the climate is excessively hot; battle the warmth with an adorable LBD. Frilly sleeves, flower patterns, and square necklines are sweet additions to your LBD that immediately catch the eye. Keep things summary by wearing a short silhouette, showcasing your gorgeous legs. You can swap out a pair of heels for certain pads or tennis shoes for an ultra-casual appeal. Regardless of how you style these pieces, you'll look lovable and smart at the same time!
Little Black Dress for Party
Increase the volume and let your hair down while shaking one of these pretty party dresses. Dare to bare some skin with a strappy figure-embracing midi length, or keep it flirty in a mini. Regardless of whether you are going to a house party or a big bash on a boat, you can rock these pieces perfectly. Add some texture and embellishment to your party attire and everybody at the gathering will have their eyes on you!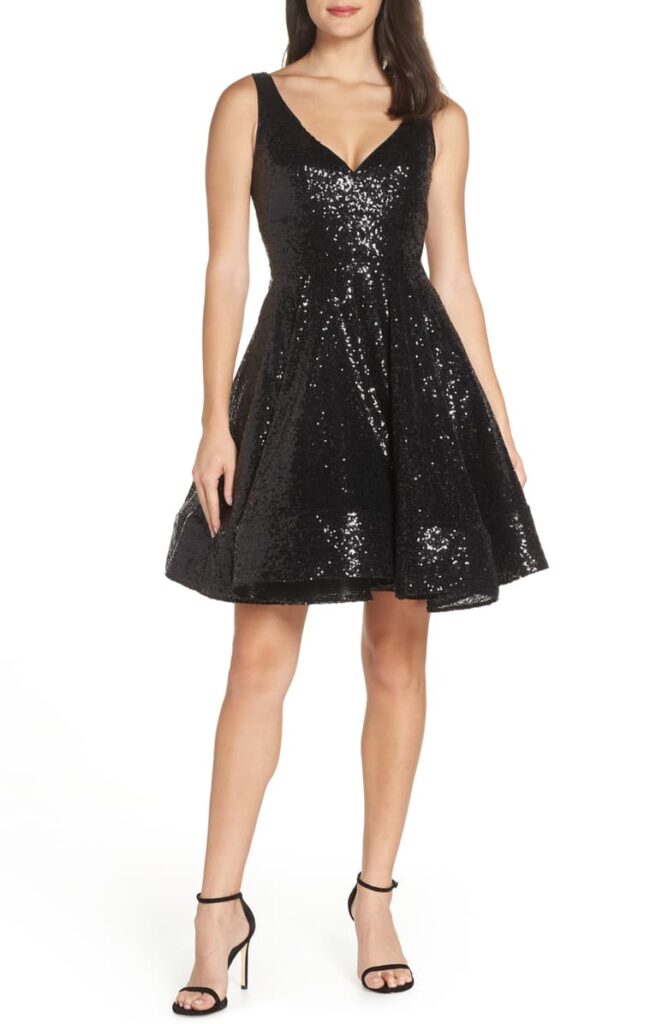 Petite Dress
Extend your legs and prolong your middle by rocking an LBD. For petite young ladies, it's ideal in the event that you pick a dress that hits just underneath the knee or mid-calf, as it creates the illusion of longer legs. This length is ideal for a gathering or night out on the town. In case you're taking off and wish to wear a shorter piece, pick something block-colored – the one color makes a consistent line to your body. Include a couple of heels and a belt to secure your midsection and make the presence of very long pins!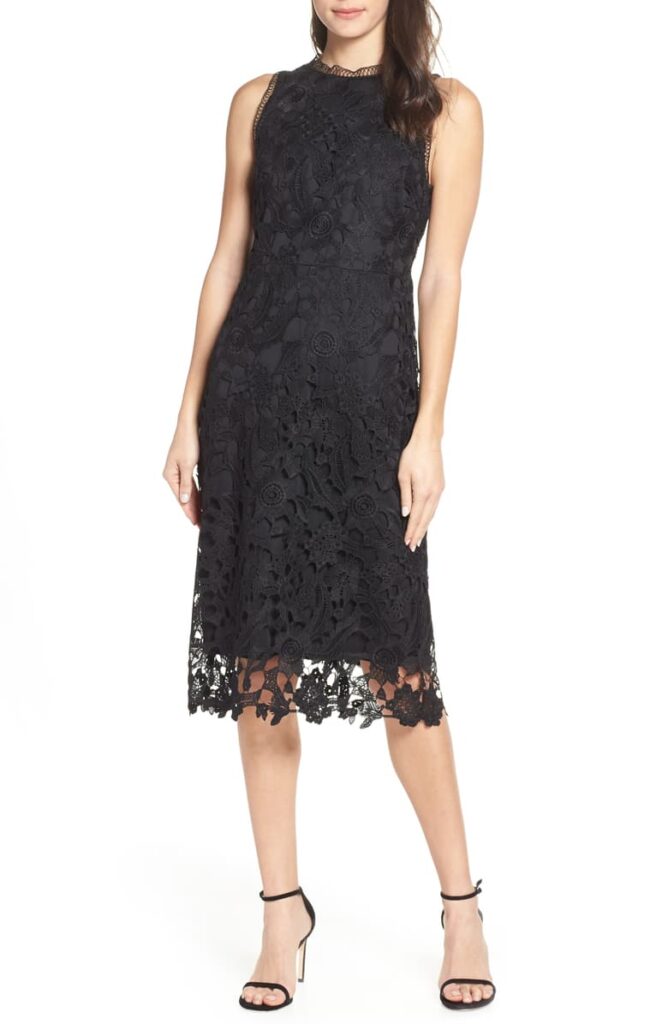 Bodycon Dress
Hotshot that astounding body with the assistance of a bodycon dress. Tight and figure-hugging, these pieces are ideal for exhibiting your hourglass figure and adding some show to your outfit. A black wrap LBD looks best when in a solid color with the help of some accessories. They can be worn to practically any occasion and they're an intense and attractive expansion to your closet!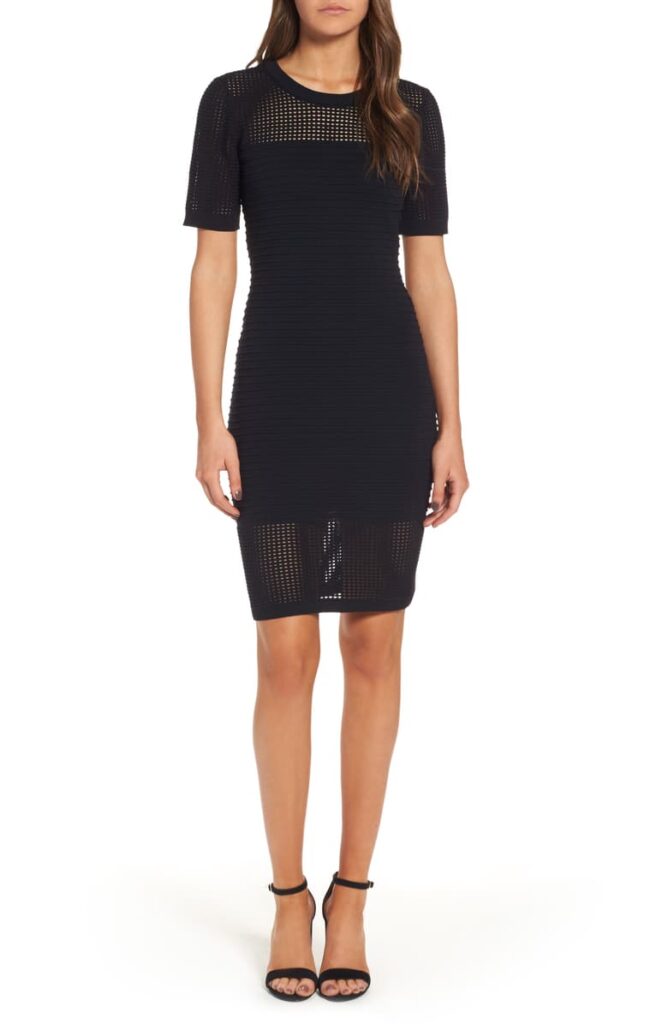 Little Black Dress for Wedding
Who said you shouldn't wear black to a wedding? A dark dress may appear to be a violation of social norms; however, you can rock the color to a wedding or commitment ceremony. Keeping the length beneath the knee, pick a gown with an exciting twist such as an off-the-shoulder frill or a bell sleeve. Light up the look with some colorful accessories or a couple of sparkly shoes. Try not to stress, you won't upstage the lady of the hour, however, you'll unquestionably make jaws drop when you enter the room!
RELATED: Wedding Guest Attire for Women Guide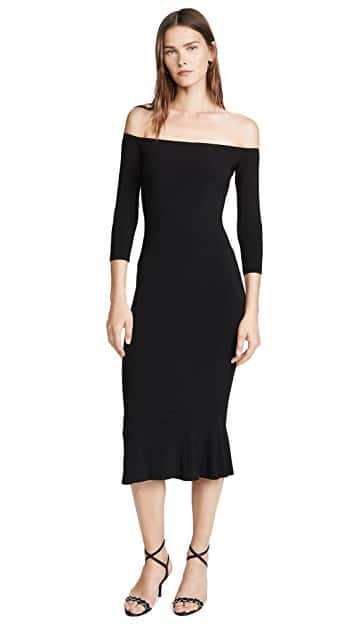 V-Neck Dress
Complimenting and suitable for all weather conditions; the V-neck is an outline that is ideal for ladies with a fuller figure. Great and rich, this style comes in various lengths and suits different occasions and seasons. For work occasions, pick a wrap or a tea-length black dress. In case you're making a beeline for a casual gathering, for example, a house party, you can't turn out badly with this adorable design.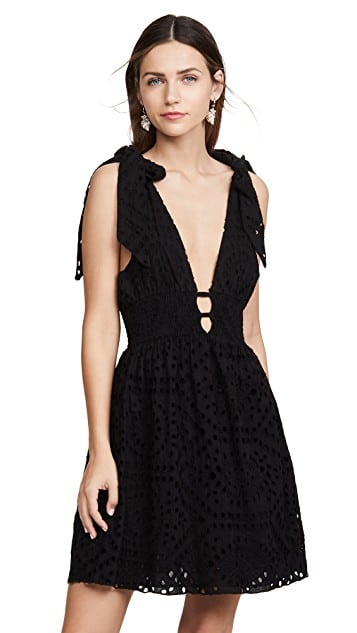 Casual Little Black Dress
Be cool and still look in vogue with a casual LBD. Laidback and comfortable, they're anything but difficult to combine with a leather moto jacket and tennis shoes. Regardless of whether you're setting off to the zoo or the local store, this casual attire will keep you comfortable while looking easily sharp at the same time. In the event that it's somewhat cold outside, pair the piece with a bomber jacket and ankle booties. These types of dresses are cute to the point that you can wear them with nearly anything!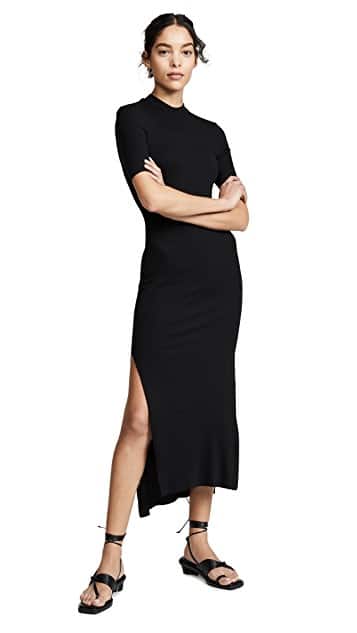 Plus Size Little Black Dress
Flatter your figure with an A-line silhouette, cinching in your waist and flaring out. They're ideal for a first date or early lunch with the ladies. In case you're prepared to stop people in their tracks, a figure-hugging square neck bodycon style is the best approach. Dark colors are ideal for accessorizing in any season, and for all occasions. With a flattering neckline and a body-skimming shape, your stunning body will be showcased to perfection!
RELATED: Beautiful Plus Size Wedding Dresses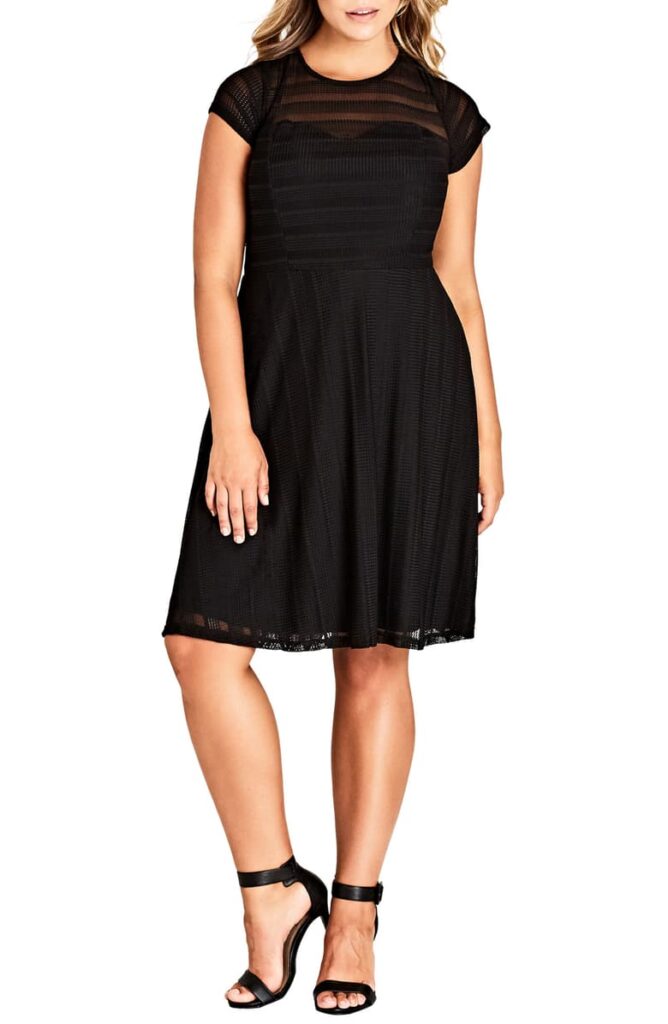 Maternity Little Black Dress
Dressing for two never looked so great! An LBD looks astonishing when joined with a child knock, so why not demonstrate it to the world? Get comfy with a loose-fitting midi dress, the best alternative for running errands or eating with the family. In case you're going out to paint the town red, a strong black bodycon is the ideal choice for you. Keep the lengths at your knee or just underneath, making a consistent line from the knock to your behind. An outfit this charming will emphasize your pregnancy shine so much; you'll light up the whole room!
RELATED: Baby Shower Dresses For Stylish Mums And Guests