How To Wear Combat Boots Outfit Ideas
How To Wear Combat Boots – 19 Outfit Ideas Wardrobe staples should include timeless pieces that can take your outfit to the next level. And, combat boots are one such thing. Classic…
How To Wear Combat Boots – 19 Outfit Ideas
Wardrobe staples should include timeless pieces that can take your outfit to the next level. And, combat boots are one such thing. Classic pieces can make any outfit look effortless and put together. I'm not saying that you should just stick to classic pieces, but pick something that you think matches your personality type – if it does, explore it and play around with it. Today, that's what we are going to do. Is combat boot your thing? Have you seen girls sporting this look, and have a feeling that it might be something that you will like? Well, here's the good news. We are going to talk about styling and how to wear combat boots, and how you can tweak the look depending on your dressing style. If you're ready, let's do this.
How To Wear Combat Boots With Your Outfits
1. Combat Boots With A Summer Dress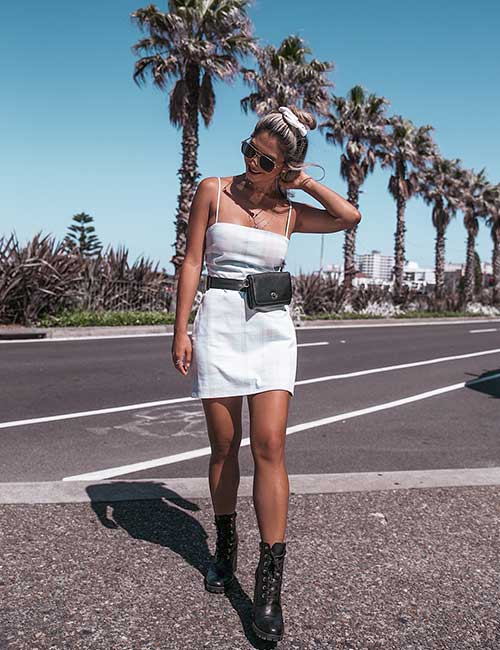 The best thing about the combats, unlike your winter boots, is that they work with any outfit and all throughout the year. Your dress does not necessarily have to be flowing or boho for you to wear these combats; a white or black summer bodycon dress with combat boots will look just as lovely.
2. With An Overcoat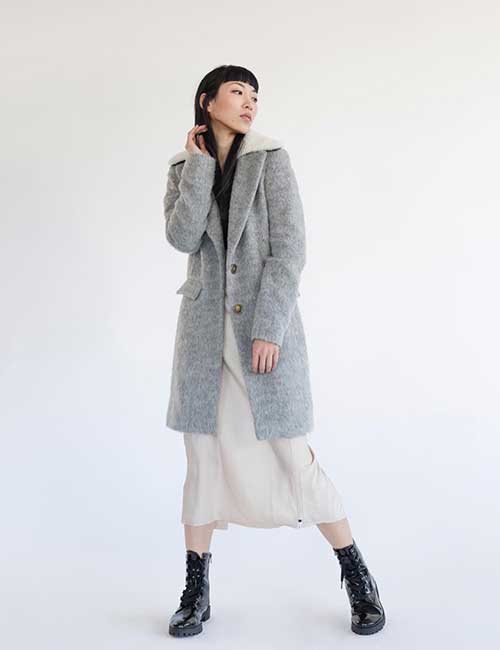 We know the first thing that comes to your mind while styling a dress like this is to keep it breezy with subtle and fine jewelry. But, wait, try this – go for an oversized overcoat, combat boots, winged liner, and a heavy-duty leather bag. AMAZING!
3. Skinny Jeans And Bomber Jacket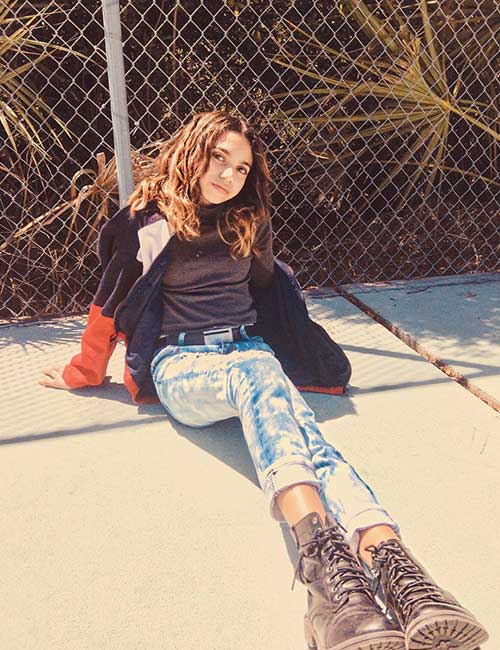 A bomber jacket and combat boots with skinny jeans are a platonic combination. If you like the hacker-chic kind of look – badass and stylish, try this. Going with brown or lace-up combat boots will be better, but hey, whatever rocks your boat.
RELATED: Effortlessly Cool Grunge Outfits You Need To Try
4. Camo Pants And Combat Boots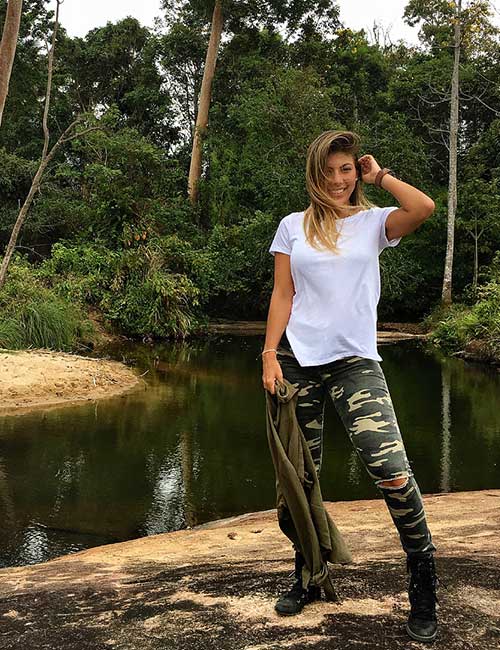 Of course, camo or military pants with combat boots are a match made in heaven. Wear this when you are riding a bike, going on a hike, or on a long drive with friends. A simple white T-shirt, a messy bun, and just about no other accessories will do.
5. Leather Skirt And Lace Stockings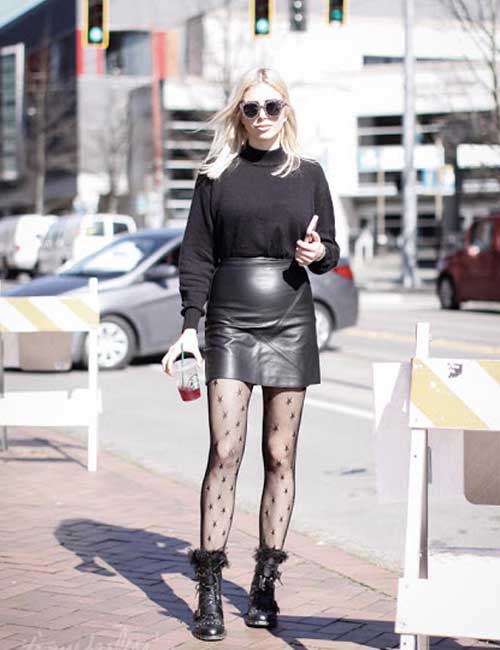 Monochrome looks are so in right now, and while at it, take the road less traveled. A leather skirt that sits perfectly on your body, a turtleneck T-shirt that enhances your figure, and lace stockings with those combat boots just make the outfit 10/10. You can go for a bare neck and ears and a no-makeup look with a high ponytail or beachy waves.
6. Sequin Skirt And Leather Jacket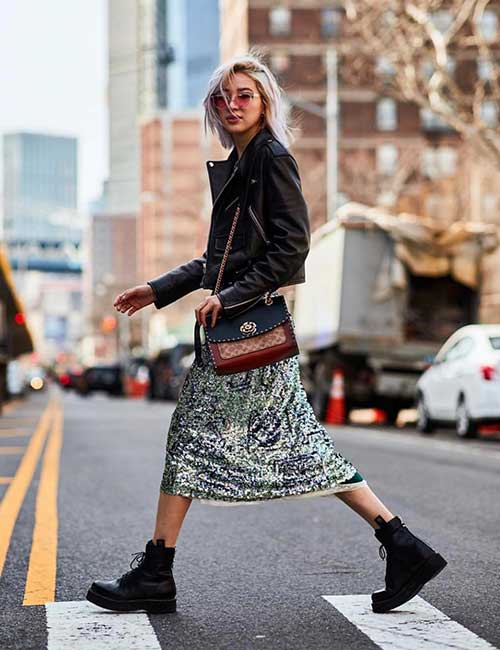 The natural fashion progression of a sequin midi skirt is to go with a muted and serene white silk blouse, pumps, and a stone clutch. But, no, we are not going to do that, I mean, you could, but understand that there's no better joy than breaking stereotypes. So, throw on a leather jacket over a tube or tank top, pull up your combats, and kick some ass – show them how it's done.
7. Checkered Dress And Combat Boots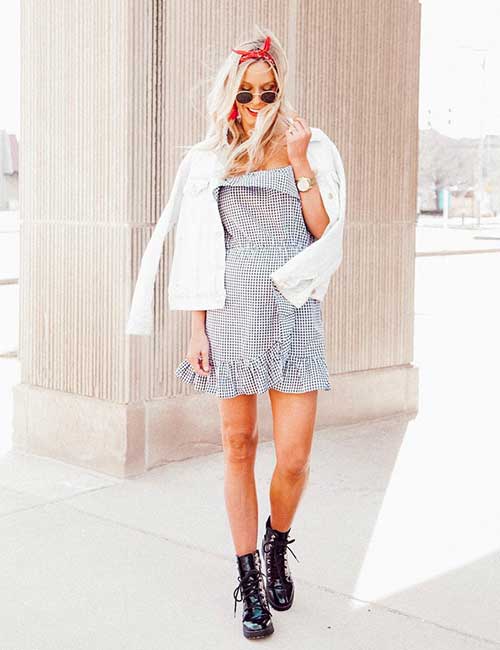 Toughen up your cute outfits with combat boots, because, why not? There are times when you want to pair your checkered dresses with converse shoes, and then there are days you feel like wearing them with combats. Try it all out; I'm sure you will love this look.
8. Slip Dress With Combat Boots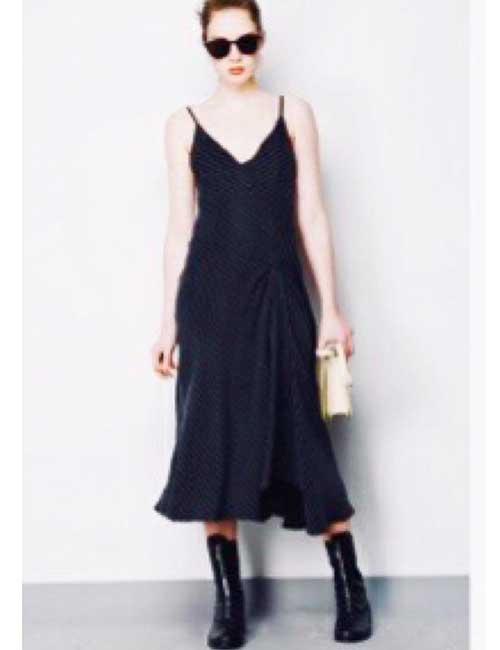 Combine the sleek, slender, and stylish slip dress with combat boots. Put your hair up in a bun, wear red lipstick, and strut around like you would do in your stilettos – except, this time around it's so much more comfortable.
Read: How To Choose The Perfect Little Black Dress
9. Polka Dot Dress And White Boots
Polka dots are evergreen, and I'm sure we all own one dress, top, or skirt in this design. But this time around ditch your regular black or other standard sandals, and try out some tough white boots. You can even wear socks that show. If you didn't know yet, it's a thing!
10. Pleated Skirt And Black Boots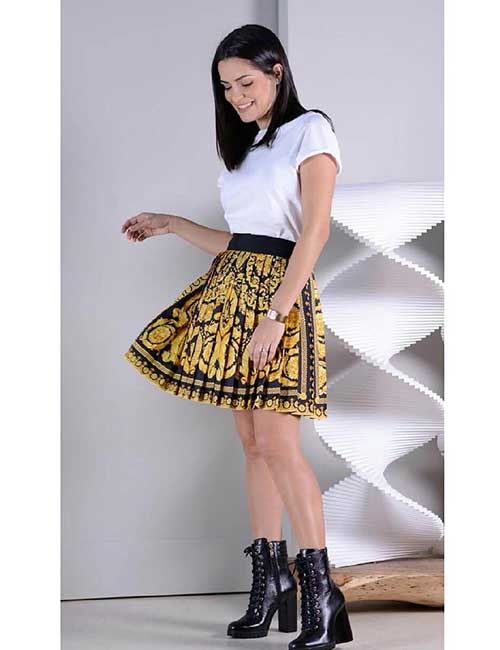 An outfit needs one great piece. If it's the right one, you seal the deal. The pleated skirt is exceptionally stylish, the plain white T-shirt is elegant, and the combat boots marry them all together like nothing else ever does.
11. Plaid Skirt And Graphic T-Shirt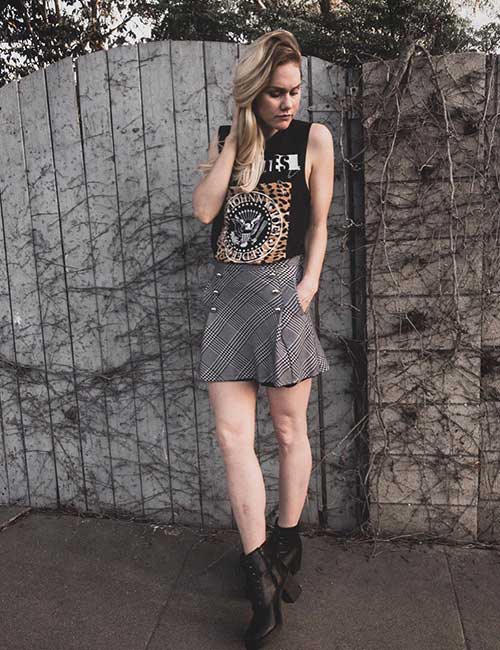 I can't think of anything else that looks as perfect when put together. Yes, I know you'd say a formal or plain shirt, and pumps or wedges – I agree, but I'd rather add the grunge element with the boots and graphic T-shirt look. Let loose, explore – remember that's the key.
12. Skinny Jeans And Combat Boots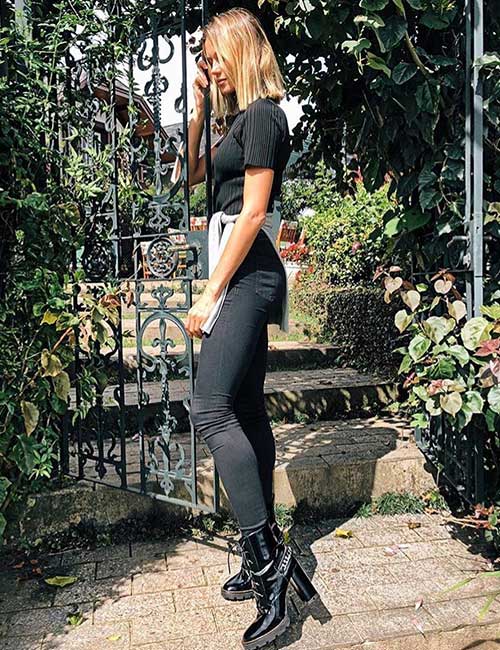 This is a no-brainer because denim, especially skinny ones, looks great with just about any footwear. However, broader footwear like wedges, combats, etc. bring out the best and break the slender silhouette.
13. Bohemian Outfit With Combat Boots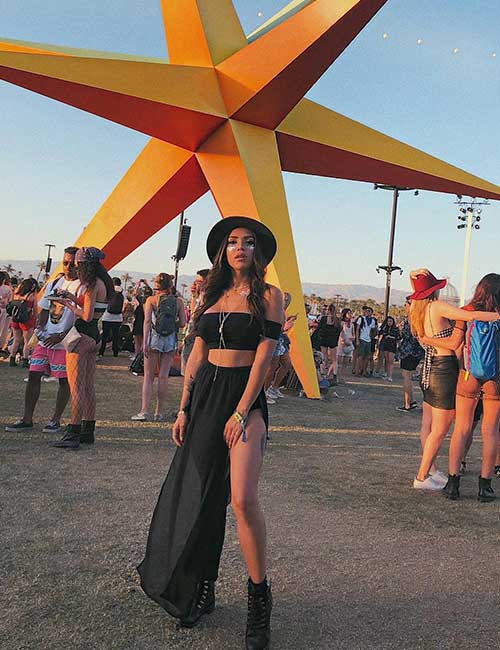 If you are headed to Coachella this year, a concert, music festival, etc. remember that combat boots are a must. Whether you are wearing shorts or palazzos or putting a few loose pieces together – choose a Bohemian theme and pair it with combats – you can never go wrong with this one.
CHECK: Bohemian Wedding Dresses For Fanciful Brides
14. Side Striped Pants With Combats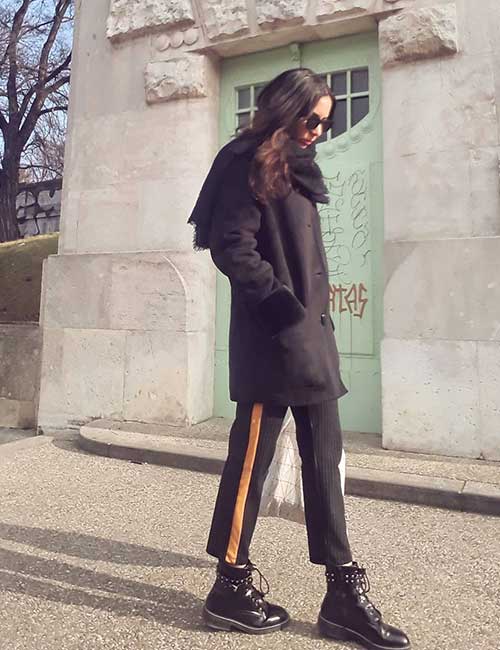 Literally, every second person is jumping on the side-striped pants bandwagon. Gone are the days when jeans, trousers, and shorts were your only options. Joggers and striped pants look super comfortable and look incredibly great too. Pair them with combats and be the diva you always were!
15. Matching Separates And Combat Boots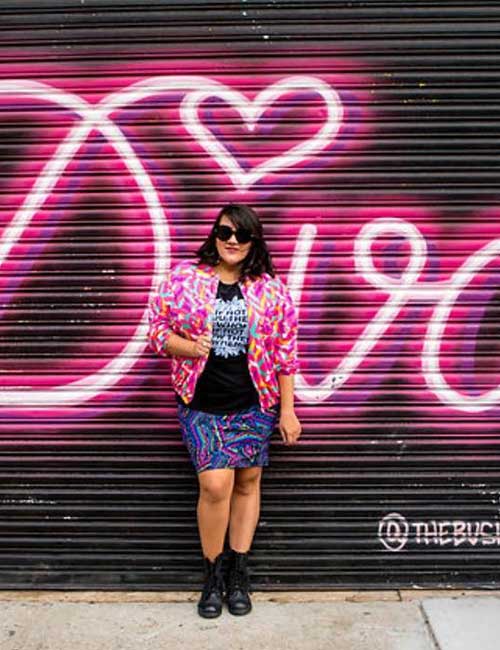 The fashion world has arrived at the concept of matching separates. Yes, and while at it, spin your shoe game too. Be as loud or as muted as you want to be with the colors and prints – as long as it's something that fits well with your personality.
RELATED: Matching Colors Of Clothes – Colors Wheel Guide
16. Maxi Dress, Leather Jacket, And Combats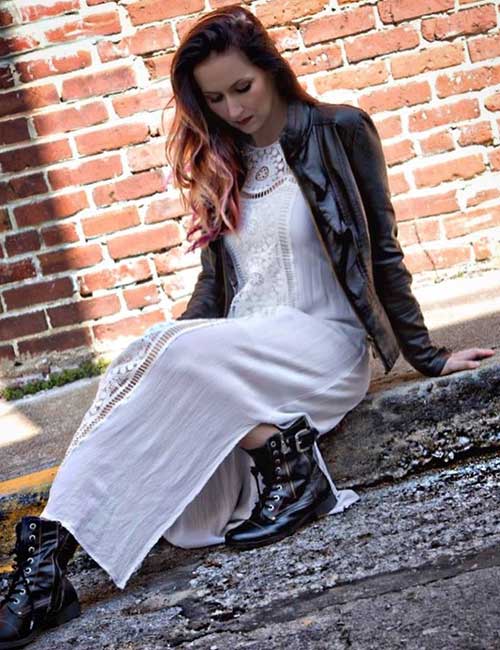 White and serene, the maxi dress is excellent for summer. But with fall, you need to slowly start building on it with subtle layers. Sometimes it can be a kimono and sneakers, or it can be a leather jacket with combat boots. A perfect balance of feminine and badass.
17. Shorts And Combat Boots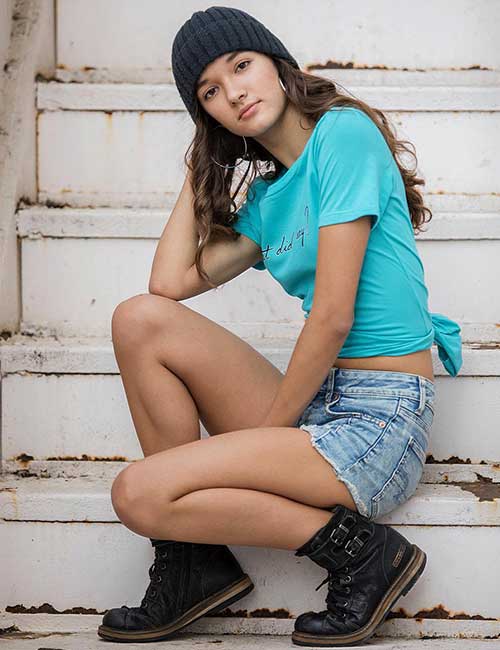 No piece of clothing can make your closet complete if you don't try it with shorts. So yes, shorts and boots it is, sweetie.
18. Shirt Dress And Combat Boots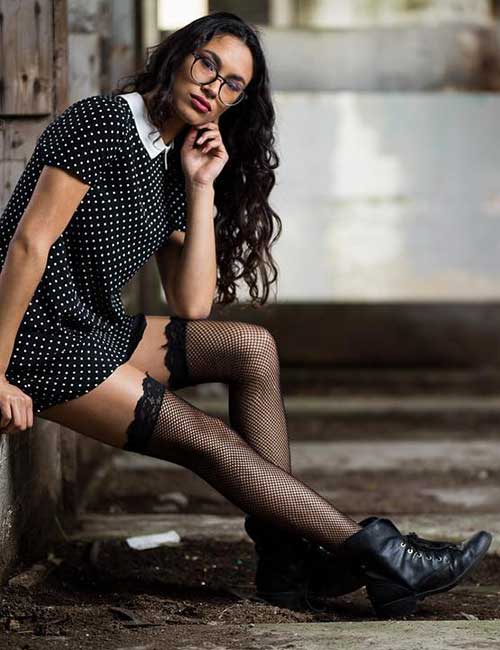 There's not much styling you can do with shirts and T-shirt dresses, but the easiest way is to up your game with footwear. If you are used to wearing T-shirt dresses with converse shoes or sneakers, you should try them with combat boots
19. Athleisure And Combats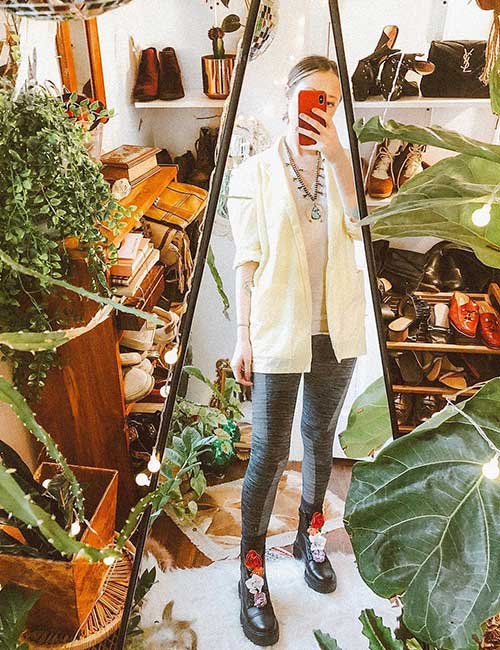 Athleisure pants with combat boots are not something you see every day, but ideally, you should. Do you want to take this look to another level? Throw on a blazer too! Sorted for life.
If I have to be honest with you, I'd say it is even unfair to end a list like this. But, you get the drill, don't you? Combat boots go with more outfits than you think – it's not rocket science but needs an eye for detail.