10 Stylish Ways To Wear A Midi Skirt
Whether you're going to the office or a party, midi skirts are a versatile and cute option for any occasion. It's easy to dress up or down and looks fantastic during every season of the year. If you're looking for wardrobe inspiration, here's how you can wear a midi skirt with style.
Related: How To Wear A Maxi Skirt 
Related: How to Wear The Pencil Skirt
1. Matching Set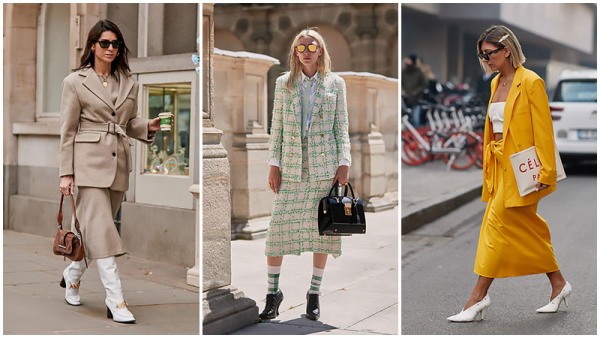 Looking your best has never been easier than with a matching set. It is an effortless way to up the ante for any event and is easy to replicate. Whether it's a set in the same fabric and print or coordinates with a similar pattern, you can dress this up or down to suit the occasion. Opt for bright tones like yellow or mint, and break up the colors with a white top or shirt.
2. Leather on Leather Midi Skirt Outfits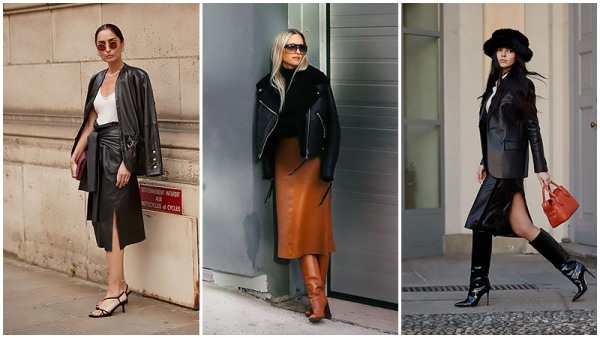 Take it from the runway to the office with a double leather or PVC alternative. Whether you prefer a biker jacket or a blazer, this material is an easy way to create an edgy and high-fashion ensemble. Choose a monochromatic color combo using dark shades like black or grey – this is a seamless way to approach the style without looking over the top. For those who are ready to take things a step further, why not entwine brown and charcoal tones together to make a brand-new look? It's the best option for the colder months and will instantly elevate your wardrobe.
3. Sheer Midi Skirt with a Shirt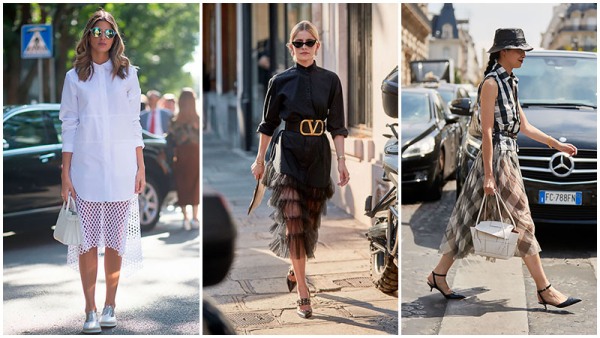 Push the envelope and deliver one of the hottest outfits of the season – a sheer midi skirt and a shirt. This classic ensemble is an excellent option for transitional weather and looks great on everyone. Opt for a mesh or lace bottom half, and balance it out with a bold and crisp button-down on top. This can work well in monochromatic shades or with complimenting tones like grey and blue – the choice is yours. Complete the outfit with a pair of comfortable dress shoes or be bold in a set of sky-high stilettos.
4. Midi Skirt With Belt Bag Outfits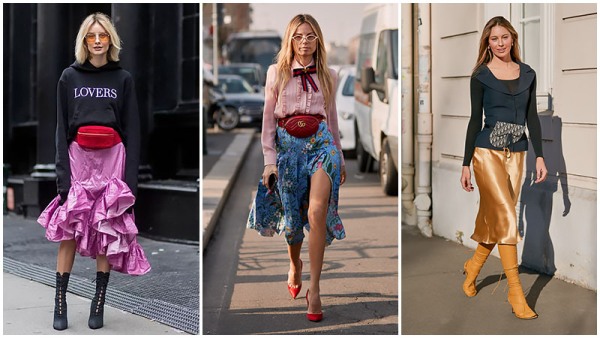 Cinch in your waist and showcase your pins with a midi skirt and belt bag. This sleek and timeless look is the perfect option for a night out on the town or during fashion week. Mix and match your style by pairing a feminine bottom half with a chunky knit sweater or hoodie and boots. These outfits are perfect for any season and allow you to use your imagination. Don't be afraid to go a little wild with this ensemble – the world is your runway!
5. With Chunky Knit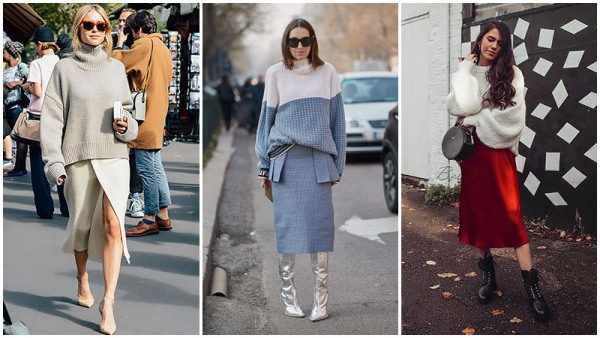 When it starts to get chilly outside, feel snug in a chunky knit and midi skirt. It is an ideal option for the transitional seasons and works well in any event. Choose colors that compliment the season like gold, amber, or blue, or up the ante with a bold red or emerald. It is an easy look to style – tuck the front of your jumper into the bottom half, or let it hang over the top for a relaxed feel. Finish the ensemble with a pair of combat boots or barely-there heels, and you'll be set for the day. It is a comfortable and timeless option for the days when you want to look warm and super stylish.
6. With Oversized Shirt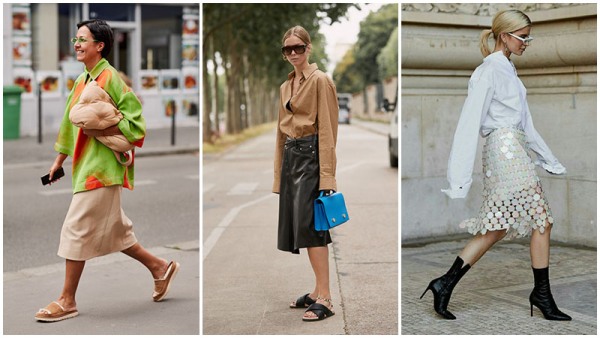 Tuck it in, loosen it up, or tie it around it your waist – an oversized shirt is an easy way to complete a midi skirt outfit. This casual and effortless ensemble is the best option for a day at the office or after-work drinks with friends. Keep the sleeves hanging below your hands for the ultimate laidback feel, and cinch in your midsection by gathering the fabric at the waist. When choosing colors, make sure you opt for tones that flatter each other, such as neutrals, white, or black. If you're going to go bold, make sure you select one shade such as green. This way, you won't look muddled up – you will look impeccably styled and feel like you're fresh off the catwalk.
7. With Printed Stockings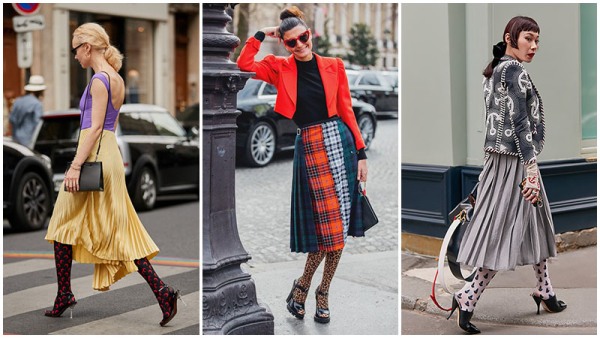 Be bold with a pair of printed stockings. It is an easy way to put a funky spin on a classic ensemble, and it looks great at any time of the year. From leopard to crescent moons, there's a myriad of designs to choose from. Style this with a midi pleated skirt, a tight top, and a pair of cute slip-on or mules. Feel free to mix and match colors throughout the outfit, or keep it seamless in a single series of grey or black. It is a fun alternative to wearing prints and is one of the hottest trends of the season!
8. With Slouch Boots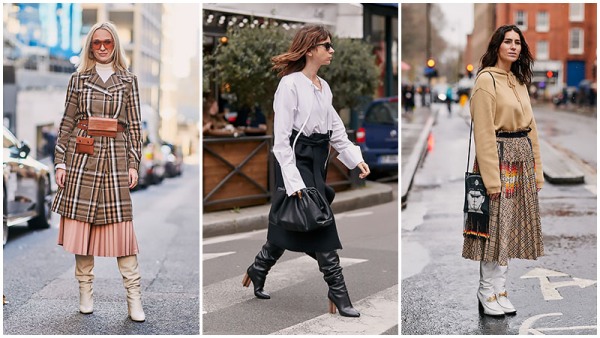 Have some fun with layering by adding a pair of slouchy boots into the mix. The blend of a midi skirt with this footwear is a great way to play with shapes and textures without overdoing it. During the colder months, rock the look with an oversized sweater, flowing blouse, or a skimming coat – everything works well with this outfit. It is an opportunity to let your inner stylist come out – have some fun and experiment a little!
9. With Statement Bootie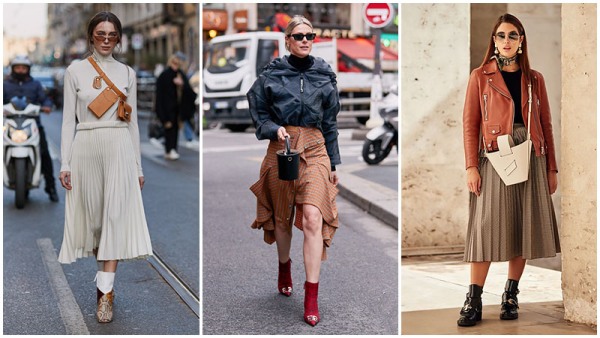 You don't have to wear long boots to make a statement with a midi skirt. These ankle-length shoes are the perfect way to complete a transitional season ensemble, and they're easy to rock. From tight styles to something a little slouchy, this is a comfortable and timeless option for cooler seasons. Whether you choose to pair them with plaid, pleats, or ruffles, this footwear will make maximum impact with little effort. You can create an ultimate 'fashion girl' look by wearing a bold shade like ruby or emerald with other tones like black, white, or grey. Don't be afraid to experiment with patterns, either – the best way to decide what you love is to try everything out!
10. Wear A Midi Skirt With Sweatshirt Jumper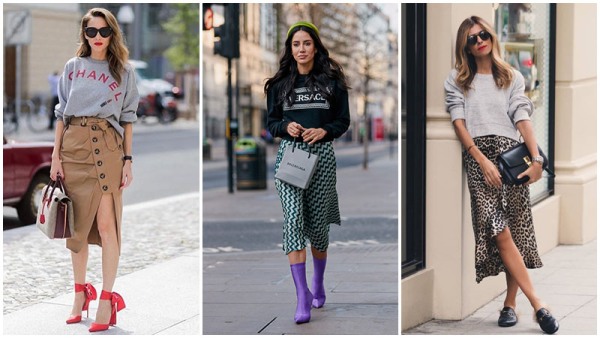 Shift from season to season without much effort with a midi and a sweatshirt. These jumpers are lightweight and easy to style but will keep you warm when the temperature drops. Tuck the top half into the skirt for a cinched waist or keep it casual by letting it hang loose. It is a versatile option that you can dress up or down easily – complete the look with sneakers or stilettos depending on the occasion.